New Cobra Kai Training Vids Tease Season 4's Epic Fights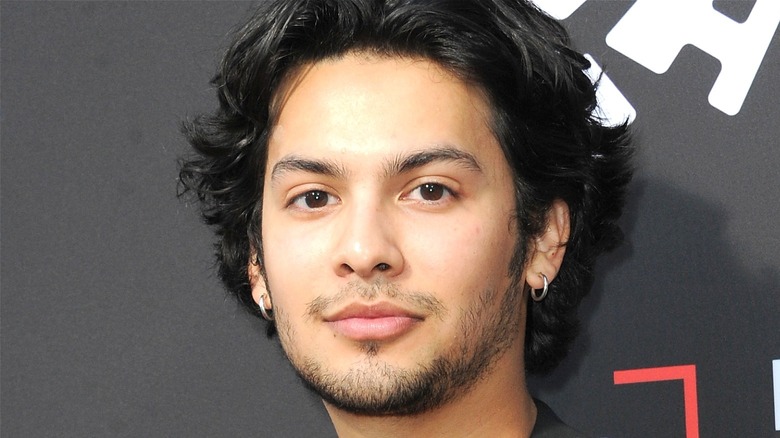 Albert L. Ortega/Getty Images
"Cobra Kai" fans who can't wait to head back to the Valley have gotten another small tease of the action that awaits them in the show's fourth season. 
Actor Xolo Maridueña, who plays Cobra Kai-turned-Eagle Fang karate star Miguel Diaz on the Netflix show, posted a set of photos and videos to his Instagram earlier in July showing he and his castmates hard at work drilling choreography for the battles ahead. After all, they're going to need up their game if they're going to stand up to whatever "The Karate Kid Part III" big bad Terry Silver has to throw at them. 
Much of the action seen takes place not on set, but in a martial arts studio rehearsal space, so there's little sense of where these fights might be taking place — or even who in the show's sprawling cast of characters is meant to be fighting whom. But there still might be enough information there to draw a couple of conclusions about what fans can expect in Season 4, which a teaser trailer has promised is when "the real pain begins."
How are the actors training for Cobra Kai Season 4?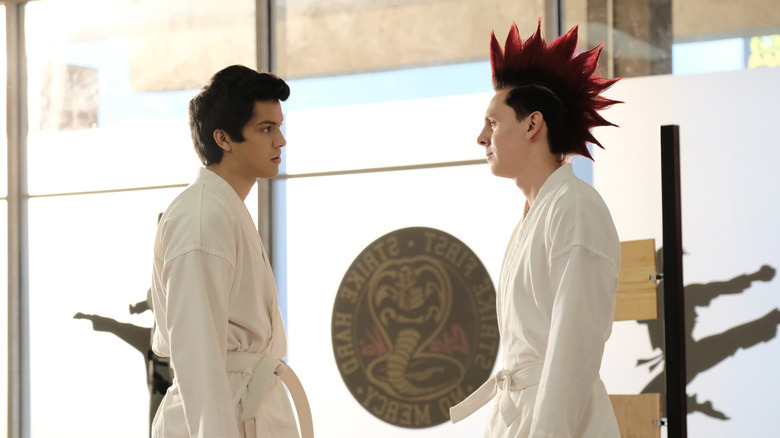 Guy D'Alema/Netflix
The first of Maridueña's videos features a long set of choreography from his pink-haired co-star Jacob Bertrand, who plays Hawk on the show. Full of strikes, turns, kicks, and cartwheels, Bertrand ranges across the training room as he completes his form, and delivers a proud flex for the camera at the end.
Next come a pair of videos featuring fighters trapping the arms of their assailants and throwing them over one shoulder, where they land hard on their backs. Still shots follow, one of someone — possibly Maridueña, though with a mask, hat, and sunglasses it's tough to tell — holding a bicycle on top of some construction equipment and another of Bertrand straining with effort under his mask.
The final slide in Maridueña's presentation shows co-star Gianni DeCenzo, who plays the maybe no longer mild-mannered Miyagi-Do recruit Demetri, doing a kip-up, a move where you pop up off your back to your feet more readily associated with Jackie Chan, Bo Jackson, and even Johnny Lawrence (William Zabka), who performs one after getting knocked to the ground by Daniel LaRusso (Ralph Macchio) in the pair's All-Valley Karate Championship bout. After all, when you're out to make the best teen-focused (and midlife crisis-focused) karate show around, nothing's gonna ever keep you down. 
What kind of fights can we expect in Cobra Kai Season 4?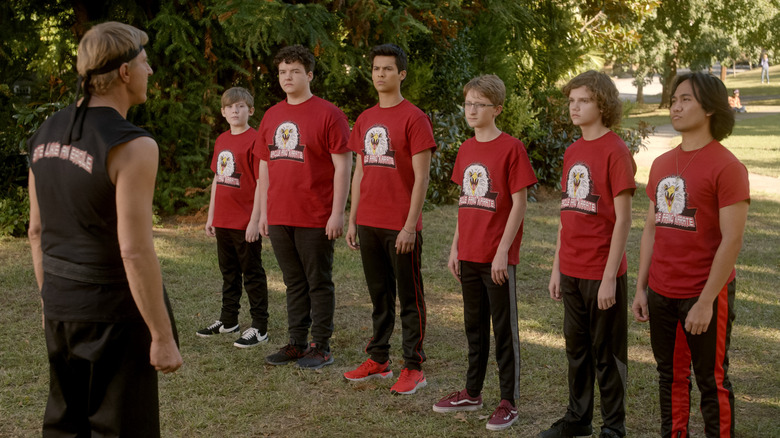 Netflix
It all looks hard, especially while wearing masks as a pandemic precaution. His castmates seemed pumped to see them, with Bertrand commenting in all caps and DeCenzo writing, "That guy in the last vid is pretty savage." Fans of the show also took to the comments, mostly to ask when they could expect to see Season 4, which is expected later this year. 
Curiously enough, the move Maridueña references in his caption –– the Granby roll, though he calls it the "gramby roll" –– originated not in karate but in high-school wrestling before migrating to Brazilian jiu-jitsu. That, plus the throws he's showing off and DeCenzo's kip-up, seems to suggest that Season 4 might feature plenty of grappling. Whether it's the bullies of the new, John Kreese-led (Martin Kove) Cobra Kai or the underdogs at the merged Eagle Fang/Miyagi-Do who take the fights to the ground, fans will have to wait to until Season 4 premieres to find out.