The Ending Of The Last Letter From Your Lover Explained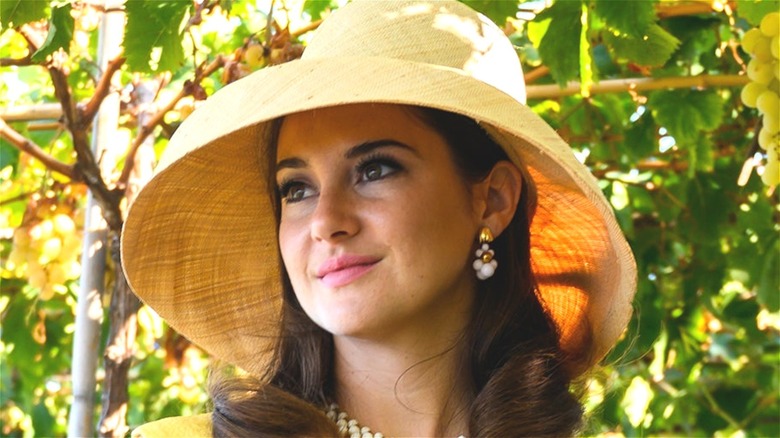 Netflix
If you're in need of a swooning summer romance, look no further than Netflix's newest release, "The Last Letter From Your Lover." This romantic drama is adapted from author Jojo Moyes' 2008 novel of the same name and stars Shailene Woodley, Felicity Jones, Callum Turner, Joe Alwyn, and Nabhaan Rizwan. "The Last Letter From Your Lover" is a decades-spanning romance that primarily focuses on the doomed love affair between Jennifer (Woodley), the charming young wife of a British businessman, Laurence (Alwyn), and foreign correspondent Anthony (Turner) in the mid to late 1960s. 
This affair begins when Anthony is assigned to write a profile on Laurence while the couple are summering in the south of France. A few days in to Anthony's time with the couple, Laurence is called away for work. This leaves plenty of idle time for Jennifer and Anthony to spend their days together doing practically every great leisure activity you can do in the south of France, including sailing, lounging on the beach, and having romantically-charged conversations while caught in the rain.
In a separate, parallel but intersecting storyline, present day journalist Ellie (Jones) volunteers to write a feature on a recently deceased and revered editor who worked at her outlet, The London Chronicle. While going through the late editor's archives at the office, Ellie stumbles on a letter written by Anthony to Jennifer, imploring her to run away with him to New York City. Ellie senses a story and encourages a shy co-worker named Rory, who works in the paper's archives, to help her search for more letters among the editor's belongings to help piece the mystery of this romance together.
Anthony and Jennifer resume their romance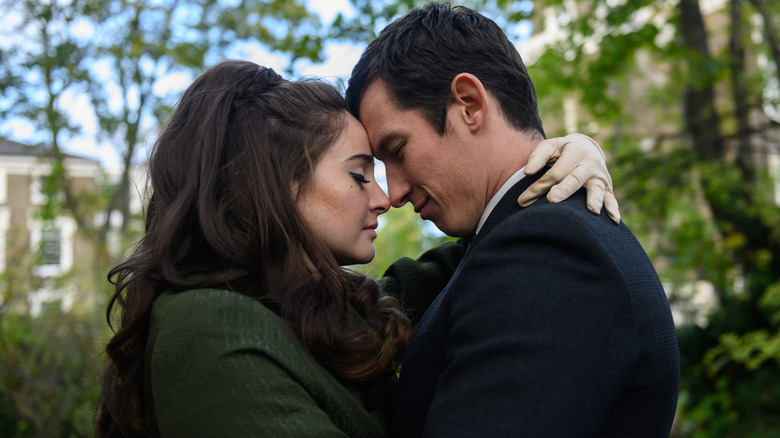 Netflix
The years after Jennifer and Anthony's meeting in France are tumultuous, to say the least. In 1965, Anthony eventually finishes his story and returns to London. Jennifer and Laurence also return to London at the end of the summer. Through a letter, Anthony suggests to Jennifer that if she really wants to begin a romantic relationship, she should meet him in a secluded park — a meeting spot that will be pivotal at the end of the movie. The couple soon dive into a steamy, passionate affair mostly conducted while Laurence is in the office, exchanging letters through a post box to confirm meetings times and places.
Things appear to be going well until Anthony is offered a job in New York City and he proposes that Jennifer come with him. Jennifer is initially hesitant, but when an opportunity to slip out of the house to meet Anthony and run away together presents itself, she takes it. Unable to get a taxi, Jennifer asks a friend working at a bar she and Anthony frequented to drive her to the train station. While on the way, the pair are in a car accident that leaves Jennifer with a mild case of amnesia. Meanwhile, Anthony goes to New York, thinking Jennifer didn't want to run away with him.
Things get worse before they get better for these ill-fated lovers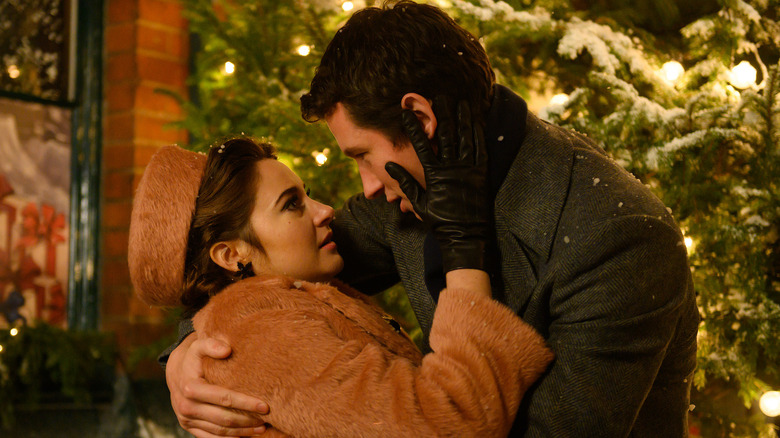 In 1969, Anthony and Jennifer have a chance encounter in a London. Jennifer is shocked because Laurence lied to her and made her believe Anthony was in the car with her the night of the accident. Laurence had lied to her because he finds Anthony's letter encouraging Jennifer to run away with him in her pocket. The reunited lovers reconcile and have a one-night stand. Anthony, intent to not let Jennifer get away, suggests she run away with him again. Jennifer feels forced to refuse because she and Laurence have a daughter. The next day, Jennifer's mood changes and she attempts to reunite with Anthony. She goes to Anthony's office at The London Chronicle, the same place Ellie works in the present day. Jennifer is told Anthony has resigned and left no forwarding address, so she leaves all of the romantic letters he sent during their brief affair with the female editor who Ellie ends up researching.
After more than 50 years apart, Jennifer and Anthony reunite for the final time, mostly thanks to Ellie acting as the couple's go-between and earnestly convincing them to meet in person. Anthony writes a letter to Jennifer, just like he used to, encouraging her to meet him one last time. He suggests the park where they met the first time they decided to resume their relationship in 1965. After waiting for a while, Ellie and Rory decide Jennifer isn't coming. As Jennifer goes to suggest to Anthony that they all leave, Anthony sees Jennifer walk into the park. Through tears, Anthony and Jennifer close their eyes as he narrates an imaginary happily ever after where Jennifer met him at the train station and they ran away together.
Ellie and Rory become modern-day matchmakers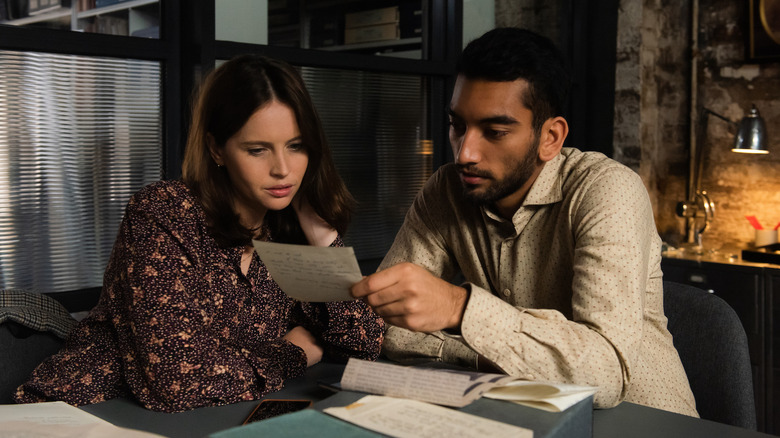 Netflix
While Jennifer and Anthony's relationship plays out as a fairly standard romance reminiscent of the great star-crossed affairs seen in "The Notebook" and "An Affair to Remember," it's Ellie and Rory's relationship where "The Last Letter From Your Lover" chooses to explore its big ideas about love. Ellie is a commitment-phobic workaholic who is so bruised from a break-up that she does whatever she can to avoid catching feelings. Meanwhile, Rory is an introverted but sweet romantic who, although also dealing with break-up baggage, remains open to love. While these two eligible singles are not separated by time, the circumstances they each steeped in and their respective attitudes toward love are as much as obstacle to a potential romance as Jennifer and Anthony's circumstances. 
It is only through working together to find the letters Jennifer left to the now-deceased editor that Ellie and Rory come to understand how powerful a mutual attraction can be. And when the pair do eventually sleep together after laying all of their proverbial baggage on the table, it is up to this young couple to learn from Jennifer and Anthony's mistakes if they want to have their own happily ever after without losing all of that time. After sleeping with Rory, Ellie fails to reply to his messages, using the excuse that she is working on reuniting Jennifer and Anthony to avoid him. It's only after she speaks with Anthony and hears about his failed reunion with Jennifer in 1969 that Ellie realizes just how terrible it is to waste time apart from someone when all you want to do is be with them. Ellie ends up racing over to Rory's apartment, where she apologizes to him and confesses her feelings for him, which he happily returns. 
Sometimes, a second chance at love is possible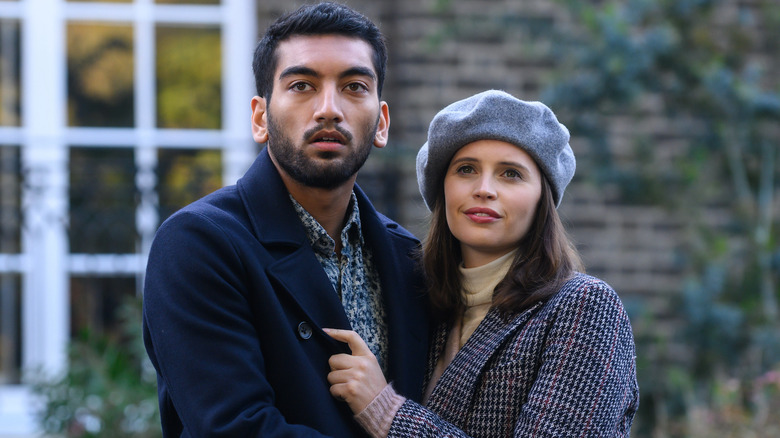 Netflix
If there is one essential message to be gleaned "The Last Letter From Your Lover," it is this: Do not let anything as trivial as time or perceived differences prevent you from pursuing love when it is both real and reciprocated. Additionally, love is a magnetic force with the ability to unite people who are truly meant to be together, regardless of any circumstances that threaten to keep them apart. Theses ideas teased at the very start of the movie with a title card featuring a single quote from Ernest Hemingway's 1929 novel "A Farewell to Arms," which reads, "Why darling, I don't live at all when I'm not with you."
A great romance waits for no one, so watching Jennifer and Anthony's romance get put on numerous pauses because the couple overthinks the potential of what their lives could be together, or lets their reality control whether or not they stay together. These are two people who know they're supposed to be together, who immediately felt a bond when they first met in France; their love is unshakable. The movie makes it clear that when they are apart from one another, either willingly or by force, they are leading half-lives. That is why is it so poignant to see them both make the active choice to reunite many years later and create an imaginary happy ending to bandage over all of the time they spent apart. 
These are lessons Ellie and Rory learn through their unusual connection to Jennifer and Anthony's story. Love is powerful, but it is also a teacher, too. They don't waste any time at all getting over their own rocky pasts, communicating their true feelings, and finding a way to stay together.