Why Ellie From The Last Letter From Your Lover Looks So Familiar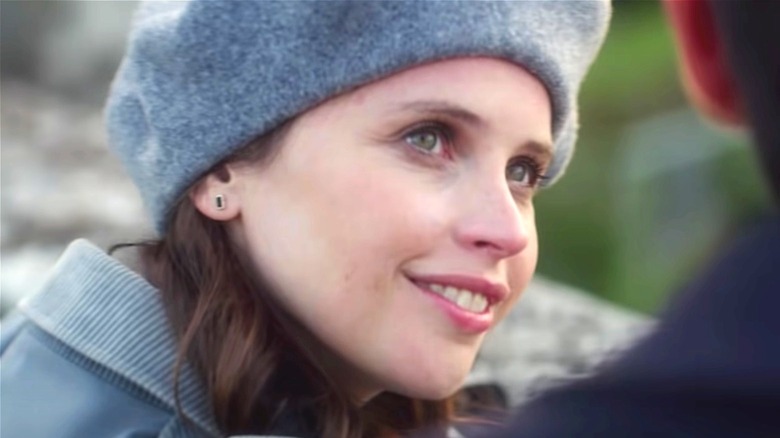 Netflix
Based on the novel of the same name by Jojo Moyes, who also wrote "Me Before You," the new Netflix film "The Last Letter From Your Lover" is about a journalist in London who finds a letter that reveals a star-crossed love affair from the 1960s. Scheduled to be released on July 23, 2021, the new movie stars Shailene Woodley as Jennifer Stirling, a privileged women in the '60s who lives a seemingly perfect life with her rich businessman husband, Laurence Stirling, played by Joe Alwyn. Then comes along Callum Turner's Anthony O'Hare, a finance journalist who meets Jennifer while writing an article about Laurence. 
British actress Felicity Jones takes on the role of Ellie Haworth, the modern journalist who unearths the love letters between Jennifer and Anthony that leave her determined to find out what happened with the couple. Meanwhile, she finds herself experiencing her own love story with Nabhaan Rizwan's Rory, an activist and colleague of Ellie's who helps her on her quest for answers. "The Last Letter From Your Lover" viewers will recognize quite a few members of the cast, many of whom have previously starred in other big name films, but Jones will be a particularly familiar face. The talented actress has made a name for herself with past roles in dramas and biopics, though she isn't afraid to step into genre films either.
Here's why Jones, who plays Ellie in "The Last Letter From Your Lover," looks so familiar. 
Felicity Jones played Anna in the romantic drama Like Crazy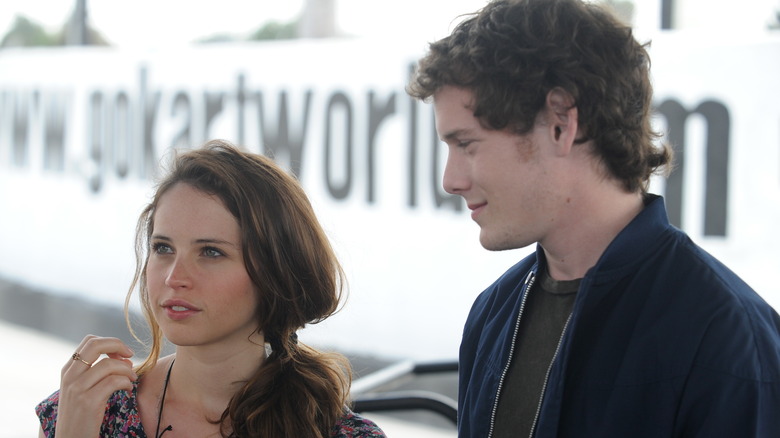 Paramount Vantage
Arguably the first role that really put Jones on the map, the actress starred in 2011's "Like Crazy," a movie about a British exchange student who falls in love with an American classmate. Their love is put to the test when the woman is denied re-entry into the US because she previously stayed too long in the country past her student visa's end date. Jones plays exchange student Anna, who meets and falls in love with Jacob, played by the late Anton Yelchin. The couple goes through many difficulties in their struggle to be together again, with more denied visas, break ups, and reunions that strain what was once a beautiful, pure love. 
Director Drake Doremus revealed that a lot of the film's dialogue was improvised, as he gave Jones and Yelchin "total freedom" to do what they felt was right for the characters and the story (New York Times). While describing the central romance and how it changes over the course of the film, Doremus stated that Anna and Jacob "don't think things through, and they idealize their own relationship and don't see that things will change." "Like Crazy" was a critical hit, winning the Grand Jury Prize at the Sundance Film Festival, as well as the Special Jury Prize for Jones's performance. 
Jones took on Jane Hawking in The Theory of Everything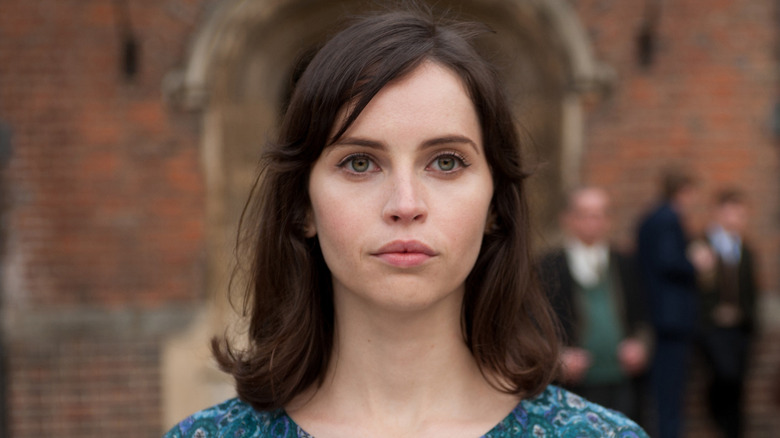 Focus Features
In the role that earned Jones her first BAFTA and Academy Award nominations, the actress portrayed real-life figure Jane Hawking opposite Eddie Redmayne's Stephen Hawking in 2014's "The Theory of Everything." The movie is based on Jane's memoir "Travelling to Infinity: My Life with Stephen," in which she details her life at Cambridge meeting Hawking and falling in love, following the couple through marriage, children, Hawking's diagnosis and fight against amyotrophic lateral sclerosis, or ALS, and the depression she suffered during this period of their life, as well as her husband's success in the field of physics. 
"The Theory of Everything" received extreme praise from critics and audiences alike, and the film, Jones, and Redmayne all received many award nominations as a result. While the movie itself won many awards, including the BAFTA for Best British Film, Redmayne definitely got the most attention and prestige, winning an Academy Award, BAFTA, Golden Globe, SAG Award, and more for Best Lead Actor. Despite not winning any major acting accolades herself, Jones's performance as Jane remains one of the best of her career so far.
Rogue One starred Jones as the rebel Jyn Erso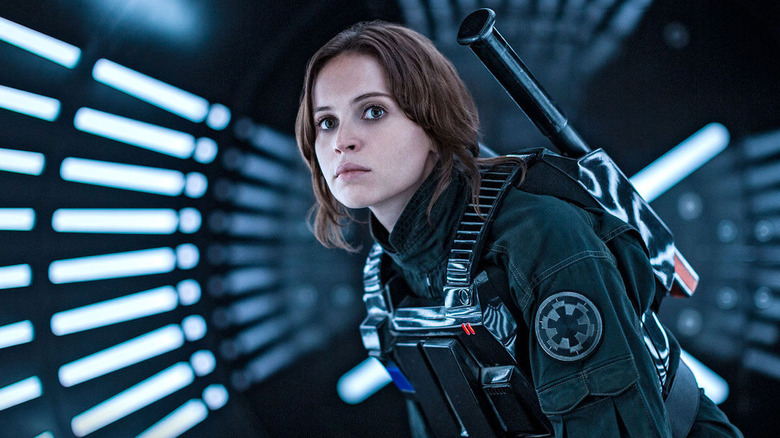 Disney/Lucasfilm
While Jones had a small part in "The Amazing Spider-Man 2," "Rogue One: A Star Wars Story" was her first major role in a big blockbuster genre film. Jones plays the lead character of Jyn Erso in the companion movie, which takes place right before the events of 1977's "Star Wars," the first movie in the space adventure franchise that was retroactively titled "Star Wars: Episode IV – A New Hope." Her character is a resistance soldier and former criminal who plays a key role helping the Rebel Alliance through her mission leading Rogue One. 
In the film, Erso receives a message from her father, scientist Galen Erso (Mads Mikkelsen), revealing that the Galactic Empire is hiding the Death Star plans on the planet of Scarif. With only the help of Cassian Andor (Diego Luna) and a handful of other rogues, Erso leads the group to Scarif to find the plans, transferring them to the Rebel Alliance right before sacrificing their lives for the survival of the resistance. 
Jones portrayed the late Supreme Court Justice Ruth Bader Ginsburg in On the Basis of Sex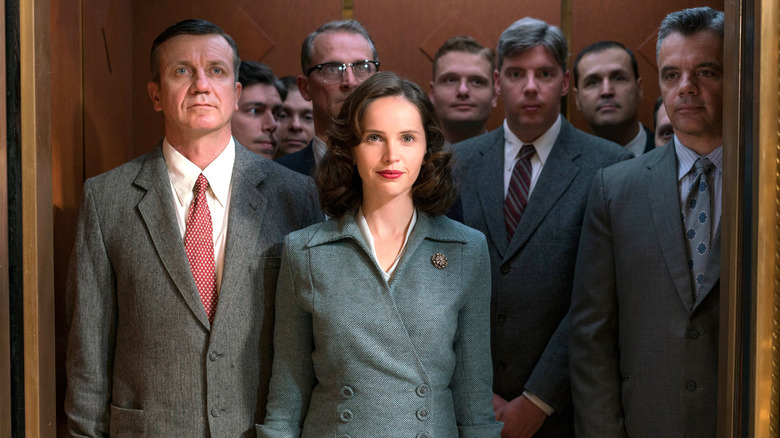 Focus Features
It seems like Jones has a talent for taking on the persona of real people, as she did once again in the 2018 biopic "On the Basis of Sex," based on the life of the late Supreme Court Justice Ruth Bader Ginsburg. Directed by Mimi Leder, the movie begins in 1956 with Ginsburg's first year at Harvard Law School, where both she and her husband Martin, played by Armie Hammer, attend. Studying through Martin's bout with testicular cancer, raising a young child, and restrictive university policies, Ginsburg ends up graduating top of her class at Columbia University, but even that won't convince people to give her a chance in the field of law. 
Jumping to 1970, the film then follows Ginsburg as she takes on the case of Moritz v. Commissioner, which revolves around a man who is denied a tax deduction for the nursing care he provided for his dying mother so that he could continue to work. Ginsburg sees this as a unique opportunity to change the sexist, traditional laws based on society's belief that women should be caretakers while men work and provide for the family, hoping that the mainly white male judges in court will sympathize with Moritz's case and her argument because it's from the man's point of view. "On the Basis of Sex" was well-received by critics, many of whom highlighted Jones' performance as the best part. 
Jones played Sully in the sci-fi drama The Midnight Sky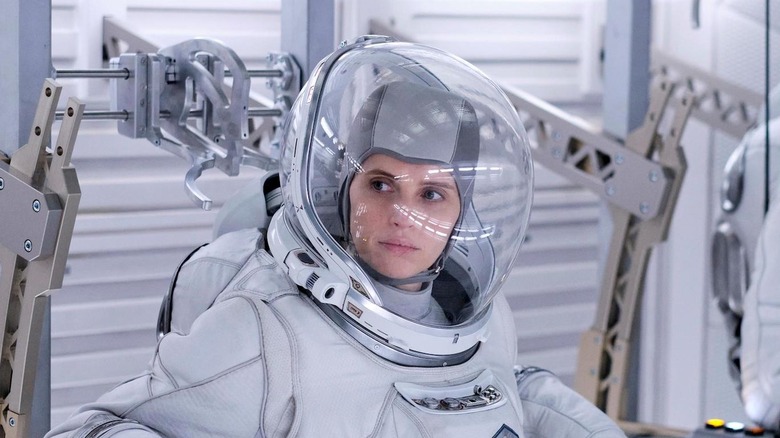 Netflix
Most recently, Jones appeared in the movie "The Midnight Sky," directed by and starring George Clooney. Based on the book "Good Morning, Midnight" by Lily Brooks-Dalton, the movie focuses on Clooney's character, a scientist named Augustine Lofthouse, who must travel through the Arctic Circle to warn a returning space mission of the state of Earth after a worldwide disaster in 2049. Once he arrives at the Arctic Base, Lofthouse finds a young girl all alone named Iris (Caoilinn Springall), who keeps him company.
Jones plays Sully, a mission specialist on Aether, the incoming ship that Lofthouse aims to warn off. Through difficulties like asteroid strikes and damaged communication systems, Sully and the crew work to maintain contact with Lofthouse as he tries to convince them of the danger, telling them to go back to Jupiter's habitable moon, K-23, which they are coming from. Of course, the crew is reluctant to believe him, having left behind family and friends on Earth, but eventually they come to understand the horrible state that the planet is in and that their only chance of surviving is to turn around.