The Last Letter From Your Lover - What We Know So Far
Movie adaptations of books are a tried and true method of filmmaking, especially when it comes to love stories. From classics like "Pride and Prejudice" to the Nicholas Sparks adaptations that dominated the romance industry in the early to late 2000s, it's safe to say that some of the best romance movies started out as books.
One of 2016's most beloved romantic films was "Me Before You," based on Jojo Moyes' novel of the same name. Following the success of her first book-to-movie deal is the upcoming romance movie "The Last Letter from Your Lover," which is again based on a Moyes novel. From what we know of the film so far, it's set to be a heartbreaking love story that may remind viewers of "The Notebook" as well as the sweet "Letters to Juliet" — though the newest Moyes adaptation is sure to have plenty of unique qualities. Here's everything we know about "The Last Letter from Your Lover," including the release date, cast, and what it's about.
When is The Last Letter from Your Lover premiering?
STUDIOCANAL/Netflix
According to Deadline, "The Last Letter from Your Lover" is set to premiere in the U.S. on July 23. It will premiere in the U.K. in theaters only on August 6, since Netflix doesn't own the rights to distribution in those countries. Deadline also reported that "The Last Letter from Your Lover" will debut in Scandinavia on July 30, and in France sometime this year — but it will be available everywhere else to watch on Netflix starting on July 23. 
Production was first announced by The Hollywood Reporter back in 2019, and Augustine Frizzell of "Euphoria" fame was attached to it from the beginning. By October of that same year, Deadline revealed that several of the main stars were cast, and production was slated to begin in Mallorca before moving to the U.K. While there's still a bit of time left before we get to see the must-watch Netflix movie "The Last Letter from Your Lover," the trailer is on YouTube, so you can get a peek at the romance to come later this summer.
Who is in The Last Letter from Your Lover?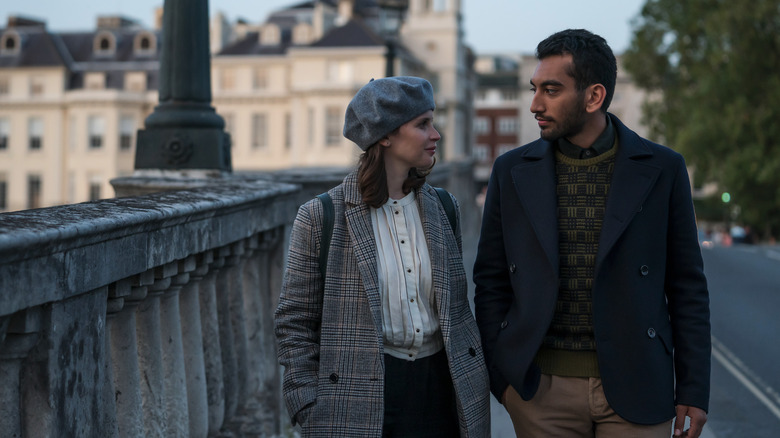 STUDIOCANAL/Netflix
"The Last Letter from Your Lover" features a star-studded cast. Felicity Jones plays a young journalist named Ellie Haworth; Shailene Woodley is a socialite named Jennifer Stirling, while Diana Kent portrays her older version; Callum Turner plays a journalist named Anthony O'Hare, and Ben Cross is his older version; Nabhaan Rizwan is an archivist named Rory; and Joe Alwyn plays Laurence Stirling, Jennifer's husband. The film also stars Ncuti Gatwa, Emma Appleton, Christian Brassington, Alice Orr-Ewing, Lee Knight, and Zoe Boyle — making for a big and talented cast of characters.
Woodley said she first became interested in the project because Frizzell was directing the film. "Before I even read the script I was inclined to say yes," she told Entertainment Weekly. "I had been really wanting to work with Augustine and just loved her as a human being ... Then I read the script and it was really beautifully executed — I don't feel like there's a lot of movies that are told this way and are also executed in a way that's thoroughly entertaining and intelligent."
What is the plot of The Last Letter from Your Lover?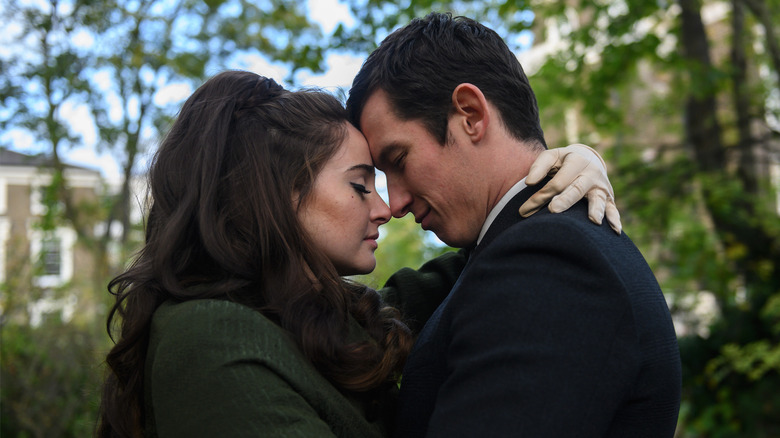 STUDIOCANAL/Netflix
Based on the novel of the same name, "The Last Letter from Your Lover" follows journalist Ellie Haworth, who finds a love letter from the '60s in the archives of the newspaper where she works. The letter tells a heartbreaking love story of two star-crossed lovers named Jennifer Stirling — who is married to a wealthy businessman — and Anthony O'Hare, a journalist. Jennifer and Anthony had a secret affair, and Ellie becomes determined to find out what happened to the people involved. Along the way, an archivist colleague named Rory helps Ellie find more letters, which leads to an unexpected relationship of their own.
"The Last Letter from Your Lover" weaves together the two time periods to show how something as simple as letters can connect people from completely different worlds. Fans of "The Notebook" are sure to appreciate the narrative device of going back and forth through time to depict a passionate love affair — though hopefully, "The Last Letter from Your Lover" will have a happier ending.
Be sure to keep an eye out for any further updates before "The Last Letter from Your Lover" hits Netflix (or theaters) near you.