The Ending Of Charmed Season 3 Explained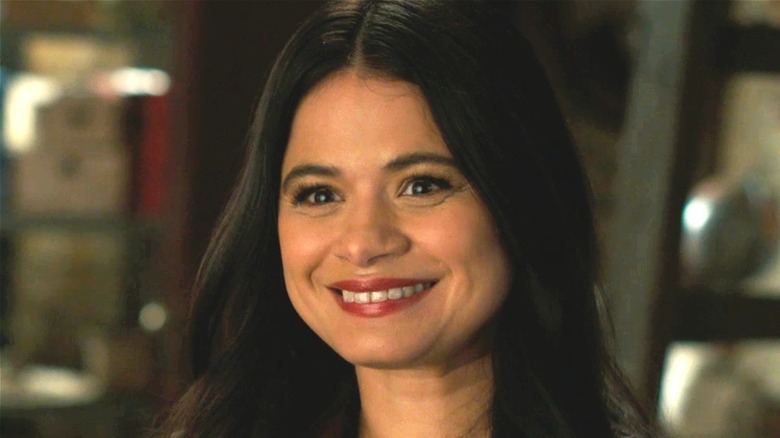 The CW
In 2018, The CW decided to reboot the beloved supernatural series "Charmed," which originally ran for eight seasons from 1998 to 2006, giving it a modern spin for a new audience. The revival series stars Melonie Diaz as Mel Vera, the strong-willed middle sister who has to power to manipulate time and molecules, Sarah Jeffery as Maggie Vera, the youngest sister who is very friendly and popular with the power to read emotions, and Madeleine Mantock as Macy Vaughn, the older half-sister to Mel and Maggie who has the power of telekinesis and is part-demon. Throughout the first three seasons of the new "Charmed," Macy, Mel, and Maggie spend their time taking on modern issues of everyday life while demons constantly come knocking at their door. The show purposely features LGBTQ+ characters and feminist storylines, most notably through Mel, who is gay and has had a few significant relationships so far. 
Now in 2021, "Charmed" is finally finishing up its third season, with the finale airing on July 23, 2021. In Season 3, Macy continues her relationship with their whitelighter Harry (Rupert Evans) and a life without her demon powers, Mel goes through romance and a surprise pregnancy, and Maggie is adjusting to her new powers of prophesy. Oh, and on top of that, there's an impending apocalypse involving a magical plague that they must stop called the Whispering Evil. In Season 3's finale episode "I Dreamed A Dream...", Mel and Maggie look for a spell to save Macy's life, while Harry makes a huge sacrifice for his love. Here's the ending of "Charmed" Season 3 — explained.
History repeats itself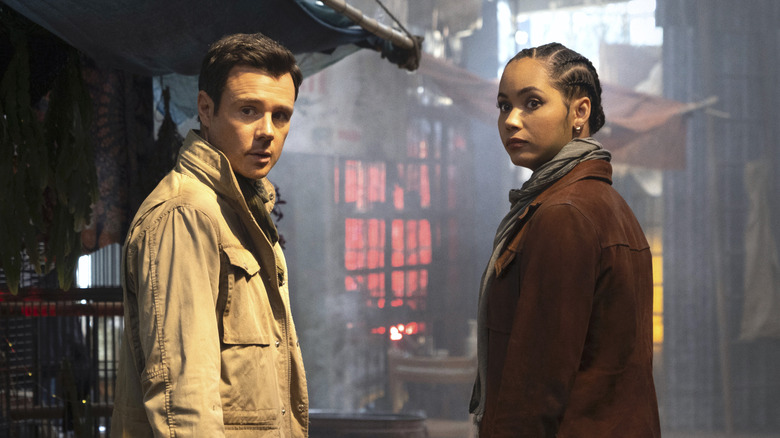 The CW
It looks like even the "Charmed" reboot on The CW couldn't avoid a major cast change reminiscent of the original show. After Season 3 of the popular supernatural drama show, lead actress Mantock has decided to depart from the series. For fans of both the original series and the revival, the situation is bound to seem familiar, as Shannen Doherty, who plays Prue Halliwell in the original "Charmed" series, left the show after her character's death at the end of Season 3. 
Mantock is leaving on a much more positive note — as Doherty's departure had to do with constant disagreements on set between her and Alyssa Milano — but her character Macy still dies in the finale. In order to stop the Whispering Evil, Macy allows it to possess her, before taking the one and only toxic that can stop it. Following this, the majority of the episode is spent with Mel and Maggie in Macy's dreams, as they all reminiscence and spend some happy times together before she fades away. 
Along with that, there are also a few other parallels from the original "Charmed" series and the revival, visible in the way this episode sets up next season. In the first series, after Prue dies, Phoebe (Milano) and Piper Halliwell (Holly Marie Combs) find out that they actually have a younger half-sister, a half-whitelighter and half-witch, who they must find to re-complete the Power of Three. This ends up being Paige Matthews (Rose McGowan). In the reboot's Season 3 finale, Mel and Maggie are told by the Guardian that there is another Charmed One out there to find, which is where the next season will pick up. 
Season 3 ends with a few other major changes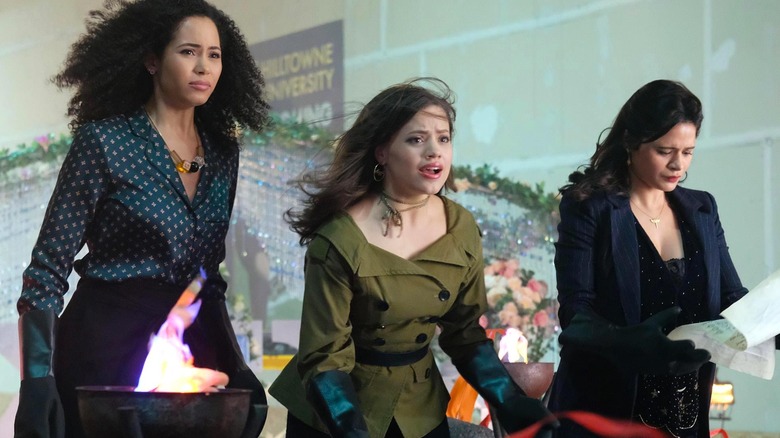 The CW
While Mel and Maggie are trying the spell that sends them to Macy's dreams in order to save her, Harry goes a different route. He believes that if he becomes a whitelighter again he will be able to heal whatever is killing Macy. In order to regain his supernatural status, Harry must be killed by a mortal, and they just happen to have Jordan Chase (Jordan Donica) around. 
Jordan volunteers to use an extremely deadly poison on Harry, but not without having a defibrillator handy just in case. Well, it turns out that he needs it, and Celeste (Kate Burton), who helps out with the transformation, zaps the defibrillator with magic to allow it to revive Harry when he doesn't wake up. While Harry successfully becomes a whitelighter again, when he finally returns to Macy he realizes that she is too far gone to be saved, as using the toxin on the Whispering Evil does more damage to her than they initially think. So despite his intense, life-changing efforts to save his love, Harry fails. 
But one major thing about this sequence of events is that "Charmed" now has two whitelighters, when just last episode the show has none. Yes, that's right. Along with Harry's return to the whitelighter life, Jordan is now a whitelighter as well. See, when Celeste jolts the defibrillator with magic and it shocks Harry, Jordan is thrown back. During this moment, the shock turns Jordan from human to whitelighter. In Season 4 of "Charmed," fans will get to see how well he takes to his new role. 
What's next for the Power of Three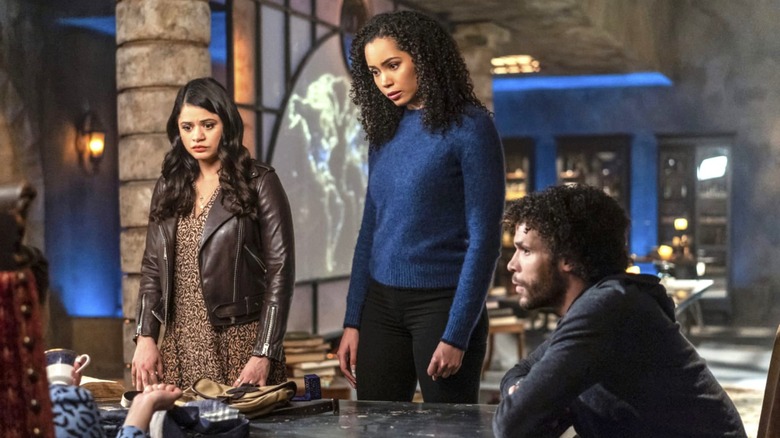 The CW
While Macy's death is sad, the show does leave it open for her to possibly return at some point in the future, if Mantock wants to. With magic, demons, angels and more, there's really nothing "Charmed" couldn't do story-wise, so there's no way to know how they might bring the character back if given the chance. 
Meanwhile, the CW show will be welcoming a new Charmed One to the group. As of right now, there's no word on who might be playing this new character, or even what her name is. For fans of both the original series and the reboot, it will definitely be interesting to see how much the new sister has in common with Paige, but only time will tell. 
As for the sisters we already know, Maggie and Jordan's relationship is still in the beginning stages, while Mel ends the season having successfully protected the baby of Future Mel, whose visit to retrieve the child is evidence enough that the future has finally been fixed — at least for now.