Why Col. Drummond From Blood Red Sky Looks So Familiar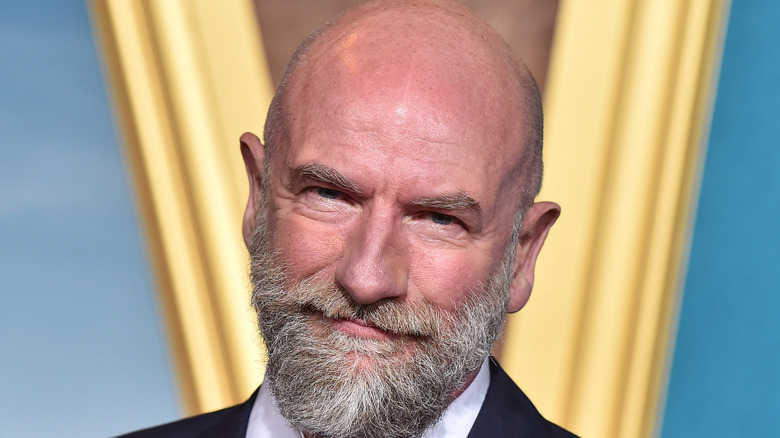 Shutterstock
There's a bloody new treat currently delighting the streaming masses. It's called "Blood Red Sky," it just made its Netflix debut, and holy smokes, is this action-packed horror flick a wild ride-and-a-half. 
Set aboard a transatlantic overnight flight, "Blood Red Sky" follows a mysterious woman (Peri Baumeister) traveling to the U.S. with her son (Carl Anton Koch) to meet with a doctor about her rare blood disease. Things go sideways when a band of terrorists hijack the plane for ransom and get even crazier when the woman's disease turns out to be a very bad case of vampirism, which she's happy to unleash in service of protecting her boy. And yes, from that setup, "Blood Red Sky" giddily indulges in all manner of high-flying cinematic insanity, playing in equal parts as a blood-soaked horror flick, and a high-concept actioner overflowing with unabashed B-movie flavor.
Those intrigued enough by that synopsis to smash the play button on "Blood Red Sky" this weekend will surely note a few familiar faces in the film's cast as well, with that of the land-bound Col. Alan Drummond being among the most recognizable. That faces belongs to renowned Scottish character actor Graham McTavish. Here's where you've seen it before. 
He played a king in Aquaman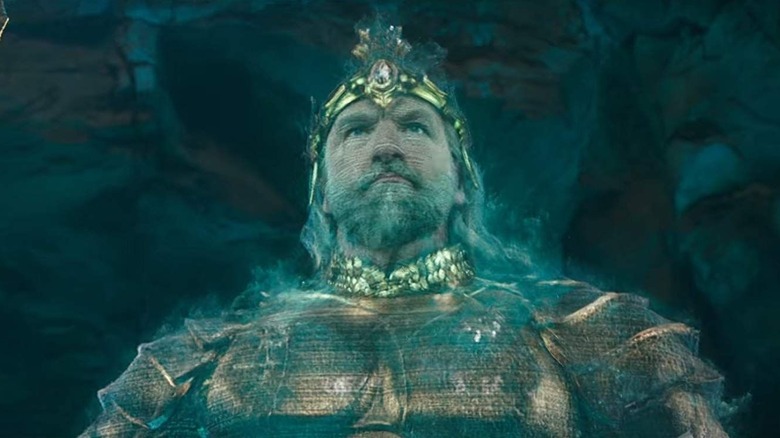 Warner Bros. Pictures/DC Entertainment
Assuming you do recognize the bearded facade of Graham McTavish in "Blood Red Sky," it's likely because you were a fan of James Wan's 2018 DCEU offering "Aquaman." That film, of course, found Jason Momoa reprising his "Justice League" role as Arthur Curry, the sea-faring superhero we know as Aquaman who, in the course of the film, ascends to the throne of the underwater city of Atlantis. He does so after re-claiming the fabled Trident of Atlan which was once wielded by the great King Atlan (who held the throne in the days when Atlantis first sunk into the sea) and defeating an underwater army led by his half-brother Orm (Patrick Wilson).
The character of King Atlan was actually portrayed by Julian Lewis Jones in a brief "Justice League" cameo, but that was indeed McTavish portraying the first king of Atlantis in "Aquaman" itself. Not surprisingly, the seasoned character actor imbued the character with stodgy nobility worthy of a former king's legacy. 
The Hobbit found McTavish portraying an outspoken Dwarf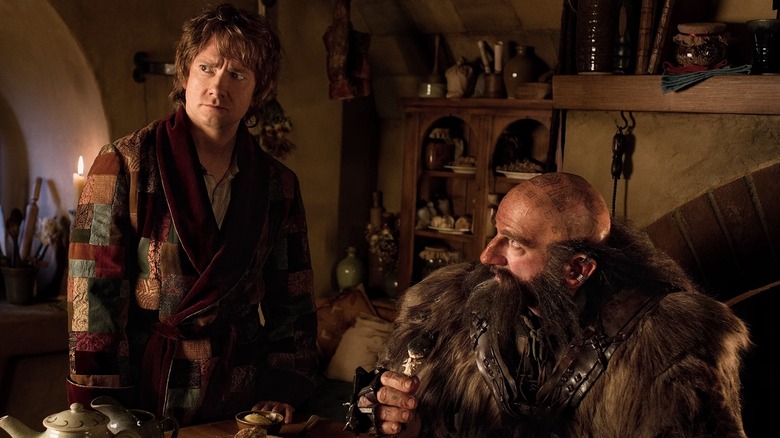 Warner Bros. Pictures/New Line Cinema
"Aquaman" was hardly the first tentpole fantasy epic to front the distinctive face of Graham McTavish. In fact, prior to making his DCEU debut, McTavish had already featured prominently in a high-profile trilogy that netted close to $3 billion in worldwide ticket sales. That's some serious cheddar for a prequel trilogy that paled in virtually every way by comparison to the one which preceded it. And yes, in spite of largely middling reviews, Peter Jackson's "The Hobbit" trilogy ended up accounting for roughly half of his "The Lord of the Rings" franchise's combined $5.9 billion take even if it's held in far less regard.
If you're struggling to place McTavish's face in "The Hobbit" movies, it might help to picture him with tattoos spotting his bald head, and a long, distinguished black beard on his face. It might also help to picture him a bit shorter than he is in real life because even if McTavish's Dwalin is considered notably tall by Dwarvish standards, he's still a bit smaller than many other Middle Earth beings. 
Graham McTavish managed the champ in Creed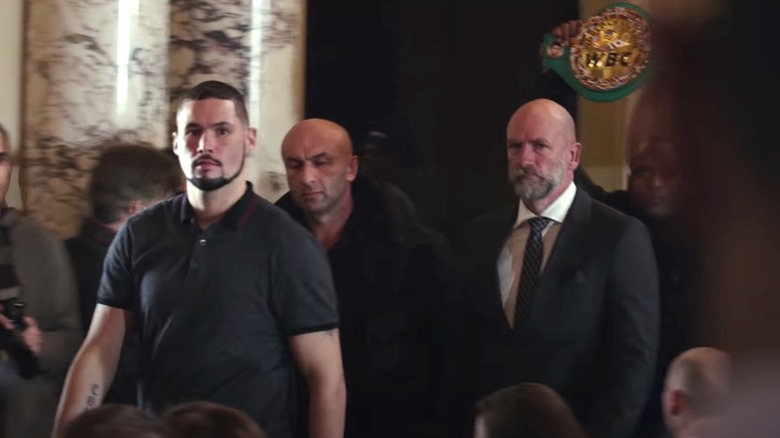 Warner Bros. Pictures/MGM
Throughout his now decades-long acting career, Graham McTavish has had a knack for sniffing out intriguing big- and small-screen projects. But it's safe to say 2015's boxing drama "Creed" stands apart from the pack as one of the best movies he has ever appeared in. Directed by "Black Panther" helmer Ryan Coogler, and featuring a star-making turn from MCU standout Michael B. Jordan, "Creed" continued the narrative first begun by Sylvester Stallone in 1978's "Rocky."
It did so by wisely turning its gaze largely away from the Italian Stallion, and focusing instead on rising boxing star Adonis Creed (Jordan), the son of Rocky Balboa's former friend and rival Apollo Creed (Carl Weathers). Jordan and Stallone are obviously the stars of "Creed," with each arguably delivering career-best work in their roles. But some might easily tab McTavish's turn as Tommy Flanagan — the fiery manager of Ricky Conlan (Tony Bellew) — as a bit of a scene-stealing feat, with the actor bringing hard-earned wisdom to the tough-minded cornerman's largely underdeveloped arc.     
McTavish has been a regular on the small screen of late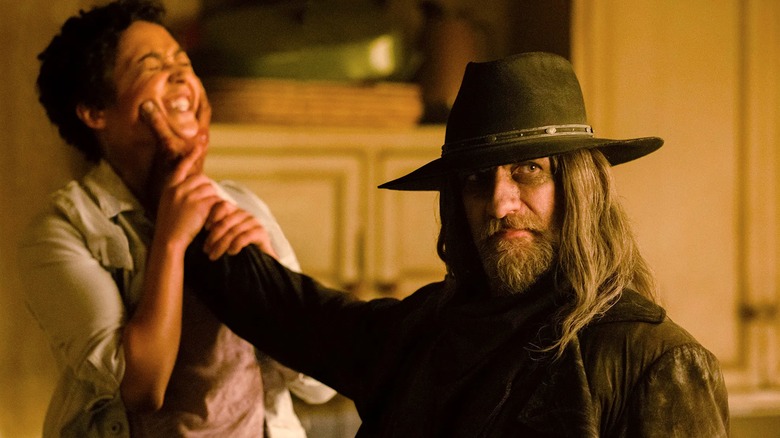 AMC
As it is, McTavish's star continues to rise in Hollywood, with the actor soon to be seen in big-time small-screen affairs such as HBO's "House of the Dragon" and Season 2 of Netflix's "The Witcher." The actor is hardly a stranger to prestige TV, however, and has featured prominently in a handful of beloved television series over the years.
Among McTavish's most notable television appearances are a Season 8 arc on the hit Fox drama "24" (where he portrayed a nefarious Russian dignitary), and steady gigs on a trio of recent cult hits including NBC's "Lucifer," AMC's "Preacher," and the Starz sci-fi drama "Outlander," where he portrayed an unorthodox priest, a vengeful spirit, and a steadfast warrior respectively. And yes, he brought a distinctive air of world-weary eloquence to each role. Just an FYI — even if you don't recognize McTavish's face from any of the projects mentioned here, you may still recognize his voice, which has featured in such animated affairs as "Teenage Mutant Ninja Turtles," "Duck Tales," "Castlevania," and Marvel's "The Avengers: Earth's Mightiest Heroes" over the years.