Songs In The MCU That Mean More Than You Realize
Marvel Studios
The Marvel Cinematic Universe may have established itself as a tentpole of the contemporary monoculture, cranked out 24 feature-length films and counting, refreshed its relevance with original series on the Disney+ streaming platform, and made more money than our mortal minds can conceive of without melting into brain soup. But does it rock? 
Some folks say it does not, in fact, rock. 
Three of its feature films — the "Guardians of the Galaxy" movies and "Black Panther" — make a case to the contrary. "Guardians" incorporates era-specific popular music for character development. "Black Panther" enhances its ambiance with contemporary hip-hop. But mic drops throughout the rest of the MCU don't always land gracefully, and — while Alan Silvestri's "Avengers" theme is as catchy as it needs to be — there still isn't an instrumental from the MCU that comes close to matching John Williams' work on "Star Wars" or "Jaws," Vangelis' score for "Blade Runner," or, for that matter, anything that appears on the soundtrack to "Scott Pilgrim Vs. The World."
But maybe the MCU's music situation isn't as dire as it's sometimes made out to be? After all, if we can put together a list of songs in the MCU that mean more than you think — which we have, clearly — then maybe the MCU can rock when it wants to?
Let's examine further...
The Five Stairsteps - O-o-h Child (Guardians of the Galaxy)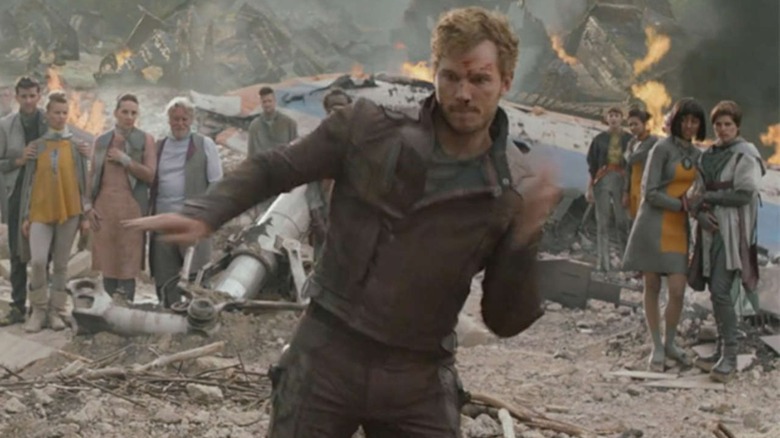 Marvel Studios
Of all the songs Peter Quill could sing and dance to in order to distract Ronan the Accuser at the conclusion of "Guardians of the Galaxy," Marvel secured the licensing rights to 1970's "O-o-h Child" by The Five Stairsteps. Why would director James Gunn and the other minds behind "Guardians" select that tune, as opposed to any of the other zillions of songs that exist?
The Five Stairsteps were a well-established Chicago soul act — which means, they're not a one-hit wonder, as some incorrectly assume — years before crashing through to the mainstream pop charts with "O-o-h Child." In the decades since, the unconquerably uplifting track has been covered by acts ranging from Nina Simone to Paul Stanley to Cyndi Lauper and a score of others. 
So if you had to pick a classic pop song that embodies ideas like optimism, friendship, and a fundamental belief in the worthwhileness of existence and does so powerfully enough to literally defeat a genocidal intergalactic warlord, "O-o-h Child" may well be one of the best options.
Fleetwood Mac - The Chain (Guardians of the Galaxy Vol. 2)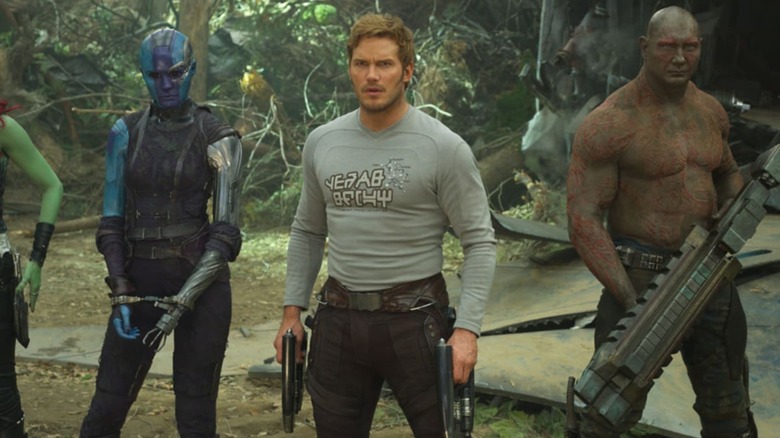 Marvel Studios
At the risk of offending Fleetwood Mac's not insignificant number of superfans, we must note that when most people think about the improbably still-active folk-rock institution, they think of two things — band members who hate each other's guts and the 1977 album "Rumors." 
Fleetwood Mac has a bunch of other hit records, but the generation-hopping recognizability of singles "Don't Stop" and "Go Your Own Way" in particular establish "Rumors" as the group's most enduring project. And while never released as a single, "The Chain" — the seventh track off "Rumors" — evolved into a signature Fleetwood Mac tune in its own right.   
Written in the midst of a romantic implosion, the lyrics to "The Chain" emphasize a chain persevering despite the expiration of an unspecified love. The "chain" could be metaphor for Fleetwood Mac itself, holding together despite personal fallings out. In the case of "Guardians of the Galaxy Vol. 2," it could represent the team remaining emotionally linked despite their various and frequent squabbling.  
Peter Quill and Rocket Raccoon bicker throughout the first quarter of the movie, and the Guardians temporarily split into two factions while Quill, Gamora, and Drax investigate Ego's planet and the others stay behind. But, much like a chain, they're connected ... in a figurative sense.  
Kendrick Lamar/SZA - All The Stars (Black Panther)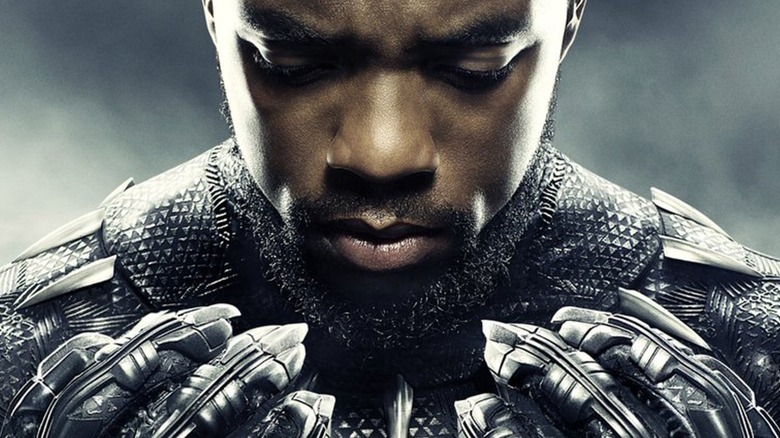 Marvel Studios
An instant chart-topper upon its release in 2018, "Black Panther: The Album" by Kendrick Lamar and a handful of other artists remains a singular entity amongst MCU-related and adjacent media. The MCU hasn't produced another full-length album of original songs.
"Black Panther: The Album" nabbed a pile of Grammy and Oscar nominations and won a Best Rap Performance Grammy for Lamar's "King's Dead." Meanwhile, Ludwig Göransson's score won a Grammy and an Oscar. These are not common honors for MCU-affiliated projects. While not every song from Lamar's soundtrack makes it into the film, the defiantly joyful "All The Stars" featuring SZA memorably prevails across the end credits. 
Albums of original songs for films fell out of fashion after CDs stopped selling in the early '00s, but Lamar certainly demonstrated the ample possibilities for what contemporary blockbuster movie soundtracks can accomplish with the right pop artists and resources. 
What we're saying is, Kevin Feige, we know you're reading this, and you need to hire Trent Reznor and maybe somebody like Grimes to do the soundtrack for "Marvel's X-Men."
Suicidal Tendencies - Institutionalized (Iron Man)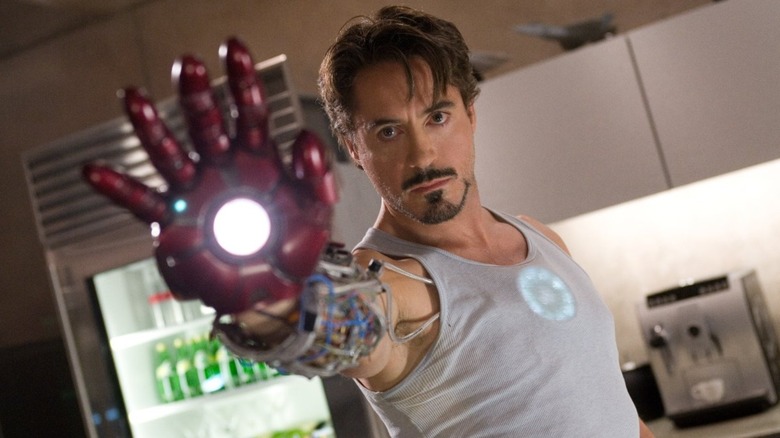 Marvel Studios
"Institutionalized" — one of the better-known songs by Californian thrash pioneers Suicidal Tendencies — is not a metaphorically dense piece. With a bluntly conversational tone, singer Mike Muir spends the verses channeling an adolescent protagonist struggling with an inability to please seemingly anyone. (And yes, David Lynch trivia nerds, that is Jack Nance playing Muir's disapproving father in the "Institutionalized" video from 1984.) 
Likewise, Tony Stark spends quite a bit of the first half of "Iron Man" (2008) declining to meet other people's ideas of what he's supposed to do and who he's supposed to be. Tony refuses to build a missile for the Ten Rings terrorist syndicate. Then he decides against continuing to use Stark Industries for any weapons manufacturing at all. And even though Obadiah Stane is very much in favor of it, Tony takes a bold stance against his own premature death.
A billionaire industrialist genius like Tony Stark might not have a ton directly in common with the possibly mentally ill teenager "Institutionalized" conjures up in the listener's imagination. But, for all kinds of reasons, they both often find themselves unable or disinterested in living up to other people's expectations. 
AC/DC - Shoot to Thrill (Iron Man 2)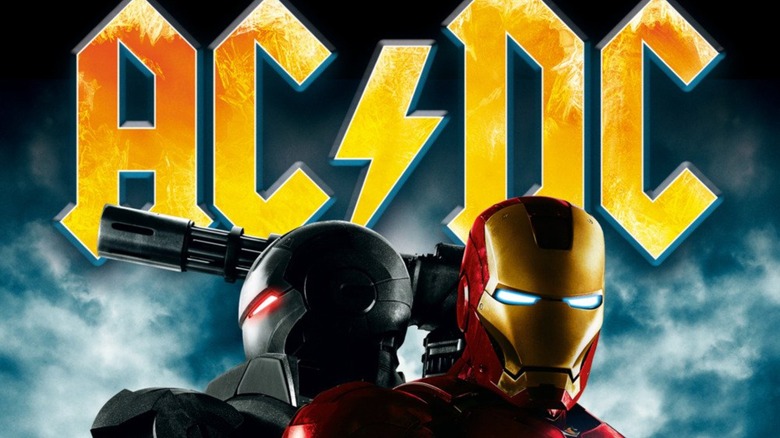 Columbia Records
It doesn't take a wild leap of imagination to think it makes sense to feature classic heavy metal music in an action movie franchise about a metal superhero. Ergo, the presence of Black Sabbath's "Iron Man" (duh) and AC/DC's "Back In Black" in "Iron Man" hardly shocks anyone.
However, AC/DC isn't just any old-school metal act — the fiery Australian organization are a genre staple, and certainly among the handful of metal bands that have remained commercially viable since the 1970s. So despite its lack of original songs or recordings, the album "AC/DC: Iron Man 2" stands as an early MCU flex, even if it's essentially a greatest hits compilation arranged for the second Iron Man movie. 
According to director Jon Favreau, an AC/DC concert gave him the idea for one of the visual flashpoints of "Iron Man 2": Tony's sky-dive arrival at the Stark Expo. "He's Iron Man ... he's going to go a million miles an hour," Favreau told the LA Times (via MTV). "So what do you expect this film to be, and how can we take it past those expectations? When I was watching AC/DC with my wife and my son and they were playing 'Shoot to Thrill' at the Forum, I thought, 'You know this is how he should show up, right in the middle of this and take the armor off. That's the Tony Stark version of doing things."
The Cure - Plainsong (Ant-Man)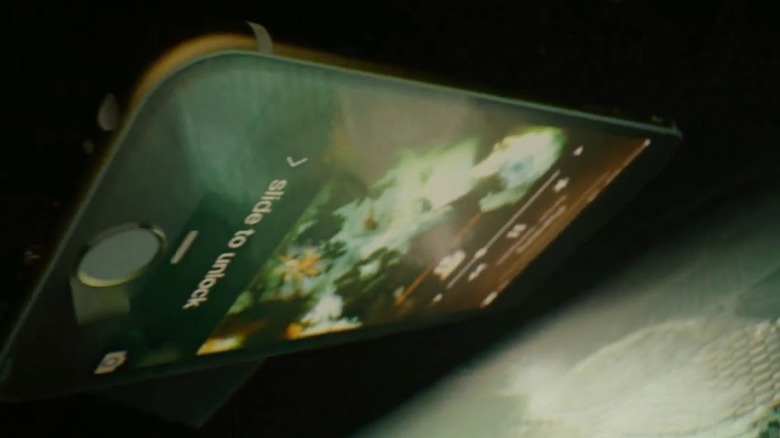 Marvel Studios
As it turns out, singer Robert Smith was not a direct visual inspiration for Dream of the Endless the way we've all kind of assumed. But even if their founder isn't really Sandman in real life, the Cure have other links to comics-related media. The song "Burn" is a cornerstone of the soundtrack to "The Crow," and as for the MCU, during the hero's climatic battle with the nefarious Yellowjacket inside a suitcase during "Ant-Man" (2015), the villain's declaration of "I'm going to disintegrate you!" prompts a nearby smartphone to play "Plainsong," the first track off 1989's "Disintegration" — arguably the U.K. goth standard-bearer's greatest achievement. 
"Disintegration" also happens to be the second album director Peyton Reed ever purchased, according to an interview with Film School Rejects (via Post-Punk.com). "I'm a massive Cure fan," he says. "We came up with a bunch of things, but we thought we could find a joke for 'Disintegration.' The first song on 'Disintegration' ... was 'Plainsong.' It's such an epic song that it transcended the joke — scoring this whole battle in a briefcase. There was this weird, cold wave goth vibe ... You have all these action scenes, and you want to have a different flavor."
"Plainsong" does two things in "Ant-Man": nod at fans of 1980s post-punk and make a fight scene weird.
Morrissey - Everyday is Like Sunday (Ant-Man & The Wasp)
Marvel Studios
Peyton Reed's appreciation for glamorously depressing U.K. pop from the 1980s extends beyond the Cure. He's also fond of the Smiths – noted for their mercurial lead vocalist Morrissey – and once clobbered a drum kit on behalf of a Smiths tribute act named for the quartet's 1986 compilation, "Louder Than Bombs." 
According to SlashFilm, Reed became familiar with the passionate Latinx following for Morrissey's solo material via his participation in Smiths fandom, which is why the jukebox at Luis' mom's restaurant — seen during a comically unnecessary flashback — contains Moz tracks exclusively. 
Currently listed as 57 years old, Reed would've been a teenager and a 20-something during the 1980s. We don't want to make a ton of assumptions about the director's disposition and life outlook during his younger years. However, the moody vibes provided by the Smiths and the Cure tend to appeal to folks who think of themselves as outsiders. And before superhero movies became mainstream, Marvel and DC comics were also considered mental stimulation and escapism for social outcasts. 
Then again, Reed also directed the cheerleader comedy "Bring It On," so maybe he actually identified with the popular kids in high school. People can be multifaceted! 
Lita Ford - Kiss Me Deadly (Captain Marvel)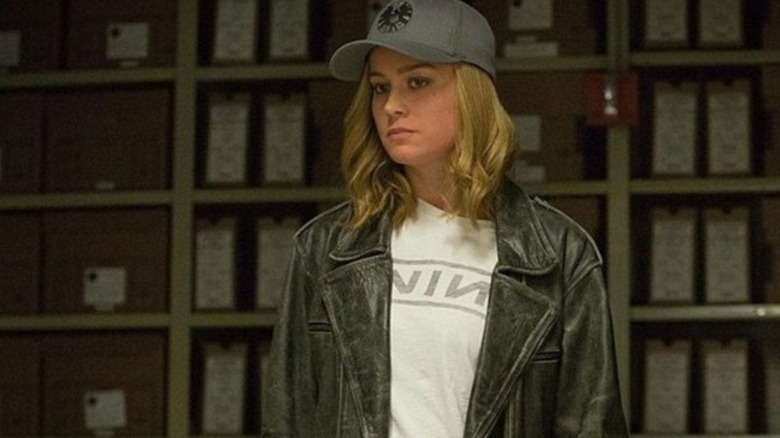 Marvel Studios
While there are oodles of mic drops in "Captain Marvel," era touchstones like Garbage's "Only Happy When It Rains" from 1995 and Hole's "Celebrity Skin" from 1998 mostly serve to remind those of us in the audience that the events of this film take place ... in the '90s. 
The movie doesn't spend a disproportionate amount of its runtime explaining who Carol Danvers was before the Kree entered her life; but it certainly provides some bullet points. For instance, early in the film when Skrulls examine Carol's memories, we see her and Maria Rambeau at an Air Force bar's karaoke night belting out Lita Ford's 1988 hit "Kiss Me Deadly." 
It's a telling moment, because it gives us an idea what Carol Danvers' taste in music is actually like. She famously wears a Nine Inch Nails T-shirt from a thrift store in order to blend with contemporary America, but she may very well have been brainwashed by the Kree and in outer space by the time "The Downward Spiral" made Trent Reznor a celebrity in 1994. 
Captain Marvel's formative years on Earth took place during the Reagan '80s, which means her listening habits probably have more in common with these potty-mouthed folks from "The Wrestler" than most younger Gen-Xers and older millennials.
Led Zeppelin - Immigrant Song (Thor: Ragnarok)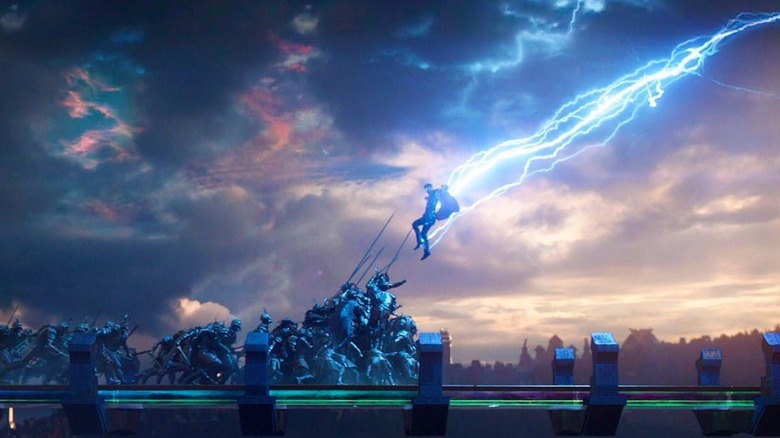 Marvel Studios
The lyrics for Led Zeppelin's "Immigrant Song" were reportedly loosely inspired by a calamitous but ultimately successful 1970 Led Zeppelin gig in Iceland. However, the literal meaning of the tune — assuming there even is such a thing — feels irrelevant given how many explicit references to Norse mythology appear in the old-school banger by metal's godfathers.   
"The hammer of the gods," sings Robert Plant in the first verse. "Will drive our ships to new lands, to fight the horde, sing and cry, 'Valhalla, I am coming.'" We bet you're asking, "How did Marvel need to make two Thor movies before it occurred to them to use this — a '70s rock staple that directly name-checks a bunch of Asgard stuff?" 
As it turns out, getting permission to use "Immigrant Song," or any Led Zeppelin, track for a movie is extremely time-consuming and expensive. The band is so protective of their material that it took director Taika Waititi and the musical director of "Thor: Ragnarok" (2018) literally the entire years-long production of the film to lock down "Immigrant Song."
But Waititi thinks it was worth the effort. "I think it wouldn't have happened if we didn't start the conversation with them really, really early on," he tells Business Insider. 
Beyoncé - Single Ladies (Put A Ring On It) (Doctor Strange)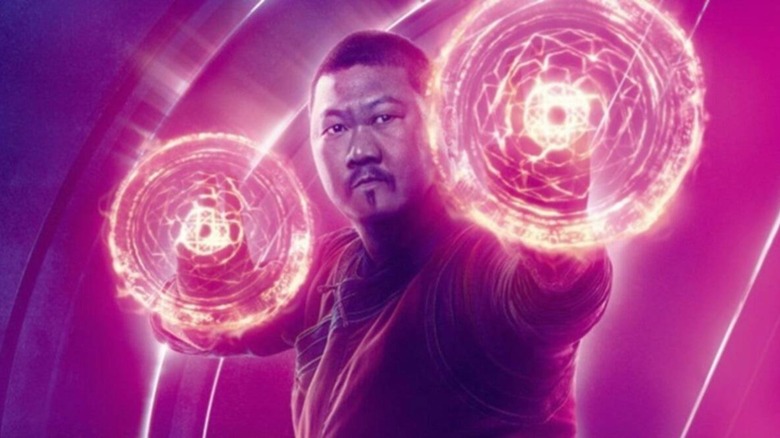 Marvel Studios
At the point in "Doctor Strange" when the audience first encounters Wong, director Scott Derrickson is tasked with establishing two aspects of actor Benedict Wong's appropriately named character: We need to see that Wong is a deadly serious student of the mystic arts, and we also need to think of him as relatable, secretly fun, and the sort of person we'd be inclined to cheer for when he becomes Doctor Strange's partner in the fight against evil.
The first part is self-evident. To demonstrate that second necessary element of Wong, he listens to pop music.
Midway through the film, Strange asks Wong to let him borrow tomes on astral projection from the Ancient One's library. Wong says "You're not ready for that," and Strange responds, "Try Me, Beyoncé." Wong, who only knows about sorcery and arcane matters, doesn't know what Strange is talking about. 
Because he's a culturally curious individual, Wong seeks out Beyoncé's 2008 hit "Single Ladies (Put a Ring On It)" to listen to on his headphones. Ironically, Beyoncé sings the line "I don't think you're ready for this..." in "Bootylicious," a song from her pre-solo career band Destiny's Child, which came out seven years before "Single Ladies." So while the Wong broadens his musical horizons, he still has no idea what the heck Strange was talking about. 
The Ramones - Blitzkrieg Bop (Spider-Man: Homecoming)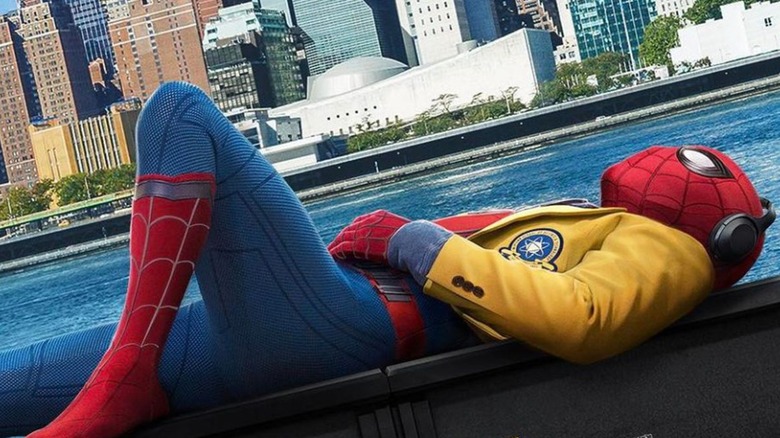 Marvel Studios
Early propagators of the so-called "punk" approach to songwriting and performance in the mid-1970s, the Ramones might not be the most important musicians to ever emerge from New York City ... but they kind of feel like they are? The Notorious B.I.G. might've been more talented, and Lou Reed might've been more respected, but did either of those guys ever record a superhero theme song for a compilation album of half-ironic covers from cartoon shows?
For 1995's "Saturday Morning: Cartoons' Greatest Hits," the Ramones gave the 1967 "Spider-Man" series anthem a shot of anarchistic adrenaline that, somehow, no one has ever done for the equally recognizable "Batman" TV theme song of the same era. So considering the Ramones' deep connections with New York City's underground music history as well as the "Spider-Man" franchise, a Spidey movie without any Ramones tunes would feel lacking. 
"Blitzkrieg Bop" blasts across the end credits of "Spider-Man: Homecoming," while "I Wanna Be Your Boyfriend" — an indicator of Peter and M.J.'s state of being at the time — drops toward the end of "Spider-Man: Far From Home."    
Kathryn Hahn - "Agatha All Along" (WandaVision)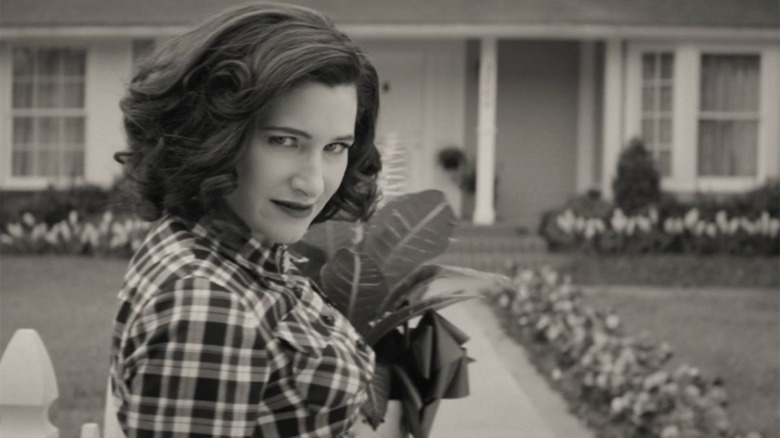 Marvel Studios/Disney+
Rolling Stone's extensive oral history of "WandaVision" includes some fascinating tidbits. For instance, what many of us assumed was a Kathleen Hanna sound-alike belting out a bratty ditty in the general spirit of "Boss of Me" by They Might Be Giants — a.k.a. the theme from "Malcolm in the Middle" — is not a sound-alike at all. That's the actual Kathleen Hanna — of Bikini Kill, Le Tigre, and the Julie Ruin and the subject of the 2013 documentary "The Punk Singer" — making a secret cameo in "WandaVision."
Songwriters Kristen Anderson-Lopez and Robert Lopez penned all the show's era-specific TV theme songs, as well as honest-to-gosh Billboard chart climber "Agatha All Along," which reveals the wicked agenda of Agatha Harkness (Kathryn Hahn). Anderson-Lopez didn't realize how popular their contributions to "WandaVision" would turn out at the time, but knowing what she knows now, she wishes she had gotten more ambitious. "Looking back, I really wish we had pitched that when Agatha had control of the whole town, she made them do some sort of 'Thriller' moment," she tells Rolling Stone. "If we had known the way the songs were going to hit, I think we would have wanted to have a big finale." 
Is that a spoiler for "WandaVision" Season 2? 
Uh ... maybe not. 
Nirvana/Malia J - Smells Like Teen Spirit (Black Widow)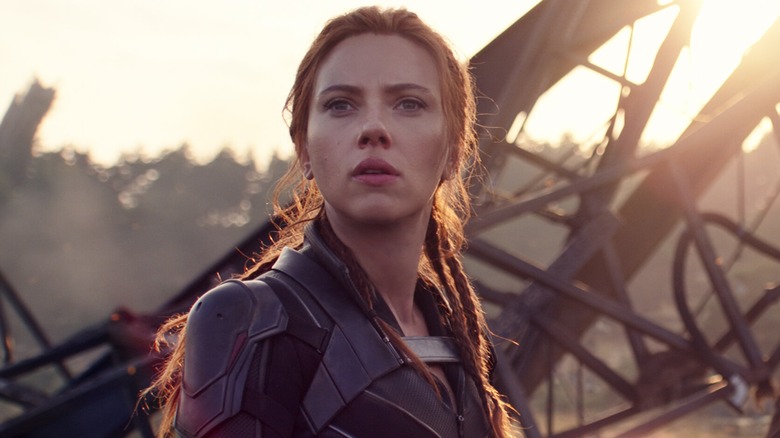 Marvel Studios
The Phase 4 kickoff delayed by the COVID-19 pandemic for more than a year, "Black Widow" begins with an extended flashback and segues into opening credits spliced with a haunting montage of mercenary soldiers herding terrified children out of freight cars. Nirvana's "Smells Like Teen Spirit" — reimagined as an ominous dirge by singer Malia J and the Think Up Anger collective — plays until the credits conclude.        
The lead single off 1991's "Nevermind" — a diamond-selling album oft-credited with ushering in an industry-wide aesthetic shift and easily the most influential rock album of the last 30 years — the original recording of "Smells Like Teen Spirit" may be the most overplayed song ever. Nevertheless, it carries specific relevance for Natasha Romanoff, Yelena Belova, and all other involuntary assassins whose childhoods were stolen by the Red Room.
While the lyrics are as abstract as anything written by Nirvana's notoriously non-literal wordsmith, a Biography.com account notes that when Kurt Cobain first encountered the phrase "teen spirit" — scribbled on his bedroom wall by "WandaVision" singer Kathleen Hanna, coincidentally — he incorrectly interpreted it as a term for youth in rebellion. Malia J's version — somber and brooding, in contrast with the original's uproarious spirit — functions as a theme for youth under oppression.