How Sara Gilbert Felt About Joining Johnny Galecki On Big Bang Theory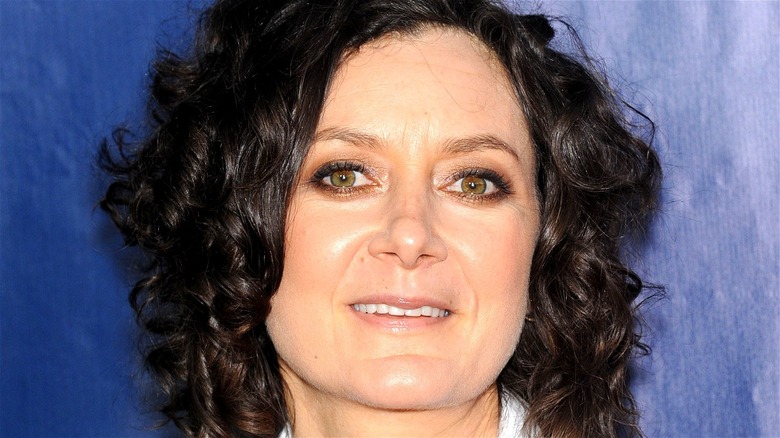 Shutterstock
Then-aspiring actress Sara Gilbert seized the opportunity of a lifetime in 1988, joining the likes of John Goodman and Roseanne Barr on the ABC series "Roseanne." She took on the role of Darlene Conner, the rebellious and cynical younger daughter of parents Dan (Goodman) and Roseanne (Barr), whose attitude often led to clashes with her elders. A major point of contention was her on-again-off-again relationship with David (Johnny Galecki), a quiet, passive kid with a clear lack of ambition and no strong direction in life.
Despite their vastly different personalities, Darlene and David's relationship lasts throughout most of the series and even leads to the birth of their daughter, Harris Conner Healy. However, by the time "Roseanne" was revived in 2018, the two finally separated and went off to live different lives. Coincidentally, in the real world, Gilbert and Galecki dated for a spell in the early 1990s but eventually split sometime before "Roseanne" wrapped up in 1997. Their personal and professional lives diverged for a time, but their paths would cross again sometime later.
Come 2007, Johnny Galecki landed the lead role of Leonard Hofstadter on "The Big Bang Theory," once again occupying the same cast list as Sara Gilbert. She portrayed physicist Leslie Winkle from Season 1 up until the tail end of Season 3, last appearing in Season 9 in a cameo capacity. Behind the scenes, here's how Gilbert really felt about her small screen reunion with Galecki.
Sara Gilbert fit right in with Johnny Galecki on the Big Bang Theory set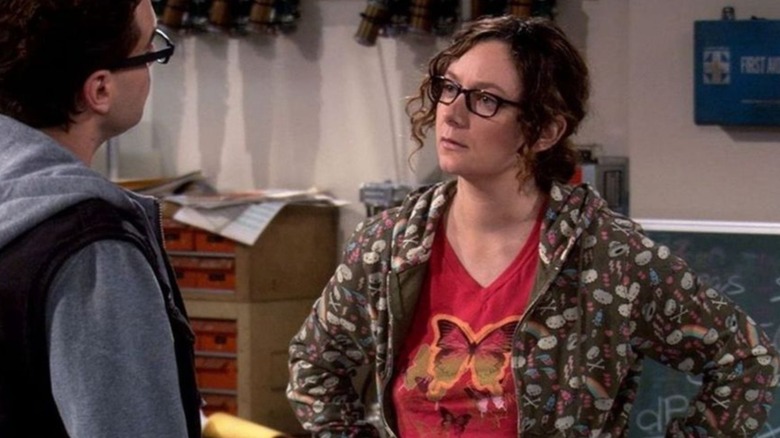 CBS
To understand how Sara Gilbert's presence on "The Big Bang Theory" came to be, we first have to dive into her brief relationship with Johnny Galecki. Shortly after his "Roseanne" debut in 1992, the two hit it off and started dating, but magic wasn't in the air for very long. As she explained on The Talk in 2013 (via Entertainment Weekly), she felt depressed over the way things were going, prompting her to reevaluate herself and come to the conclusion that she's a lesbian. "I eventually told him I thought it was about my sexuality, and he was super sweet about it," Gilbert revealed.
Sadly, back in that era, it wasn't easy for an actor or actress to come out, at least if they wanted to keep their career going. Gilbert was well aware of this industry-wide issue, recalling, "I always felt so scared. If it came out, what could happen? Could I lose my career? Will I ever be able to play a straight role again?" She went on to note that not only was Galecki supportive of her sexuality, but he gladly kept her secret for years and offered to be there in person when she finally decided it was time to speak publicly about it.
So, what does this story have to do with Gilbert's addition to the "Big Bang" cast? Well, as The Things postulates, her and Galecki's strong bond surely played a role in her signing on, even though the Leslie Winkle character didn't get to see the show through to the end. Not to mention, Chuck Lorre — one of the sitcom's creators alongside Bill Prady — worked with the duo on "Roseanne" back in the day, adding another level of comfortability to the set. 
All in all, the perfect set of circumstances came together to get Sara Gilbert on "The Big Bang Theory," and her enduring friendship with Johnny Galecki likely made her appearances a treat to film.