Why Rabid Ruth From American Horror Stories: Drive In Looks So Familiar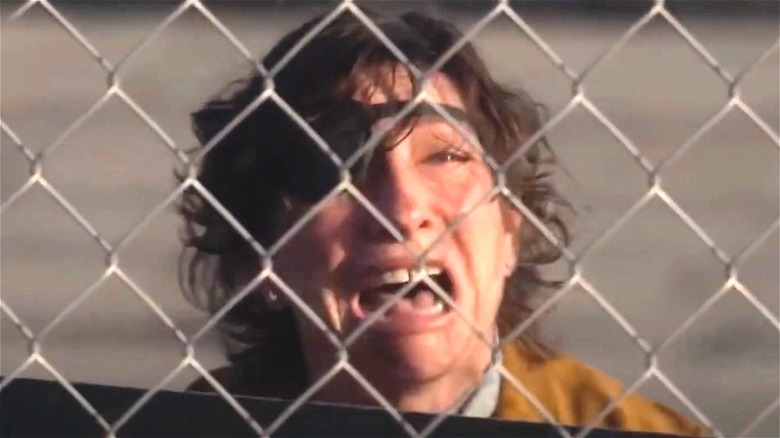 FX
While it's far from the first show of its kind — "Twilight Zone" comes to mind as a significant predecessor — "American Horror Story" popularized the anthology horror TV series format in the modern prestige TV era. Each season of "American Horror Story" essentially stands on its own, united by stylistic touchstones more than an overarching plot. Although "AHS" does technically take place in a shared universe (via Decider), connections between seasons are generally secondary to the unique story told within each one.
"American Horror Stories," by its very nature, pushes that idea one step further, introducing a new plot in each episode (or, as in the case of its premiere, pair of episodes). Episode 3 of "American Horror Stories" is titled "Drive In," and chronicles the screening of a controversial, boundary-redefining horror film titled "Rabbit Rabbit" at a drive-in movie theater. One of the attendees of a notorious screening of "Rabbit Rabbit" in the '80s, still marked by injuries from the violence resulting from that screening, shows up to the drive-in showing in protest of its reintroduction to modern audiences.
That protestor, nicknamed Rabid Ruth, is portrayed by actor Naomi Grossman. If she looks familiar, it's likely from one of the following roles.
Grossman started out as a performer at The Groundlings Theater
Before Naomi Grossman was a presence on TV and in movies, she was primarily a comedy performer, both on stage and in a number of sketches and shorts. Much of her acting career in her early years was derived from her involvement with the Groundlings Theater in Los Angeles, California. According to Grossman's bio on her official website, she was a member of the Groundlings' Sunday Company, which is reserved for its most skilled improv and sketch comedy students and is a prerequisite for joining the theater's Main Company. Fellow Groundlings Sunday Company alumni include Oscar Nunez of "The Office" fame, Jillian Bell from "Workaholics," and "Saturday Night Live" Wills Ferrell and Forte (in addition to numerous other "SNL" cast members).
Because of her involvement with the Groundlings, many of Grossman's earliest credits are in short comedic films or sketches produced in tandem with fellow Groundlings performers. According to her online bio, her comedic shorts have both been screened at national film festivals and have been featured on websites like FunnyOrDie.
Naomi Grossman has a history with American Horror Story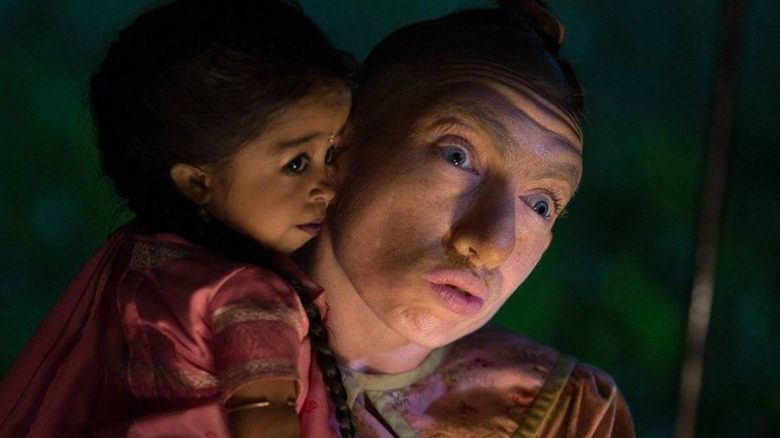 FX
To viewers of "American Horror Stories: Drive In" especially, Naomi Grossman will most likely seem familiar from her roles in multiple seasons of "American Horror Story." Grossman first portrayed Pepper in both Season 2, subtitled "Asylum," and Season 4, aka "Freak Show." Fittingly, Pepper is both a patient at the Briarcliff Manor asylum and a performer with Fräulein Elsa's Cabinet of Curiosities, the titular "freak show" of the fourth season. Pepper is something of a fan favorite, earning the most votes in a Reddit poll asking fans of "American Horror Story" their favorite recurring character in the series' history.
Prior to "American Horror Stories," Grossman also appeared in "American Horror Story" Season 8, subtitled "Apocalypse," as the Church of Satan Cardinal Samantha Crowe. Whereas her stint as Pepper lasted for 17 episodes across two seasons of "American Horror Story," she appeared as Crowe for two episodes in total. Her "American Horror Stories: Drive In" role marks her first appearance in the franchise since then.
Grossman kicked off her horror movie career with Fear, Inc.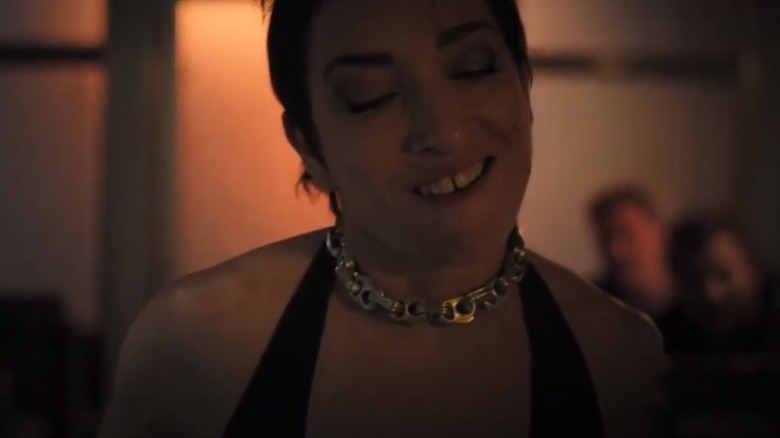 Lone Suspect
In 2016, Naomi Grossman appeared as a member of the supporting cast of "Fear, Inc." The film centers on a company, from which the film's title is derived, claiming to offer realistic, horror movie-like experiences to paying customers. However, when Joe (Lucas Neff) enlists their services, the boundary between their brand of supposed prank-horror and real-life dangers begins to blur. Grossman is Cat in "Fear, Inc.," an employee of the Fear, Inc. company who assists her boss Abe (Mark Moses) in his work replicating scenes from famous horror movies in the lives of their paying customers.
Grossman's role in "Fear, Inc." is significant in that it marked her debut as a big-screen horror actor in the wake of her stint as Pepper in "American Horror Story." Following the film, she appeared in supporting and lead roles alike in movies like hospital horror "Painkillers," vampire comedy "Bite Me," literal cult film "1BR," and more.
Naomi Grossman starred as Lorna in ctrl alt delete
Webseries "ctrl alt delete," released directly to Vimeo, is a self-described workplace comedy that takes place in an abortion clinic. Ed Begley Jr., whose notable roles include "St. Elsewhere," "This Is Spinal Tap," "Better Caul Saul," and more, portrays Dr. Rosenblatt, one of the clinic's doctors. Grossman is Lorna, a woman who makes repeated visits to the clinic. In an interview with author Sarah Scoop, Grossman described Lorna as an "abortionado" who "gets abortion after abortion after abortion" but "has a great sense of humor about it." She recounted feeling drawn to the role because of the character's eccentricities. Though much of the comedy of "ctrl alt delete" is derived from workplace scenarios, like in "The Office" before it, Lorna acts as something of a repeat customer who is thus a frequent workplace presence.
"ctrl alt delete" was nominated for two "Short Form Comedy or Drama Series" Emmy awards (via IMDb): Ed Begley Jr. was nominated for his performance of Dr. Rosenblatt, and Naomi Grossman was nominated for her portrayal of Lorna, officially making Grossman a Primetime Emmy nominee.