The Ending Of Atypical Season 4 Explained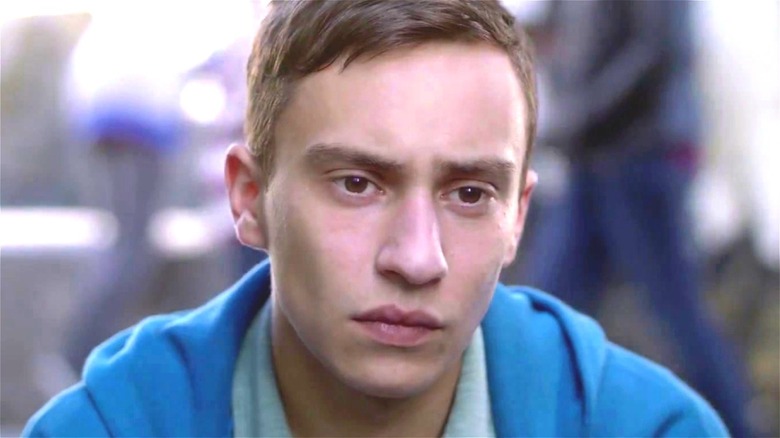 Netflix
There are no penguins in Alaska. So that's not a compromise Sam (Keir Gilchrist), the college student on the autism spectrum who has an all-encompassing love for everything penguins and Antarctica, can make when it comes to a trip of a lifetime. The series doesn't want him to compromise his goal, either, instead presenting an inspirational ending.
Season 4 of Netflix's comedy-drama "Atypical" is in the business of dreams and ambitions. By the first episode, Sam has already done several things his family members never thought he would: Have a relationship with a long-term girlfriend, enrolled in college, and moved out of his parents' house. But with the end of the series looming in just 10 episodes, the story moves on to his ambitious goal of going on an expedition to the place he's dreamed of for as long as he can remember: Antarctica.
Over the course of the season, he faces doubts from his family and friends and commits himself to endure the frightening and uncomfortable, but in the penultimate episode, the trip is canceled due to limited interest — he's the only one who applied. The season finale sees Sam deal poorly with the news until he decides, screw it, he's going anyway.
Meanwhile, his younger sister Casey (Brigette Lundy-Paine), a snarky but protective track star, spends the season finding comfort in her new girlfriend Izzie (Fivel Stewart) while dealing with the pressures of succeeding in academics and athletics. Toward the end of the season, it becomes too much to bear: She quits her fancy private school and retreats to find a new relationship with running and an understanding of herself. By the finale, she's coming out the other side in one piece, but still dealing with anxiety over college, which her mother Elsa (Jennifer Jason Leigh) helps her through.
Here's the ending of the fourth and final season of "Atypical" explained.
Sam goes to Antarctica with his dad, but not because he needs him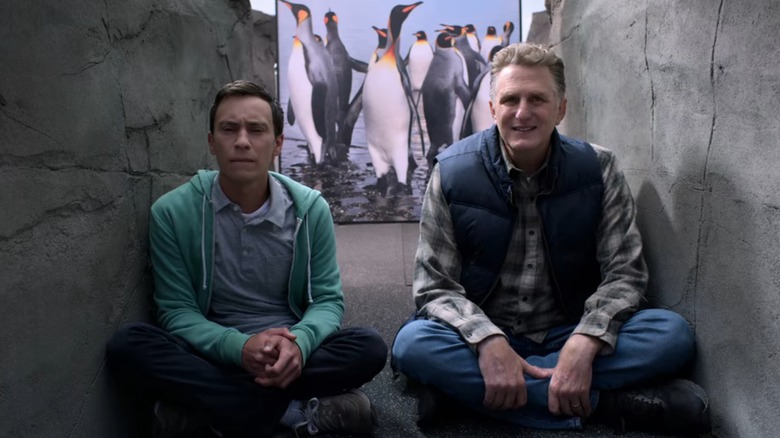 Netflix
After the devastating revelation that Sam's Antarctica school program was canceled, he decides to throw out everything that reminds him of the continent, which is essentially all of his things. It's heartbreaking to watch and of course does not get his mind off of the South Pole. However, while no one in his life offers him any hope — they merely suggest he goes to Alaska instead — Sam comes to a revelation: He'll go without the program. It's a big leap for him, showing how much he's grown over the series, as he's bravely heading to an environment that would make anyone nervous. His father, Doug (Michael Rapaport), decides to accompany him in a heartwarming display of how much closer the two of them have gotten since Season 1.
Creator Robia Rashid said to TVLine that the ending was always going to be Sam going to Antarctica, but they added Doug to the mix later. "[Sam and Doug] started out feeling not very connected and like they had nothing in common," she explained. "You don't feel like they're going [to Antarctica] together out of any sort of fear. [Doug]'s not going to watch out for Sam. He's going because he wants to hang out with his kid, and he's curious."
As for why Sam is feeling so anxious to get to Antarctica as soon as possible, it's because there's a time crunch. In a video interview with the Los Angeles Times, actor Keir Gilchrist explained that up until this point, Sam has learned to lean on his support system, so now he wants to support the penguins as climate change continues to endanger them.
Sam's story has always been rooted in the hopefulness of overcoming obstacles, to be an inspiration for everyone, but especially for other neurodivergent people, and this trip is simply the natural final step.
In a bittersweet moment, Sam and Paige break up at a key location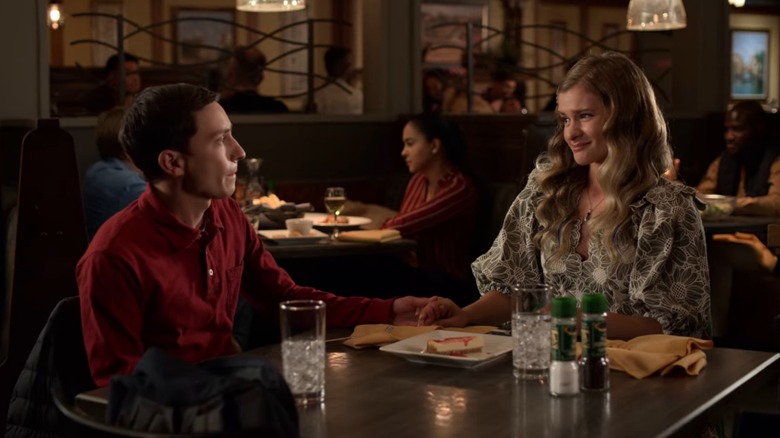 Netflix
Sam and Paige (Jenna Boyd) begin the season as a couple, but end it apart. Paige dropped out of college and has been working at a potato-themed restaurant in a position she clearly detests but tries to stay positive about. In the finale, she's gearing up to make a big change and pursue a more promising job, just as Sam's world is coming crashing down around him. However, her storyline doesn't go as deep as Sam and Casey's this season and she receives little support from Sam until the finale.
At first, Sam projects his disappointment on her and tells her to not go for the job, which is several states away. But after overcoming his own obstacle, the pair of them return to Olive Garden, the site of a few of their worst moments (Sam telling Paige he doesn't love her in front of her family; Sam ditching an important date to register for classes). This time, however, they get through the entire meal, giving the episode its name: "Dessert at Olive Garden." Sam urges Paige to go for the job, and shows an uncharacteristic display of emotion when they decide to break up while they're both gone.
While this season pays little attention to their relationship, it's been a key part of the series for the past three seasons, so this scene brings closure to the overall "Atypical" story. Showrunner Robia Rashid told TVLine, "[Sam] just never thought that he'd find love, and now he's in this place where he so believes that he can find love, he's willing to let it go because it feels like the right thing. That is so badass and powerful, and so amazing."
Casey's story is left open ended, but full of hope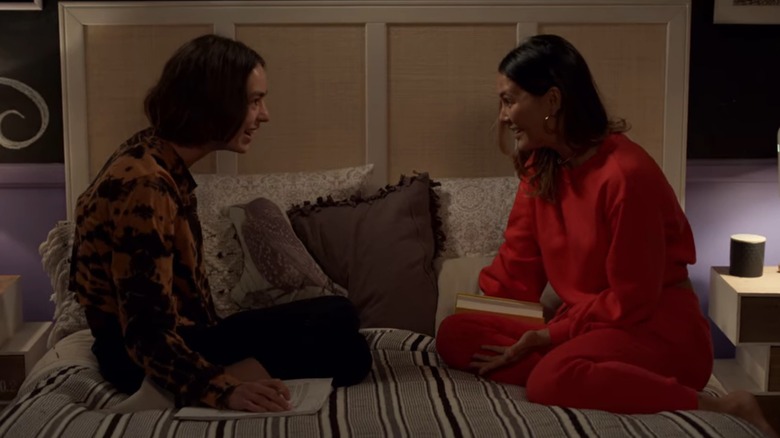 Netflix
All season, Casey's story has dealt with anxiety and the process of self-discovery. She feels crushed under the weight of people's expectations as she's meant to perform well both academically and on the track for the UCLA recruiters. At the same time, she experiences friction with her girlfriend, Izzie, over their different upbringings and support structures.
In the episodes leading up to the finale, Casey ditches her private school, Clayton Prep, and returns to the lower-pressure track team at her old school. The episode begins with Casey taking charge of her own life by getting back together with Izzie, who's been her safe harbor all season. It's a sweet conclusion for the pair of them, though the finale doesn't resolve either of Izzie's plotlines: Her ongoing quest to dismantle Clayton's rigid gendered dress code or her expulsion from her mother's house.
Instead, it's Casey front and center. The last episode saw Casey begin to find belonging with the label "bisexual" and departure from Clayton, but she still has two things to resolve: Her college plans and her relationship with her dad. While she's always wanted to go to a college far away, her anxiety is now holding her back. When she says she wants to stay home, her mom pushes her to talk to a UCLA recruiter anyway, reminding Casey of her ambitions. Ultimately, it's left unclear where Casey goes to college, but it's obvious that she's not going to be running away from her family or settling out of anxiety wherever she chooses.
Casey's story is not about giving up on her dreams but rather about finding a healthier way to go after them that takes her mental health into account. She learns to accept herself for who she is and trust herself over other peoples' opinions of her life.
Zahid's ending was meant as a stab at toxic masculinity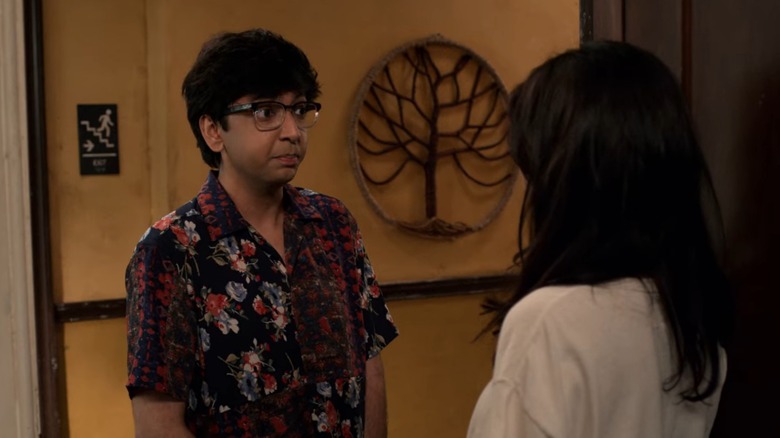 Netflix
While Sam and Casey (and even Paige, a little) deal with the costs and challenges of going after their dreams this season, Zahid's (Nik Dodani) storyline is rather unrelated. Partway through, he learns he has testicular cancer, returns to some destructive tendencies to cope, and then comes out on the other side with a new perspective on life. His illness forces him to reconcile with his idea of his own manhood.
In an interview with TVLine, showrunner Robia Rashid said Zahid's journey this season was meant to tackle toxic masculinity, as he goes from being someone who always objectifies women to someone who ... doesn't. This character growth in the finale is symbolized by a burgeoning relationship with his cool neighbor, Honey (Jessica Paré). In a departure from his previous exploits, they don't jump in bed together immediately, but instead, he finds commonality with her. It's a nice change for Zahid but it lands a little awkwardly.
Ultimately, "Atypical" finishes its run with a hopeful and rosy end for each of its characters. They all will continue to have challenges and flaws to overcome in their post-series lives but have proven their capability of handling them. "Atypical" took them all the way to Antarctica and didn't settle for Alaska.