What You Need To Remember Before Watching Atypical Season 4
Netflix
The end is near for one of Netflix's best original series. Loved by both regular audiences and critics alike, "Atypical" is a comedy drama series created by Robia Rashid about an 18-year-old boy with autism named Sam Gardner, played by Keir Gilchrist, following his life through high school and into college. Throughout the show's first three seasons, Sam goes through quite a lot, including his first relationship, his first job, and in the upcoming fourth season, his first time living away from home. The series also stars Brigette Lundy-Paine as Sam's protective sister Casey, along with Jennifer Jason Leigh and Michael Rapaport as their parents, Elsa and Doug. 
On July 9, 2021, the fourth and final season of "Atypical" is premiering on Netflix, and fans of the show are both happy and sad to see the final episodes. While it's hard to say goodbye to a series, it's really the perfect time to complete Sam's story, with the whole Gardner family coming to the end of a personal journey of self-discovery. As fans prepare to watch the final 10 episodes, here are the major plot points from the third season that you need to remember before starting Season 4. 
Sam and Zahid are moving in together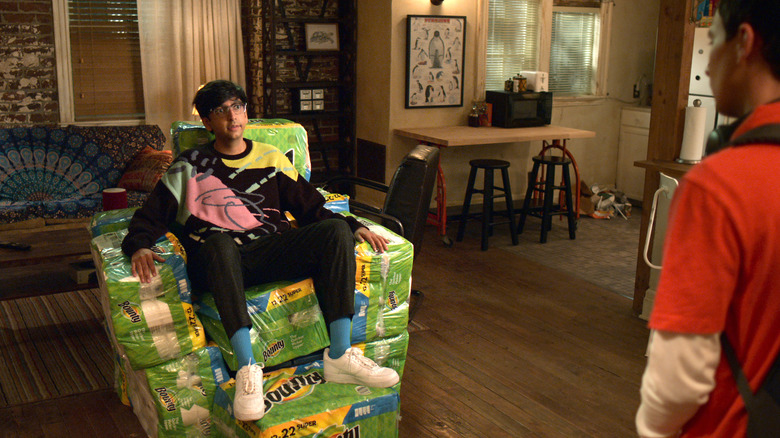 Netflix
In Season 3, Sam and Zahid's friendship has its ups and down. Working together at Techtropolis, the two quickly grow to become best friends, with Zahid teaching Sam all he knows about relationships and going to college. But this all changes when a new woman comes into Zahid's life — his girlfriend Gretchen (Allie Rae Treharne). This leads Zahid to declare him and Sam "unhomied," leaving his best friend behind as he pursues his zany ideas and follows around his troublesome girlfriend. Meanwhile, Sam goes through some major relationship milestones with his girlfriend Paige (Jenna Boyd), and he doesn't have Zahid to talk through them with anymore. But when Zahid has one particularly crazy idea, trying to elope with Gretchen, Sam comes to the rescue and saves him. In return, Zahid asks Sam to move into an apartment with him. 
If you've ever had a roommate before, then you know that even your best friends can be bad roommates, and these situations can definitely lead to relationships fracturing. Well, considering the Season 4 trailer, it looks like Zahid and Sam's friendship is going to really be put to the test when they start living together. Both boys have their own particularities when it comes to their personal space and they are bound to clash, leading Sam to consider moving back home with his parents. On top of that, Sam isn't doing so great with his academics either. But while Sam has issues with school and his best friend, his relationship with Paige seems as strong as ever.
Casey starts school at UCLA while continuing her romance with Izzie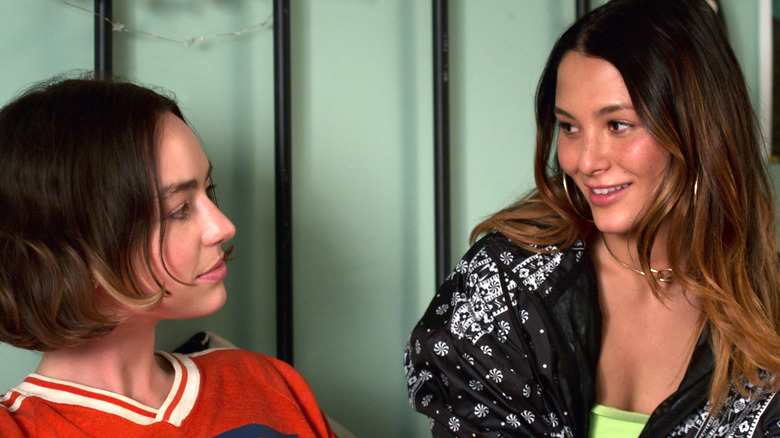 Netflix
As for Casey, the end of Season 3 hints at a bright future for her. Scouted by UCLA to be on the track team, Casey is heading to college in Season 4. Just like Sam, Casey will be adjusting to life on her own, with new responsibilities and freedom. The two siblings have always been dependent on each other for support, along with their parents, so having the Gardner family apart will pose a challenge for all of them. Going away to college is a big change for anyone, and it will also test the trust and love between Casey and her girlfriend, Izzie (Fivel Stewart). 
At the end of last season, Casey comes out as bisexual and breaks up with her longtime boyfriend Evan (Graham Rogers), before getting together with Izzie. While they face a few challenges, the girlfriends fully commit to each other, and they appear to be doing well. Casey and Izzie are a fan-favorite couple on "Atypical," and Season 4 promises more queer romance as they navigate telling their parents — Casey still hasn't told Doug — and long-distance. As for Casey's relationship with her now ex-boyfriend, she still wants to be friends with Evan. This will be something she has to figure out in Season 4, while it's unclear how Izzie will react to the news. Evan works at a pizza place in earlier seasons, but in the fourth season, he starts pursuing a career as a EMT like Casey's father Doug. 
Elsa and Doug have rekindled their marriage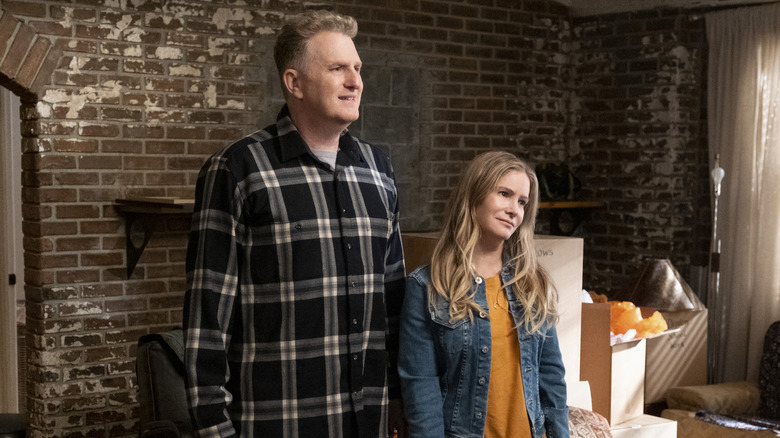 Netflix
Throughout the first three seasons, Doug and Elsa are constantly adjusting to Sam's increasing independence, which happens to be a bit more difficult for Elsa. She finds comfort in a local bartender, starting an affair. After Casey sees them kissing, she reveals the truth to her father, leading the Gardner parents to question whether they want to continue their marriage or not. They seem to have a desire to make it work, both for their children and for themselves, but it's really difficult for Doug to forgive Elsa and move on. 
Elsa gives Doug plenty of time to figure it out, but at one point, it becomes too much, and she asks Doug for a separation. Divorce happens in a lot of families, so it wouldn't be too unbelievable if Doug and Elsa were to break up, but thankfully, that's not what happens. At the end of Season 3, Doug finally forgives Elsa for her mistake and kisses her, before putting his wedding ring back on.
Going into Season 4, Doug and Elsa seem to be in a good place, rebuilding the trust in their marriage. At the same time, there's the new challenge of an empty house, as both Casey and Sam are away at college. But based on the trailer, it doesn't seem like they will be away too much, as nothing can keep the Gardner family apart for long. In the meantime, Doug is bonding with Evan as he mentors him in being an EMT, while Elsa learns (hopefully) to not always butt in to her kids' business.