Things Only Adults Notice In Trollhunters: Rise Of The Titans
This content was paid for by Netflix and created by Looper.
As Varvatos Vex (Nick Offerman) might say, the "Trollhunters" saga has finally come to its glorious end with "Rise of the Titans." The film offers a stunning conclusion to the action in Arcadia, bringing together the beloved heroes from all three series — "Tales of Arcadia," "3 Below," and "Wizards" — to take on the Arcane Order at long last.
Even though Jim Lake Jr. (Emile Hirsch) is now back in human form and has lost his essential trollhunter gear, he's still got quite an army in his corner. His team is brimming with feisty friends, toothy trolls, resourceful aliens, crafty wizards, and even a couple of fearless changelings. But as tough and tight-knit as this eclectic crew might be, they've got quite a fight on their hands with the Arcane Order, and the idea of a "big baddie" takes on all-new meaning once those ultra-destructive titans emerge from the earth.
Of course, the film is about much more than just the big collision of the apocalyptic titans. It also harkens back to the very beginning of the entire saga, exploring what it means to truly become the trollhunter. With such a big-stakes battle and lofty concepts scattered throughout, "Rise of the Titans" is — in keeping with "Trollhunters" tradition — appealing to kids and grown-ups alike. So for those who've already seen this final chapter unfold, let's take a deeper look at a few of the things only adults will notice in "Rise of the Titans."
An extraterrestrial reproduction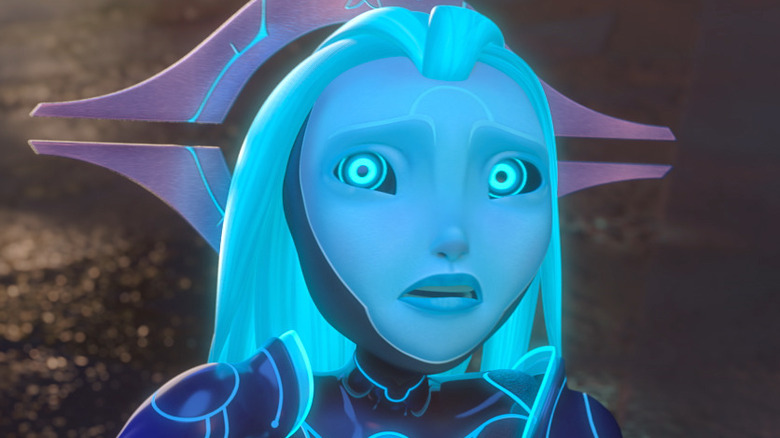 Dreamworks Animation/Netflix
Steve (Steven Yeun) has had quite a dynamic journey throughout the "Trollhunters" saga, but chances are good that no one saw his "Rise of the Titans" arc coming. The character has always been a solid source of comedic relief, from his busted tooth whistles to all his clever "buttsnacks" catchphrases. But this time, the reformed schoolyard bully endures a full-on alien pregnancy, complete with ice cream-and-pickle cravings and all-consuming labor pains.
That's right. While Eli Pepperjack (Cole Sand) returns from Akiridion-5 with an accelerated puberty process in his rearview, it's Steve who goes through the biggest bodily changes in the pic. Of course, adult audiences are bound to recognize that the entire reproductive process is just a little bit unusual for Steve and certainly not what humans are used to. For starters, the conception happens as a result of him simply sharing a seventh kiss with Queen Aja (Tatiana Maslany), and it's the male who carries the young in this relationship. Also, we never quite figure out how these cute, blue, half-human, half-alien babies are actually born, but according to Steve, he's somehow dealt with worse.
Despite all the mysteries about the actual mechanics of this pregnancy, Steve's experience is pretty traditional in a lot of hilarious ways, and any parent who's been through it themselves is bound to enjoy a chuckle or two at Steve's expense.
A fitting father figure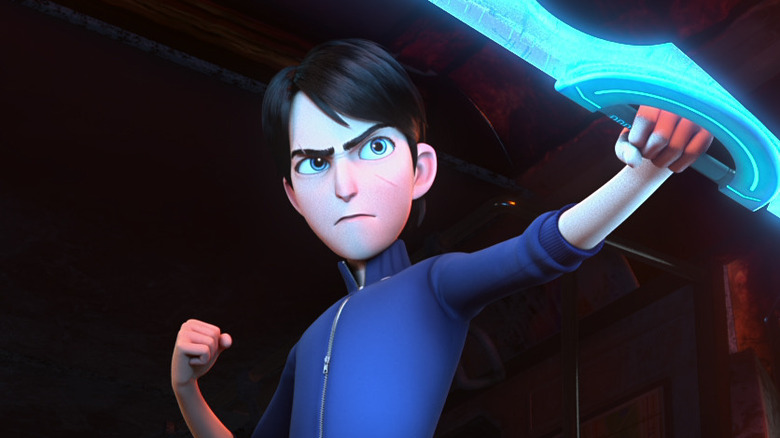 Dreamworks Animation/Netflix
Speaking of the film's plays on parenthood, "Rise of the Titans" also circles back to one of the biggest question marks of the Arcadia trilogy: Jim's absentee dad. We've learned very little about Jim Lake Sr. throughout the "Trollhunters" saga, but we know that he disappeared on his wife, Barbara (Amy Landecker), and then-child Jim before we ever met the family, leaving Barbara to manage both her busy career as a doctor and her precocious son.
For the most part, Jim has always respected his mother's feelings about the subject of his dad and has treaded very lightly whenever he came up in conversation. But he's always had some questions about him, and in "Rise of the Titans," Barbara lifts the veil on who his dad was just a little bit more by telling Jim that he is "his mother's son." Adults are bound to recognize the fact that by refusing to bad-mouth Jim Sr., Barbara once again has taken the high road, despite her own feelings, for Jim's sake.
But Jim also reveals some true maturity on the matter. When Walter Strickler (Jonathan Hyde) reveals that he intends to marry Barbara and wants Jim to be his best man, Jim happily accepts. He casts aside any past grievances he had with his teacher-turned-enemy-turned-ally and recognizes the fact that his mother is finally happy with Strickler. And once Jim resets the timeline to start the story all over again after Strickler's sacrifice, Jim even makes an effort to speed up the process of Barbara getting together with him in the first place. Even though he still doesn't have all the answers about his real dad, Jim has finally made peace with that and the idea of a changeling stepdad.
A long-awaited discovery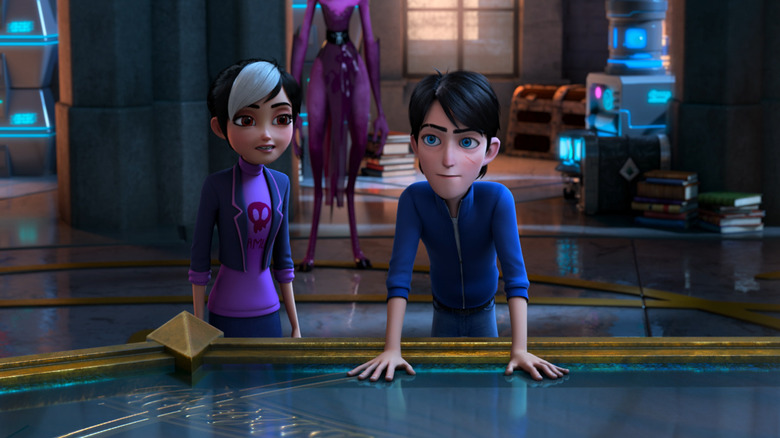 Dreamworks Animation/Netflix
While we're on the subject of Jim's growth in "Rise of the Titans," much of his journey in the film is about learning to accept himself as a hero — and to embrace his limitations too. Of course, ever since he first discovered the amulet many moons ago, Jim has worked to understand what it means to be a trollhunter and be worthy of commanding the daylight. This time, though, he has no magical armor or troll strength to speak of. Jim finds out the hard way that his might is no longer physical, but rather, it's his mind and the strength of his bonds with his friends that makes him a worthy opponent.
It takes quite an existential journey to get to that point, and Jim's path to self-discovery is an identifiable one indeed for anyone who's been through those inevitable periods of doubt, regret, or feelings of futility. Once he does realize that it's his own spirit and beloved companions that matter most, he's finally able to wield Excalibur and take on the titans alongside his team.
At the same time, even though Jim comes to accept that it takes a village to be victorious, he also learns that the hero's burden of self-sacrifice means more than a willingness to run into danger. After seeing the toll that his tenure as trollhunter has taken on Arcadia and some of his favorite people within it, he has to make the choice whether to accept this costly victory as-is or turn back the clock and see if things might turn out differently the next time. Jim knows that his hard-won relationships, including with his love Claire Nuñez (Lexi Medrano), will be upended by going all the way back to the beginning. And he also knows that he risks losing one or all of the tough battles they've won along the way. 
But for the sake of those lost in the final fight with titans, he's willing to accept the responsibility of knowing this timeline's outcome and trying for a different one. Jim might've started out as a timid teen who was unwittingly thrust into the trollhunting world, but now he's a full-fledged adult who understands the meaning of taking real responsibility for himself and others.
The moral support superpower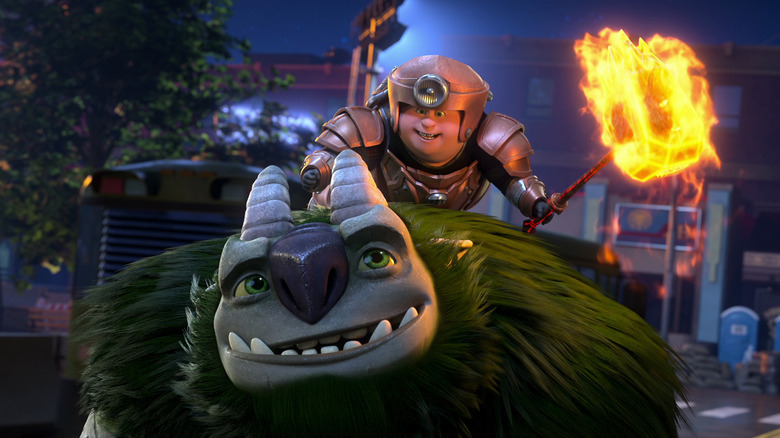 Dreamworks Animation/Netflix
Another thing that shows just how grown up Jim really is by the end of the story is the fact that he recognizes there may be another, even worthier contender for the title of trollhunter right in front of him.
From the very start, Toby Domzalski (Charlie Saxton) has always thought the business of trollhunting was pure "awesomesauce," even when Jim didn't feel so hot about the job. He was also the first to recognize the value in Gnome Chompsky (Rodrigo Blaas), and it took him no time at all to become wingmen with AAARRRGGHH!!! (Fred Tatasciore). Toby would often joke that he had the "lamest superpower" of the group by being a source of moral support, but he was still always willing to step up and do whatever he could for the greater good, including positioning the unmagic generator in just the right place to save the day. As he said in his final words after the battle, "I didn't think. I became." Whether it was going in for this umpteenth dental procedure or sacrificing himself to save the world, Toby was fearless and a true believer in the power of the trollhunter from word one.
So, after Jim takes the opportunity to do it all over again in "Rise of the Titans," he directs his spritely bestie to the canal where he can pick up the amulet and become the trollhunter himself. No doubt, Jim won't just spend his time rehearsing Shakespeare to get close to Claire all over again, and he'll eventually take Toby's side in the inevitable fights ahead. But the fact that he recognizes that Toby might be even more of a hero than himself takes the kind of seasoned humility that a true adult can understand.