Read This Before You See Trollhunters: Rise Of The Titans
This content was paid for by Netflix and created by Looper.
Arcadia is about to become ground zero for yet another supernatural storm, and this time, it's a battle to end all battles — with more colossal, dangerous villains than our heroes have ever faced before. "Trollhunters: Rise of the Titans" is coming this summer to finally bring a glorious end to the epic "Tales of Arcadia" saga, following the events of Guillermo del Toro's sensational animated trilogy.
For "Trollhunters" fans who've followed the team's adventures from the bustling haven of Trollmarket and the war-torn planet of Akiridion-5 to the Darklands and the Shadow Realm, the film will bring a much-anticipated conclusion to the fantasy series that's been captivating kids and adults alike since it first premiered nearly five years ago. But before the movie arrives on Netflix on Wednesday, July 21, there are a few more things you should know about "Trollhunters: Rise of the Titans," so let's take a closer look at the exciting new adventure that's ahead for our favorite Arcadian heroes.
A united front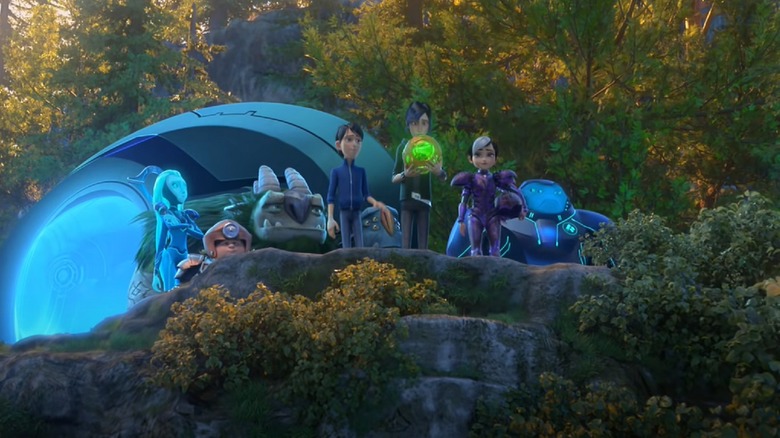 Netflix
Jim Lake Jr. sure has made a lot of new friends since that fateful day when he first came across Merlin's magic amulet and unwittingly assumed the mantle of the first human trollhunter. Not only does he still have his longtime best friend, Toby Domzalski, fighting by his side, but he's also flanked by his love, the "fair" Claire Nuñez, along with the world's bravest trolls, a few extraterrestrial fighters, and a powerful wizard. And they'll all join forces to stand up for that special town of Arcadia — not to mention, the world at large — when the Arcane Order uses their dark magic to summon the ancient titans to the surface of Earth.
All of your favorites are coming back for this last leg of the sweeping adventure series. The returning voice cast for the film includes Emile Hirsch as Jim, Lexi Medrano as Claire, Charlie Saxton as Toby, Kelsey Grammer as Blinky, Fred Tatasciore as AAARRRGGHH!!!, Jonathan Hyde as Walter Strickler, and Amy Landecker as Barbara Lake. We'll also get to hear from Colin O'Donoghue as Douxie and Angel Lin as Nari. Plus, keep an ear out for the likes of Steven Yeun, Tatiana Maslany, Alfred Molina, Diego Luna, Nick Offerman, and Nick Frost. And on top of all that, the legendary James Hong is also joining the cast.
Meanwhile, the man who created it all, Guillermo del Toro, is returning as executive producer, alongside Chad Hammes and the film's writers — Marc Guggenheim, Dan Hageman, and Kevin Hageman. And the pic is directed by Johane Matte, Francisco Ruiz-Velasco, and Andrew L. Schmidt, all of whom can be credited for helming all-timer episodes from the series. Put simply, "Rise of the Titans" is bringing back all the best talents from the franchise to make an ending that fans won't soon forget.
A fight to end them all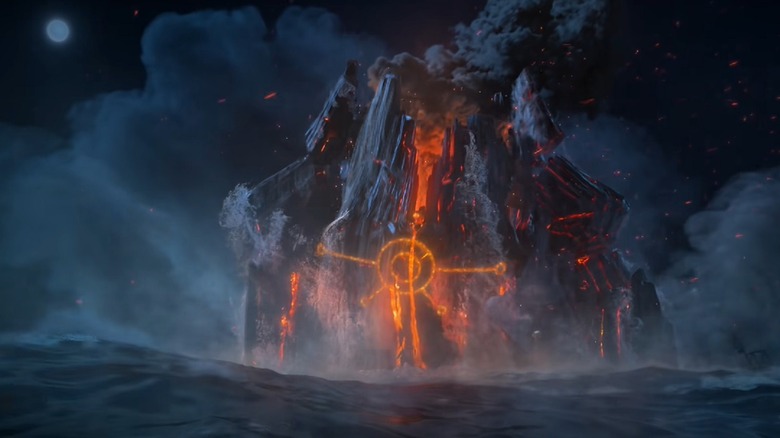 Netflix
"Rise of the Titans" marks the culmination of three full series of action. What started off as a comparatively simple fight to rid the town of pesky goblins and unmask a few changelings has since spiraled into a sweeping adventure across literal time and space.
The story kicked off with "Tales of Arcadia," which lasted for three seasons and saw Jim rise from an unsuspecting teen into a fully formed hero with two powerful sidekicks helping him face the likes of Bular, Angor Rot, Gunmar, and the sorceress Morgana. Then, over the course of two seasons in "3 Below," we watched Aja and Krel grow from clueless extraterrestrial royals on the run into a pair of selfless saviors who were entirely deserving of their crowns as they defeated the ruthless General Morando ... with a little help from Varvatos Vex and a few other friends, of course. Finally, in the limited series "Wizards," we found out a whole lot more about the history of Merlin and his highly underrated protégé, Douxie, who led the crew in a journey through the past and ultimately proved his mettle as a supreme sorcerer.
And last we saw of our heroes, Jim was finally back in his human form and reunited with Claire, Toby, and their faithful troll buddies. As for Douxie, he was embarking on yet another journey to protect Nari from falling into the hands of Bellroc and Skrael in New York City, in hopes of stopping them from unleashing the wizarding apocalypse by breaking the Genesis Seals. While many details of "Rise of the Titans" are still under wraps, the trailer reveals that Jim will indeed retrieve the Sword of Excalibur from the stone and wield it as they face the evil Arcane Order, who have a whole new level of muscle behind them with the towering titans. We'll have to wait until July 21 to find out how the epic conclusion to the "Trollhunters" saga unfolds, but we can be certain that the friends of Arcadia will put up a fight, no matter how big the new "buttsnacks" happen to be.