American Horror Story Season 10 Just Got The Worst News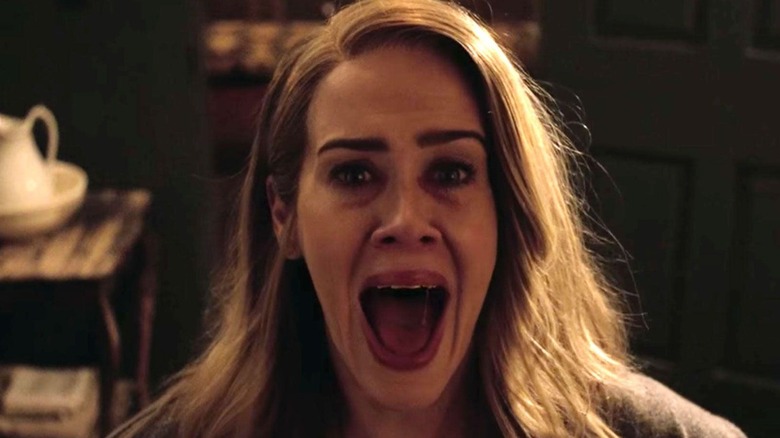 FX
The upcoming 10th season of "American Horror Story" is one that many fans have been looking forward to. And that's natural given what the TV series has delivered with past seasons. Yet, Season 10 could be really special for the show, given what it has in store. Titled "American Horror Story: Double Feature," the new season will have some returning fan-favorites, including Sarah Paulson and Evan Peters, as well as some fresh ones like Macaulay Culkin. The new season will also attempt to tread some new ground for the series by splitting into two parts, hence the "Double Feature" name. We're looking at two halves for the story this time around.
With "AHS: Double Feature" slated to come out late next month, fans only have a little more than a month to wait. Unfortunately, there's a possibility that won't be the case after all, as production on the series has halted due to some horrible news.
Production on the show shut down due to COVID-19
COVID-19 is still wreaking havoc on the production schedule of numerous television shows and movies. And it looks like "American Horror Story" is the latest show falling victim to possible exposure. Variety reported that the production of Season 10 of "AHS" was halted due to a positive COVID-19 case for an unnamed actor on the show. There's no official word on how long production could be shut down, but it could at least be a week or two. The development comes just after health officials reported a significant surge in COVID-19 cases after all sectors in Los Angeles County were allowed to reopen on June 15. This forced officials to implement mask mandates indoors for all individuals regardless of vaccination status (via KTLA).
"American Horror Story: Double Feature" has been in development since late 2020. FX announced that the newest installment of the hit horror series would finally premiere on August 25, 2021, although it's unknown if this production halt will affect the planned season premiere. According to the same Variety article, "Double Feature" was supposed to premiere last fall, but it was delayed due to the pandemic.