The Trailer For James Wan's Malignant Will Give You Nightmares
Although James Wan might be best known for introducing the world to both the "Saw" franchise and "The Conjuring" series, he's had a few years away from directing anything in the horror genre. Instead he's produced the likes of "Annabelle" and "The Conjuring: The Devil Made Me Do It" while other directors have been at the helm. He's largely been working with Warner Bros. on 2018's "Aquaman" and its upcoming 2022 sequel, "Aquaman and the Lost Kingdom." But thankfully, Wan has returned with a new original horror film that will absolutely give you nightmares, as a terrifying demonic entity haunts "Peaky Blinders" star Annabelle Wallis in "Malignant."
The director previously clarified on his Facebook page in 2019 that "Malignant" is a brand new idea that isn't taken from any other property, explaining "The film I'm in the midst of shooting right now, MALIGNANT, isn't based off my comic book Malignant Man." He also added "It's definitely not a superhero film. MALIGNANT is an original thriller NOT based off any existing IP. Sorry for the confusion."
So it's fair to say there's been some speculation over what the mysterious "Malignant" will be about when it eventually arrives in theaters and on HBO Max on September 10. Thankfully, the first trailer for the terrifying new thriller has revealed what audiences can expect, and it looks like pure nightmare fuel.
Meet Gabriel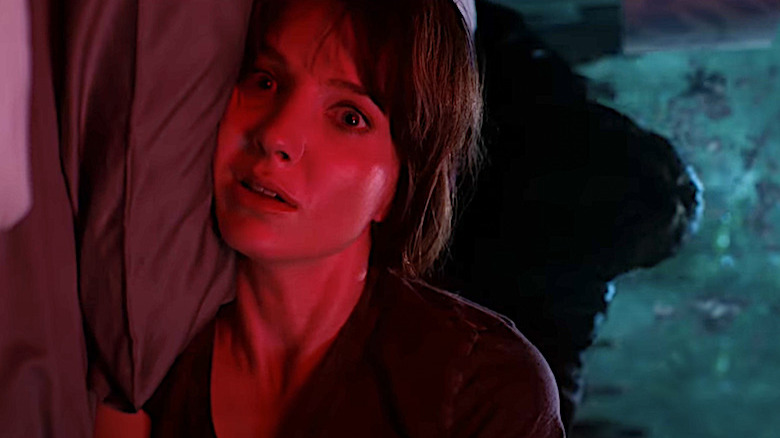 Warner Bros. Pictures
Warner Bros. Pictures' recently revealed the "Malignant" trailer on YouTube, and it doesn't pull its punches. It introduces Annabelle Wallis as Madison, a troubled young woman who has "visions" of murders that happen in real time. She watches them happen as if she's the unfortunate victim ... so it sounds like an even scarier form of sleep paralysis? Great. But Wan's signature style is definitely present here, with the footage cranking up the tension as Gabriel –a faceless, dark entity — hunts people in their own homes.
In a home video of Madison as a child, she refers to Gabriel as "the devil" when asked if he's her imaginary friend. Can an imaginary friend stab someone through their head? Actually, don't answer that. It's clear that Madison's past is intricately tied to who Gabriel is, and why he's on some kind of supernatural murder spree. Her adopted mother notes that, "Whatever happened to you before you joined our family hurt you in a way that I can't even imagine." Yikes.
So, as a preliminary guess — maybe Gabriel is Madison's brother? And for whatever reason he's killing people as a way of connecting with his sister. Both the first trailer and the first poster (via Bloody Disgusting) for the film has a clear focus on Madison's eyes, which makes sense, as she's having visions of all these grisly killings, but it'll be interesting to see how it all ties together with this new horror villain. 
Clearly, James Wan is having plenty of fun stretching his horror limbs from behind the camera again — and that one shot where Gabriel scuttles up through an open fireplace is undeniably creepy. Thankfully, audiences won't have long to wait till they're scared silly, as the film debuts on September 10, 2021.