All American Season 4 Release Date, Cast And Plot - What We Know So Far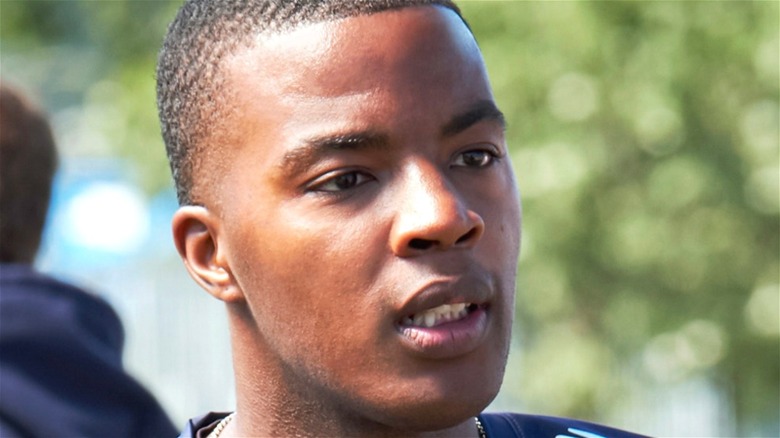 The CW
The CW drama "All American" continues to gain fans and appreciation as Season 3 finishes up. The series is based on the true story of Spencer Paysinger — a Super Bowl champion who recently retired from football — who grew up in South Central L.A. and played football for Beverly Hills High School (ESPN). Obviously, there are a lot of creative liberties taken in the popular drama series, but at its heart, it explores the feelings Paysinger felt as a teenager, out of place in both his home neighborhood and the privileged high school where he went to play for the football team.
In "All American," Paysinger's counterpart is Spencer James, played by Daniel Ezra. At the beginning of the series, Spencer transfers from South Crenshaw High School to Beverly Hills High School for a chance to play for the football team and get noticed by colleges. When he first arrives, Spencer feels like a fish out of water, completely out of place with the privileged kids of Beverly Hills. At the same time, whenever he returns to his home neighborhood, people now look at Spencer as a traitor, taking any opportunity to get out of Crenshaw. Throughout the show's three seasons so far, Spencer's journey has brought him love, friendship, and a deep appreciation for both his family and where he comes from. In Season 3, Spencer decides to return to South Crenshaw High School, bringing football coach Billy Baker, played by Taye Diggs, along with him, aiming to bring his home school a championship.
Luckily for new and old "All American" fans, the series is officially renewed for Season 4, and you won't have to wait too long for new episodes. Here's what we know so far about "All American" Season 4.
When is All American coming back for Season 4?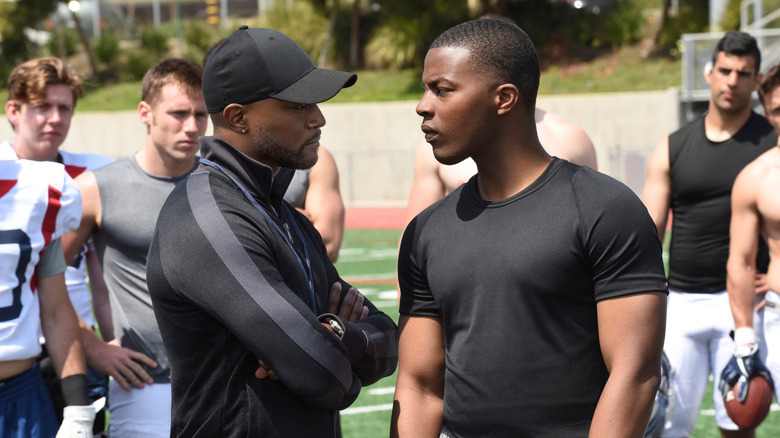 The CW
Although "All American" Season 3 only finished in July 2021, the series is already scheduled to come back three months later. The official premiere date for Season 4 is Monday, October 25, 2021, at 8 p.m., followed by the series premiere of The CW's new science fiction series "4400," based on the 2004 USA series about 4400 people who have randomly disappeared over the years, only to come back all at once with no memories and not having aged a day (TVLine). Also premiering on The CW in October are Season 7 of "DC's Legends of Tomorrow," Season 3 of "Batwoman," Season 8 of "The Flash," and Season 6 of "Riverdale." 
Both Seasons 1 and 2 of "All American" have 16 episodes total, while Season 3 has 19, despite facing delays due to COVID-19. "All American" Season 4 is likely to have a number of episodes within that range. Many fans of the series found "All American" through Netflix, which historically has uploaded a season of "All American" eight days after the finale. So for anyone who wants to binge the sports drama as they wait for Season 4, you'll certainly be able to soon. 
Who will be in the cast of All American Season 4?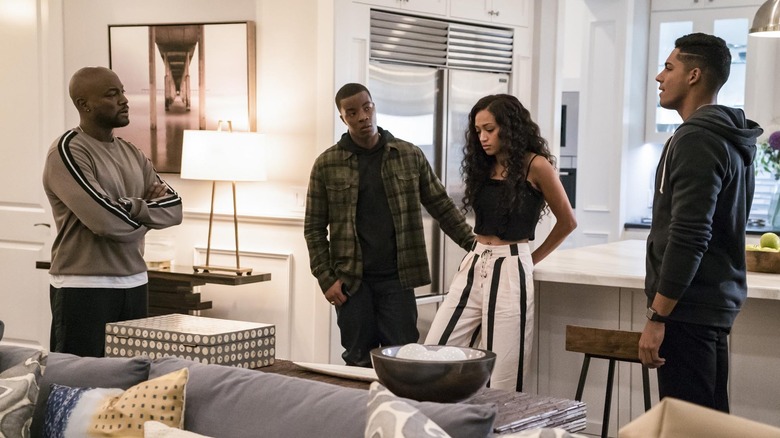 The CW
Along with Ezra and Diggs, "All American" has a huge cast of characters featuring very talented actors. In Spencer's family, there's his mother Grace (Karimah Westbrook) and his little brother Dillon (Jalyn Hall), while Bre-Z plays his best friend Coop, who is involved with a gang in Crenshaw while also pursing songwriting and DJing. Coach Baker's family also plays a major role in the series, with Samantha Logan and Michael Evans Behling playing twins Olivia and Jordan. Jordan is close friends with Spencer, despite some tension between them from battling for a position on the football field and affection from Coach Baker. The Baker siblings both go to Beverly Hills High School, and Olivia is one of Spencer's first friends there. She deals with addiction issues and has a short relationship with Spencer's teammate Asher (Cody Christian), before starting a romance with Spencer. 
Asher, Spencer's friend and teammate at Beverly Hills High School, comes from wealth and privilege. When he loses it all, he hides the fact from his friends in order to keep up appearances. Spencer and Asher share another ex in Layla (Greta Onieogou), a classmate whose father is a very successful music producer, leading her to help Coop with her music. The series also stars Monét Mazur as Laura Fine-Baker, Coach Baker's wife and mother to Olivia and Jordan. Although it seems like the couple will break up in Season 3, Coach Baker's efforts to repair the relationship pay off, and the two get remarried instead.
What will happen in the fourth season of All American?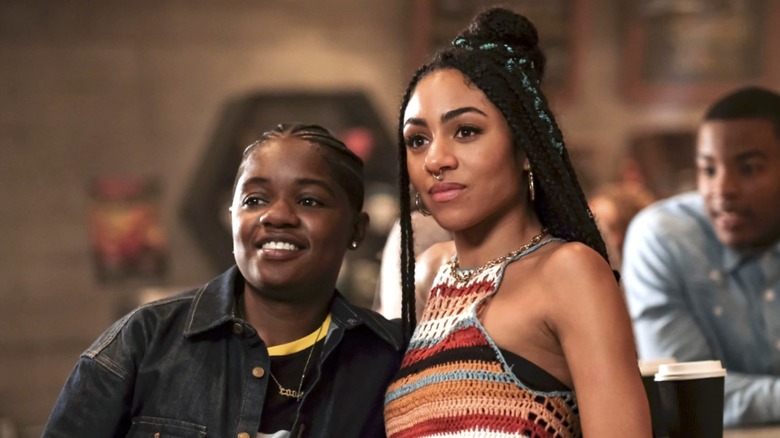 The CW
Season 3 of "All American" ends on quite the cliffhanger for a lot of characters. The final episode ends with Beverly and Crenshaw about to have their rival game after the teams get into a massive fight. Spencer's football career is still going strong, as he has been selected to play in the All-American game, while Jordan, who suffers an injury earlier in the season that sets him back, is an alternate. As for Asher, his dreams are crushed when he finds out that he has a rare heart condition that makes it impossible to keep playing football. For some good news, Spencer and Olivia are officially a couple, having told many of their friends and family, including Billy, Layla, and Jordan. 
Along with those revelations and major decisions, the third season also finishes with the fate of a few characters up in the air. Coop, who is starting her music tour, confronts Mo (Erica Peeples), who tries to get Coop arrested by planting drugs in her tour bus. Unfortunately, Mo can't seem to let it go, and the finale ends with Coop bleeding out from a gunshot wound. Elsewhere, Layla is trying to help her friend Carrie (Anna Lore), who she meets earlier during her time in rehab. Layla thinks that she's finally getting through to Carrie and agrees to travel with her to Tahoe, but unbeknownst to Layla, Carrie leaves a suicide note for Layla's father to find after they leave, hiding Layla's phone in the trash.
Season 4 of "All American" will likely pick up right where Season 3 ends, with Coop's life hanging in the balance and the current location of Layla and Carrie unknown. While everything is going well for Spencer, his friends are dealing with a lot of challenges, especially Asher and Jordan, which he will hopefully help them work through as he rebuilds his trust with Billy.