Why We Probably Won't See A Snyder Cut Of The Green Knight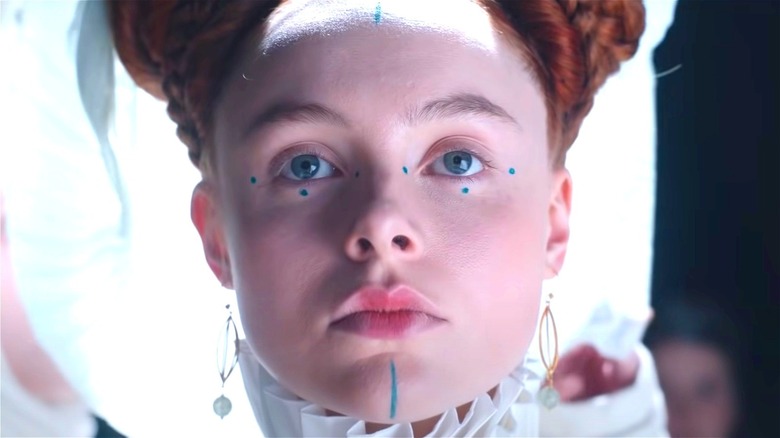 A24
Long a staple of the home video market and commemorative re-releases, the director's cut of a film often gives the filmmakers an opportunity to recut, restore, or recalibrate their movies. One of the most famous examples of this is the Snyder Cut of 2017's "Justice League" aka "Zack Snyder's Justice League." Thanks to the COVID-19 pandemic, one hotly anticipated summer 2021 release was able to skip the first part of that process and deliver its director's cut to filmgoers right out of the gate.
"The Green Knight" is a historical epic set in the world of King Arthur and the Knights of the Round Table from celebrated indie filmmaker David Lowery. In a recent piece in Vanity Fair, Lowery revealed that when the original 2020 premiere of his latest film was delayed indefinitely due to COVID-19, he saw an opportunity to go back under the hood and improve on the version that was meant to debut at the South by Southwest Film Festival. From the sound of it, that delayed-release turned out to be a blessing in disguise.
The director told Vanity Fair, "I just gave myself permission to dig back into the movie, unlock it, and rework the entire thing ... I found the affection I needed to cut it with love in my heart instead of disappointment and hate. It's different—it's much better."
So, we may never see a Lowery Cut version of "The Green Knight," but only because the movie set to debut in theaters on July 30 is already that version. And based on the changes that were made and the early critical response, that's a win for movie buffs.
How David Lowery changed The Green Knight
In her piece about "The Green Knight" for Vanity Fair, Joanna Robinson took note of some of the key changes that Lowery reportedly made when he re-edited his film. Robinson writes that Lowery's extra time with the movie created an "unusual rhythm" that resulted in "a slower, more patient watch than more action-heavy takes on Camelot." She also notes that Alicia Vikander's dual role in the movie received a significant editorial overhaul. Robinson notes, "[Vikander] gives an intense, lengthy monologue the likes of which you'd never see in another Arthurian adaptation."
With early critic's reactions to the film coming in, it appears that those changes were for the better. In a tweet about the film, writer Sabrina Ramirez wrote, "David Lowery uses stunning visuals and intoxicating pacing to set the atmosphere- it's creepy, sexy AND cerebral." Meanwhile, Griffin Schiller of Film Speak tweeted, "STUNNING visuals & excellent performances from Patel & ESPECIALLY Vikander who has the scene of the movie."
You can catch "The Green Knight" in theaters on July 30.