Fatherhood Review: One From The Hart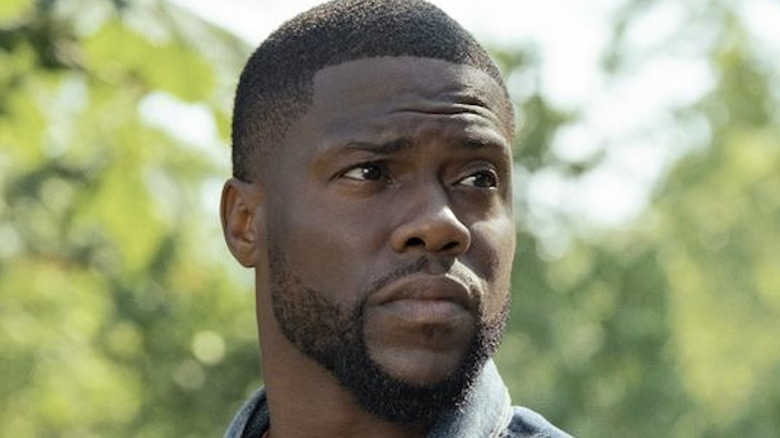 Netflix
A warm, reaffirming film about the power of parenting, "Fatherhood" might be a curveball for fans expecting typical Kevin Hart hijinks. But those willing to swap laughs for love might fall into it with this Paul Weitz-directed dramedy, most likely the closest fans will ever get to a proper "About a Boy" sequel.
The Netflix film begins with a husband's nightmare: Matt Logelin (Hart) and his wife go into the hospital to have their first baby, but mom doesn't make it home. Suddenly, the now-grieving Matt finds himself alone with an infant, trying to navigate the uncertain waters ahead. Friends and family offer their support, but most of their advice ends on the same note: Let someone else raise the girl.
Matt, who had previously been the less responsible person in his marriage, now needs to step up. He becomes determined to pull himself together, learn how to change diapers and warm bottles and rock the baby back to sleep, and do all this while maintaining a high-stress job at the Boston tech company where he works alongside boss Howard (Paul Reiser) and buddy Oscar (Anthony Carrigan). With that setup, the film becomes a story about a man and a little girl, growing up and impacting each other over the next several years.
The movie is smart enough to pull a "Family Ties," giving us moments with Kevin Hart and the baby, and then after a little while switching over to big kid Maddy (Melody Hurt) while conveniently side-stepping the between years. But even when Hart's tiny co-star has changed, the problems have not: Mother-in-law Marion (the national treasure known as Alfre Woodard) and her husband Mike (Frankie R. Faison) want Maddy to come live with them in Minnesota, boss Howard is supportive but needs a worker who isn't skin-to-skin rocking a baby during pitch meetings, and then there's the matter of whether to start dating again.
"The Upside" aside, this might be Kevin Hart's first opportunity to act — like, really act. There are some heavy scenes, as you'd expect, where you'd be best advised to keep the Kleenex nearby. It's not "Uncut Gems," to be sure, but this role feels more like a cross of Michael Keaton in "My Life" and Steve Martin in "Parenthood" — a funnyman exploring the issues of birth, life and death with a soft touch of the humor that serves as the defense mechanism of the human existence. Of course, it's also helpful for an audience, because you're a lot more likely to follow a man down his path of grief if he occasionally puts on a skirt and walks like a penguin.
The film also shares a lot of the same themes of guidance and growth as "About a Boy," the 2002 masterpiece written and directed by Paul and Chris Weitz. This time around, the focus is on a girl and Paul is alone in the director's chair, but that doesn't stop the film from feeling like a long-distance spiritual sequel. "Fatherhood" has similarly intense moments, embraces the unplanned moments that can loom large in a child's life, and leaves you with a similarly uplifting message of defining success on one's own terms.
Past, present and future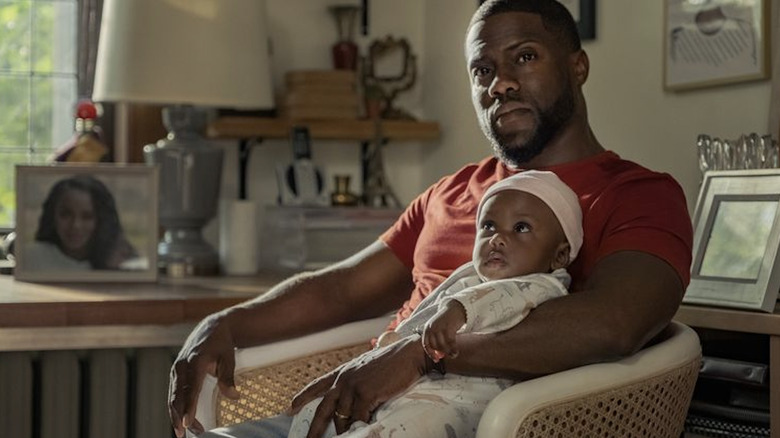 Netflix
In lesser hands, the film could have very easily turned into a lazy "Mr. Mom" remake, which even in these progressively minded times remains a shockingly stubborn stereotype. For the last several decades, it's been an easy joke — dad can't change a diaper, dad can't offer emotional support, dad feeds the kids junk food, can't be trusted at parent night, and generally is better off leaving things to a woman. But aside from a few initial jokes about diapers and spit-up, "Fatherhood" chooses the path of experiences that feel real (like the annoyance of a dad taking his baby to the park and needing to answer questions like "Where's mom?") instead of just reheated slapstick meant to reaffirm traditional gender identity roles.
Instead, the comedic relief largely falls to Lil Rel Howery ("Tag") and Carrigan ("Barry"), both fast-rising supporting stars with great comedic timing and fun personalities. They bring depth to the time-tested role of Matt's "boys," commenting on every potential girlfriend, baby mishap and job development with tender teasing.
Speaking of girlfriends, another scene-stealer is DaWanda Wise (from the "She's Gotta Have It" TV series), who is thoroughly charming as potential girlfriend/surrogate mom Swan. Her personality shines as bright as the Boston locales on display in scenes of Matt, Swan and little Maddy grabbing ice cream, playing with the duckling statues on Boston Common, or becoming a quasi-family around town.
Daddy's girl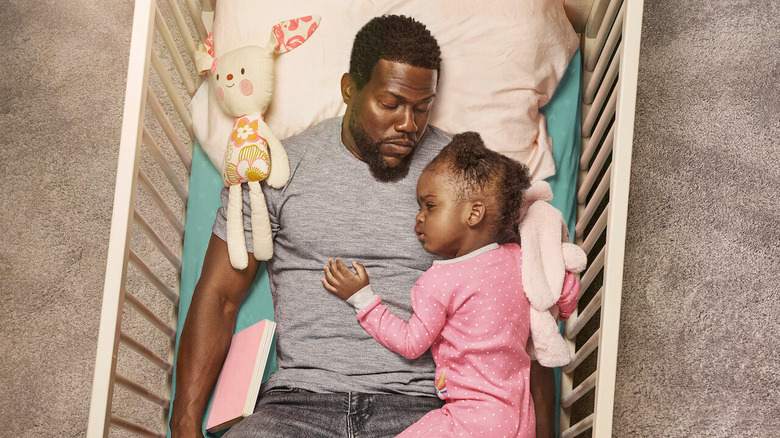 Netflix
But as any parent knows, it isn't just about being there to dispense pearls of wisdom when things are going well. Hart's character makes some mistakes, has some lingering issues because of his wife's death, and often questions whether he's up to the task. In many ways, the film is non-traditional in its plotting — the only "tension" is in whether he can keep being a father — but that makes "Fatherhood" feel real.
It is noticeable that in a couple scenes calling for solid drama, Woodard gets called in to work her magic. She has always brought power and a sort of majesty to her roles, and although Hart tries his best, he can only get so far. Another noticeable element is that there isn't a single short joke in the entire movie, which has to be a first for a Kevin Hart vehicle.
Will "Fatherhood" be your favorite film of the year? Most likely no, but it is a breezy, touching Netflix watch, and would be the perfect film for a dad (or a mom) to turn on late at night when the baby won't sleep and you're both lying on the couch trying to give your significant other a few precious hours of sleep. It's a film that encourages you to stay strong through those early days of mustard-yellow poop, using a vacuum to induce naps, and stumbling bleary-eyed into the office. These are the days that create bonds that last a lifetime, and it's refreshing to see a film making an obvious point too often left unsaid: Dad can do it too.