Dwayne Johnson Calls Black Adam A Career Definer In New Wrap Video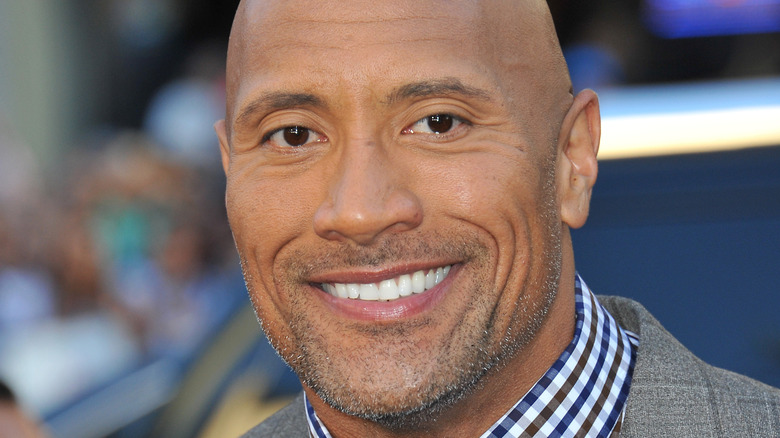 Shutterstock
On July 29, 2022, fans will finally be able to see the long-awaited "Black Adam" movie, starring Dwayne Johnson as the titular antihero. Originally slated to first show up in "Shazam!", plans changed and Black Adam was given his own solo film to debut in. The character of Black Adam was created for Fawcett Comics in 1945, before DC Comics bought the company's characters later on. Originally born and raised in ancient Egypt, Teth-Adam, as he is first known, is chosen by the wizard Shazam to be his successor and possess all of his powers. While initially he fights for the greater good as intended, Black Adam is eventually corrupted by the power and turns dark (DC Database).  
"Black Adam" has been a project in development for many years now, with Johnson's casting first announced all the way back in 2014, confirmed via the actor's Twitter. Since then, Johnson has been working tirelessly to get the film made. When everything appeared to be on track to start production, COVID-19 hit, causing further delays. "Black Adam" finally started filming in April 2021, and now it looks like it's officially wrapping up, with Johnson sharing a meaningful wrap video of his final day on set on Facebook and other social media. In a speech addressing the cast and crew, Johnson earnestly spoke about how much he believes in "Black Adam," calling it a "career definer for me," and "something special for the world to enjoy." 
Johnson thanked the cast and crew for all their time and sacrifice
It's clear that Johnson deeply appreciates the hard work that the cast and crew of "Black Adam" put in to make the film a reality, but the feeling goes both ways. The wrap video begins with a team member thanking Johnson for his work, declaring that his "generosity and professionalism is unbelievable," before handing the mic over and leaving the floor open for Johnson's remarks. Johnson first thanked everyone "from deep in my bones for the commitment and the sacrifice," stating that with everything they've been through, the group has "been a family over the years." Now that their journey is over, Johnson can't wait for the world to finally see "Black Adam," and according to the message Johnson posted alongside the video, he truly believes that the upcoming film will be a "once in a career event" for him. Considering all that Johnson's accomplished in his career so far, this is quite a significant statement. 
While the sheer number of years that it took for "Black Adam" to come to fruition is amazing in itself — with only the most devoted of actors and creators hanging on to a project that long — Johnson also prepared a lot physically and mentally to play this character. As fans can see from the various Instagram posts giving an inside look at the actor's workout routine, Johnson has bulked up more than anyone thought possible to play the iconic antihero Black Adam, and he's studiously researched the character's background in order to accurately portray him on-screen. Given all of the effort put into "Black Adam" by everyone involved, fans can understand the confidence the actor has in the project, and Johnson certainly deserves for "Black Adam" to be a career changing film.