How Dwayne Johnson Is Getting More Ripped Than Ever For Black Adam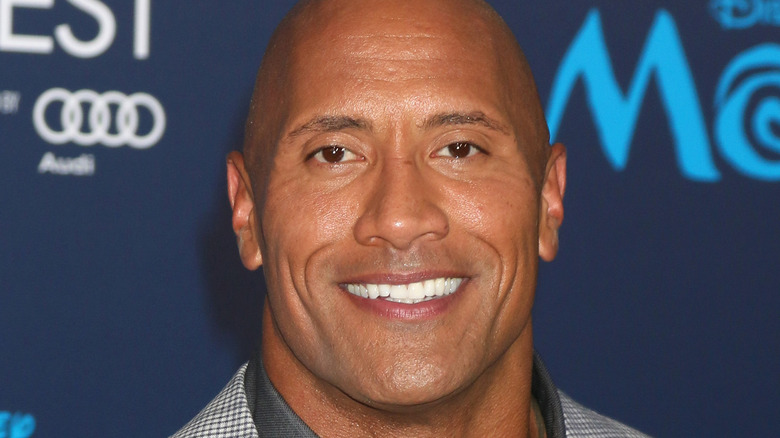 Shutterstock
While Dwayne Johnson has always been in shape and had major muscles, he's currently working hard to top that for his superhero — and supervillain — debut. The action star, who continues to appear in franchise after franchise, including the "Fast & Furious" and "Jumanji" films, will star in the highly anticipated "Shazam!" spinoff, "Black Adam," coming out next summer. The character known as Black Adam, or Teth-Adam, grows up around 1200 BC, granted intense powers by the gods and using them to liberate his people. Over time, the great power corrupts him, leading the gods to imprison him for thousands of years. When Black Adam finally gets out, well, he's not exactly happy, especially when he finds out that someone else has also been given the powers of Shazam. 
Like with many other films, especially big budget, tentpole movies, "Black Adam" faced a major delay due to COVID-19. Originally scheduled to be released in December 2021, the movie now has a release date of July 29, 2022. Along with Johnson, the film stars Noah Centineo, Aldis Hodge, Sarah Shahi, and more. Filming on "Black Adam" officially started back in April 2021, and Johnson is keeping up the intense dieting and workouts throughout production. With the movie shoot now getting ready to film some of the character's shirtless scenes, Johnson has revealed the secrets behind everything he's doing to be in tip-top shape for the camera.
Johnson reveals his secrets for building muscles
In a recent post on his personal Instagram, Johnson opened up about how he prepares for "Black Adam," "working extremely hard dieting, training and conditioning unlike any other role of [his] entire career." The post was inspired by some upcoming shirtless scenes they are filming for the movie, which Johnson referred to as "my 'champion' scenes." This is referencing the origin of Black Adam in Ancient Egypt, when the young man is named "champion" of his people after impressing the wizard Shazam with his decency and respect for justice. Although Black Adam consistently wears his well-known costume, it certainly makes sense that the film would want to show off Johnson's physique as well.
As for how Johnson builds and maintains such a fit look, he shared that he focuses on cardio while also "manipulating water, sodium," and "having to push and pull real iron to have dense, dry, detailed muscle." He further explained that it's taken months for this consistent conditioning and dieting to really shape his muscles, and Johnson thanked his strength and conditioning coach, Dave Rienzi, for keeping an eye on him and "constantly fine tuning our strategy daily." Overall, it's very obvious that the actor puts a lot of effort and patience into his physical training, and it's definitely paid off. But really, how much more ripped can Johnson get?