Check Out The Provocative New Teaser For Y: The Last Man
"Y: The Last Man," FX's long-in-the-works sci-fi comic book adaptation that's seen an unusual amount of producer and cast shakeup before it's even reached the screen, is finally coming out this fall, and has a provocative new teaser to prove it.
The premise of the show, which is based on an acclaimed DC comic series by Brian K. Vaughn and Pia Guerra, is that a sudden apocalyptic event wipes out every male mammal on Earth except two — an underachieving young man named Yorick Brown (Ben Schnetzer) and his pet Capuchin monkey, Ampersand. Yorick is the son of Congresswoman Jennifer Brown (Diane Lane), who takes him to geneticist and cloning expert Dr. Allison Mann (Diana Bang). They're trying to figure out why Yorick survived and come up with a plan that will save humanity from extinction, but there's also the distinct possibility that maybe a world of women can come up with a better way of life without men.
The teaser –- which unfortunately doesn't contain any show footage –- leans into the idea that men dominate positions of power and life would be different if they didn't. It throws out some damning figures – 95% of airline pilots, 92% of Fortune 500 CEOs, and 85% of government officials are men –- and proposes a scenario in which they're all suddenly gone. Institutions are without leaders, and planes are falling out of the sky. The bitterly ironic soundtrack to the spot? James Brown's "It's a Man's Man's Man's World." Men dominated the world... but it's not theirs anymore.
Y: The Last Man is finally coming to life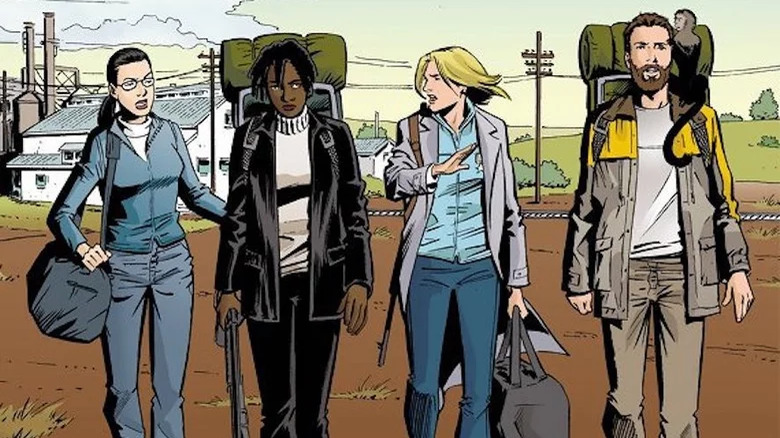 Vertigo Comics/Pia Guerra
"Y: The Last Man" is written and executive-produced by Eliza Clark, who previously worked on shows including "The Killing" and "Animal Kingdom," according to IMDb. She took over from Michael Green -– who previously produced "American Gods," an even more turbulent production than "Y: The Last Man" –- and Aida Mashaka Croal, who left the show over creative differences in 2019 after a first pilot was shot and scrapped. The series also recast the lead role of Yorick, with Schnetzer replacing "Dunkirk" and "Chernobyl" star Barry Keoghan, as well as several other main roles, including Olivia Thirlby replacing Imogen Poots as Yorick's sister Hero and "NOS4A2" star Ashley Romans taking over the role of Yorick's bodyguard Agent 355 from Lashana Lynch.
The first two episodes are directed by Louise Friedberg, and all of the season's episodes are directed by women, according to Variety. Most of the show's department heads are women, including both directors of photography, the production designer, the costume designer, the casting director, the stunt coordinator, and the editors.
"Y: The Last Man" premieres Monday, Sept. 13 exclusively on FX on Hulu.