Out Of Every Big Bang Theory Character, One Stands Above The Rest
"The Big Bang Theory," the mega-hit CBS sitcom that ran from 2007 to 2019, is an ensemble comedy where every character is important and plays a big part in making the show what it is. Take any character out, and the chemistry that made the show so successful wouldn't work anymore. That's why all five actors who were with the show from the beginning were making $900,000 an episode by the time "Big Bang" ended. But of all seven regular characters, one stands above the rest — both figuratively and literally. (He's six inches taller than the next-tallest person on the show, according to Screen Rant.)
We're talking, of course, about Sheldon Cooper, played by Jim Parsons. If "The Big Bang Theory" couldn't have lasted as long as it did without the whole ensemble, it wouldn't have become in a hit in the first place without Parsons as the socially inept physics genius whose peculiar, particular behavior provides many of the show's biggest laughs and whose transformation over the course of more than decade into a Nobel Prize-winning scientist and beloved husband to Amy (Mayim Bialik) gives the show its heart. Plainly put, the other "Big Bang Theory" characters just aren't as iconic as Sheldon.
There's no one better than Sheldon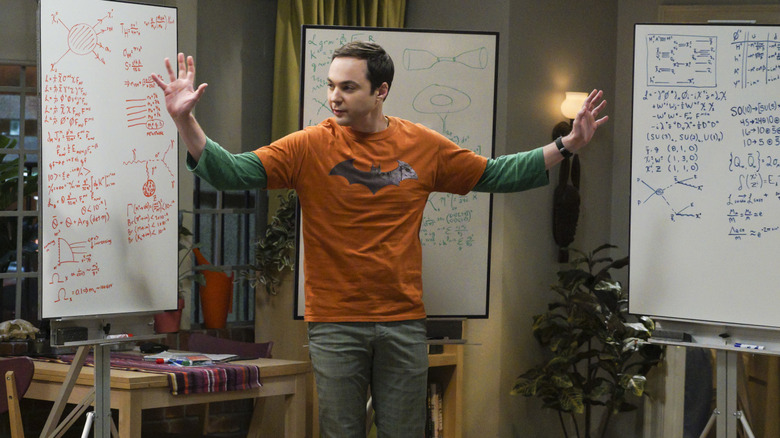 Richard Cartwright/CBS
There are many reasons why Sheldon can be considered the greatest character on "The Big Bang Theory." A lot of them are subjective — based on fans' opinions like, "He's the funniest," or "I just like him the most." In a poll that Metro.co.uk conducted in October 2019, fans named Sheldon their all-around favorite character; he earned 31% of the vote. Meanwhile, on Reddit, user u/KaraSinatra contested that Sheldon has "always been the best, most genuine character." Commenters agreed, writing that Sheldon is "definitely my favorite character," and that they love his sense of humor.
However, Sheldon is also the best, most beloved character in quantifiable ways. Sheldon would be proud of the proof. A different character may be your personal favorite — Penny (Kaley Cuoco) has her partisans, for example — but none of them are as demonstrably successful as Sheldon.
In terms of numbers on the scoreboard, Jim Parsons won four Emmys for Outstanding Lead Actor in a Comedy Series for his work as Sheldon on "The Big Bang Theory." Though his co-stars did rightfully earn their fair share of nominations, they didn't turn any into wins. Mayim Bialik was nominated for Supporting Actress four times and Johnny Galecki for Lead Actor once, but those were the only other acting noms for the regular cast the show ever got (though Bob Newhart did win Guest Actor one time). That extends to other awards, too; Parsons was nominated for 65 individual awards and won 29 (via IMDb). That's only one less total win than the next most recognized actor, Kaley Cuoco, has total nominations, per her IMDb profile.
The other thing that proves Sheldon's success is that he got the show's only spin-off — and that spinoff is very successful. "Young Sheldon," which follows Sheldon as he grows up, has already run for four seasons and has been renewed through Season 7. People love Sheldon so much that they want to watch him as a kid. And there's no other "Big Bang" spin-off on the horizon; the producers seemingly aren't even going to bother with anyone besides Sheldon.
There's only one thing left to say about Sheldon's success: Bazinga!