Where Is Chuck Turner From My 600-Lb Life Now?
This article mentions depression and disordered eating.
On "My 600-lb Life," TLC's long-running medical reality series, individuals head to Houston, Texas to seek the help of gastric surgeon Dr. Younan Nowzaradan, aka Dr. Now. They travel with the hope that the renowned physician will accept them into his calorie-restricted weight loss program in preparation for weight loss surgery. Given how rigid Dr. Now's regimen is, most patients struggle and others refuse to comply. However, the majority of the show's participants eventually come to see the light, understanding that their journeys to the lives they want to live require both physical and emotional work.
As fans of the series know, Dr. Now's patients can typically point to a specific trauma that caused their disordered eating. The most successful patients are those who put in the time and effort to process and understand their relationship with food. When Texan Charles "Chuck" Turner sought Dr. Now's help, he went with a body he didn't feel strong in and a mind still reeling from a recent tragedy. 
Let's revisit Chuck's journey and see what he's been up to since his episode aired.
A mid-life tragedy befell Chuck Turner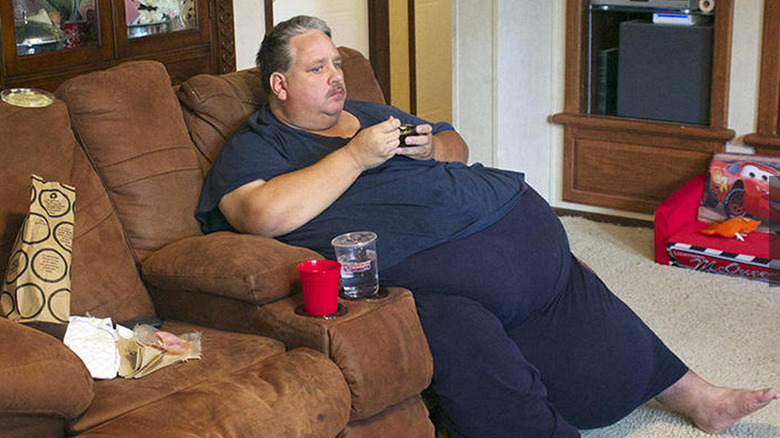 TLC
Weighing 693 pounds when he sought help from Dr. Now, the then-45-year-old Chuck Turner could feel his body failing. His weight prevented him from engaging in most activities, including playing with his young son, and was also affecting his marriage. On his episode of "My 600-lb Life," Chuck's wife Nissa revealed that the two were no longer intimate, and that she felt less like a wife and more like a caretaker.
Unlike most of Dr. Now's patients, Chuck's struggle with weight began not in childhood but in his 30s after the tragic death of his first wife. In 2006, about eight years before his "My 600-lb Life" episode aired, Chuck's wife Barbara was shot and killed at home; her daughter was later be arrested and charged with murder (via Beaumont Enterprise). The shock of his wife's brutal death sent Chuck into a tailspin. Depression led to overeating, which led to deeper depression and further weight gain.
If you or someone you know is struggling with mental health, please contact the Crisis Text Line by texting HOME to 741741, call the National Alliance on Mental Illness helpline at 1-800-950-NAMI (6264), or visit the National Institute of Mental Health website.
If you are struggling with an eating disorder, or know someone who is, help is available. Visit the National Eating Disorders Association website or contact NEDA's Live Helpline at 1-800-931-2237. You can also receive 24/7 Crisis Support via text (send NEDA to 741-741).
Chuck was determined to be a success
Chuck Turner turned to Dr. Now in hopes of saving his life and his marriage. Determined to be a success story, Chuck worked hard to abide by with the high-protein, low-carb, low-calorie diet. He quickly hit Dr. Now's goals and received gastric bypass surgery to further speed his progress. 
By the end of his televised journey, Chuck managed to lose a staggering 433 pounds — the most weight lost in Season 2. In a 2015 episode of "Where Are They Now?," Chuck revealed that he and his wife Nissa had divorced. Despite their breakup, however, Chuck was still on the road to a healthier life. He was even looking forward to dating again.
The "Where Are They Now?" episode is the last official update we have on Chuck. According to his Facebook page, he still runs his business, Turner Wrecker Service, in Beaumont, Texas. Chuck hasn't posted any new pictures online since early 2020. However, based on those older pics, it looks like Chuck is still maintaining his weight loss.