Titans Season 3: What You Need To Remember Before Watching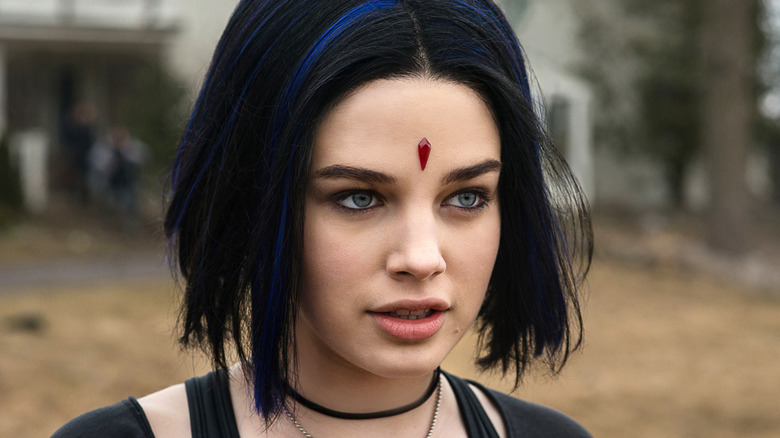 HBO Max
Season 2 of the "Titans" TV series that started on DC Universe — now HBO Max — premiered on September 6, 2019. The second season picks up right where Season 1 leaves off, with Dick Grayson (Brenton Thwaites), Rachel Roth (Teagan Croft), Kory Anders (Anna Diop), and the other Titans all facing off against Rachel's father Trigon (Seamus Dever). They are drawn under his control by dark visions, and Rachel must save them from his influence in order to stop his drive for power.
After defeating Trigon successfully, the rest of "Titans" Season 2 explores the fractured state of the Titans as Dick attempts to train and lead a team that consists of Rachel, Gar Logan (Ryan Potter), and Jason Todd (Curran Walters). Meanwhile, an assassin named Deathstroke (Esai Morales) who has an intense past with the Titans reemerges to get revenge. It all really goes downhill from there, leaving the Titans facing an intense loss and rising threats at the end of the season.
There's a lot going on in Titans Season 2, with many new allies and villains for Dick and the others to deal with, so it wouldn't be a surprise if fans of the series forgot some of what happens by now. But after almost two years, Season 3 of "Titans" is finally premiering on August 12, 2021, so here's a short recap of everything important to remember about Season 2.
Nightwing arrives to welcome new Titan Conner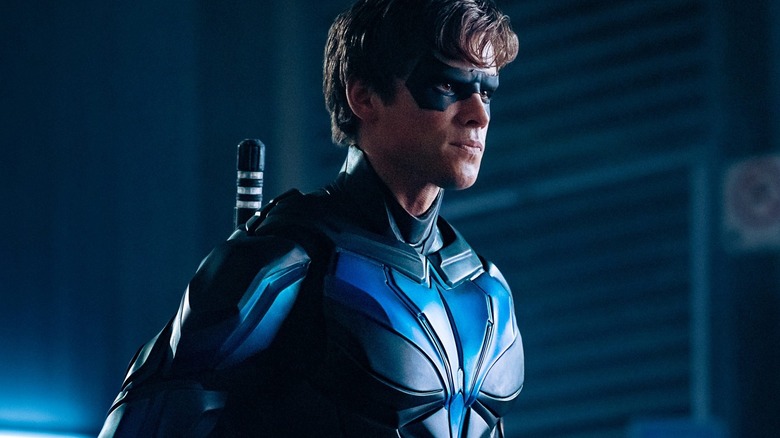 HBO Max
In the last few episodes of "Titans" Season 2, the group splits up again after Dick admits to his involvement in the death of Jericho (Chella Man). Dick ends up in prison going through a journey of self-realization, while Rachel loses control of her powers, Jason and Rose (Chelsea Zhang) bond, and Gar and newcomer Conner Kent (Joshua Orpin), aka Superboy, end up in the hands of the evil Cadmus organization, involved in a supersoldier program run by Mercy Graves (Natalie Gumede). Through Graves' storyline trying to keep control of Conner and sell him off to the highest bidder, "Titans" features the first mention of Lex Luthor, who might grow to have a bigger role going forward. As part of her plan to show off Conner's abilities, Graves activates control of Gar to trigger his transformation and send Conner in to "save" the day.
Dick arrives with the other Titans just in time to help. After his stint in prison, Dick creates a new identity as Nightwing, something fans have been waiting to see for some time. Dick teams up with Rachel and is sent into Conner's mind to help him regain control of himself. Thanks to their similar experiences trying to live up to both Batman and Superman, Dick succeeds in helping Conner and he recovers. Meanwhile, feeling betrayed by Rose after learning the truth of her parentage and abandoned by Dick, Jason runs off to be on his own.
Rose and Jericho now share Rose's body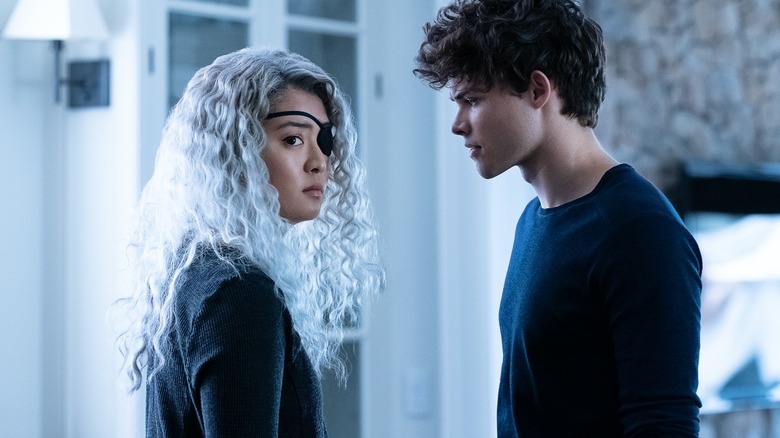 HBO Max
Before saving Conner from Cadmus, Dick finally faces off against Deathstroke after discovering that Jericho is alive inside of his father's body. The young man has the special ability to possess anyone he makes eye contact with, which saves his life after his father stabs him. Still, Dick has no idea how to help Jericho and is still not a strong enough match to beat Deathstroke, but thankfully Rose arrives to take on her father.
Believing that she is still on his side, Deathstroke allows Rose to get close, and she stabs him. As he dies, Rose speaks to her brother and tells him that he can body-jump into her, and he does. Jericho and Rose now share her body, which will definitely be interesting to see in Season 3. Right after the fight, Rose lets Jericho out to tell Dick that he forgives him for what happened in the past, and they finally reunite.
Rose's involvement in the battle and her father's death is quite a surprise in the finale, as previously it seems like her only connection to the Titans is through her romance with Jason. But after he leaves, it appears that Rose wants to take control of her own life in the same way and prove that she is nothing like her dad.
Donna Troy is dead?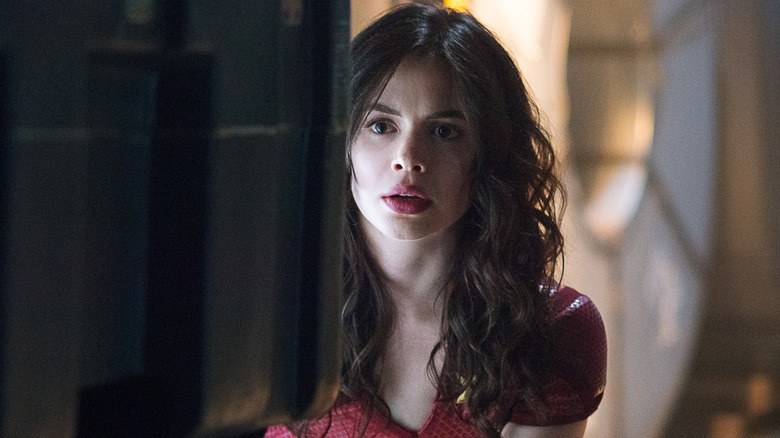 HBO Max
In one of the most shocking — and most disliked — parts of the Season 2 finale, Donna Troy (Conor Leslie) dies from being electrocuted. After the fight against Connor, everything seems to be settling down when an electrical tower starts falling on the crowds of people. A little girl is right in the way trying to pick up her doll, and so Dawn (Minka Kelly) rushes over to save her. Unfortunately, Dawn has no special ability to get them out of the way, and so Donna jumps in to hold up the tower until they can escape.
Showing the immense strength you'd expect from an Amazon of Themyscira, Donna successfully keeps the tower aloft long enough for Dawn and the little girl to get out, all while suffering extreme electrocution throughout her body. It becomes too much for her after the tough battle against Conner, and she dies. Of course, this isn't the end for Donna, as she was confirmed to appear in Season 3 at the DC FanDome event, as reported by Bleeding Cool, but it's unclear as of yet how exactly she'll come back. In the DC universe, anything is possible, and the end of "Titans" Season 2 features Rachel traveling with Donna's body to Themyscira, where she will learn more about her powers and hopefully bring Donna back to life.
The threat of Blackfire looms over the Titans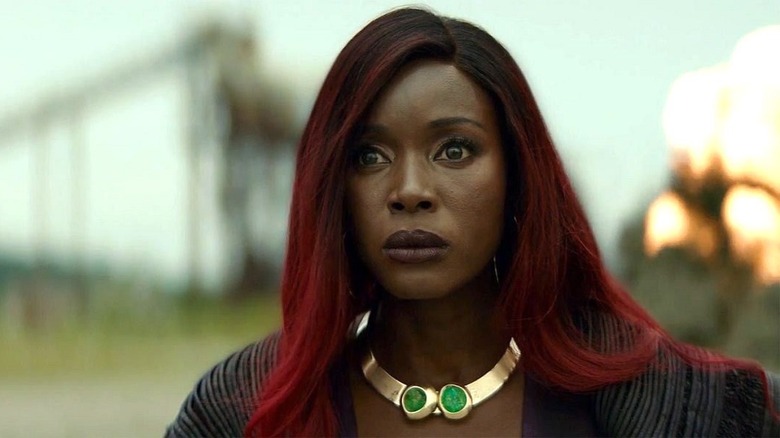 HBO Max
With Deathstroke dead and Cadmus stopped (for now), the last scene of "Titans" Season 2 hints at a major threat coming to the Titans in the form of Blackfire (Damaris Lewis), the sister of Kory, also known as Starfire. While she appears earlier in the season, she is never actually on Earth, ruling over their planet of Tamaran after murdering their parents and staging a violent takeover. Now she's after Kory as the only remaining threat to her reign.
In the final scene, a woman is walking with two kids to put her groceries in her car. In the process, a strange purple substance enters her ear, possessing her. A few moments later, the woman transforms into Blackfire, signifying that Kory's sister has found a way to come to Earth herself and attack Kory. Considering what we've seen of the character so far, Blackfire will waste no time going after Kory, and it's inevitable that the other Titans will get wrapped up in the fight as well. With an intense drive for more power and a hatred of Earth, Blackfire's mission likely won't stop at just destroying Kory either.