Scarlett Johansson's Black Widow Stunt Double Heidi Moneymaker Teases Her Work On Hawkeye - Exclusive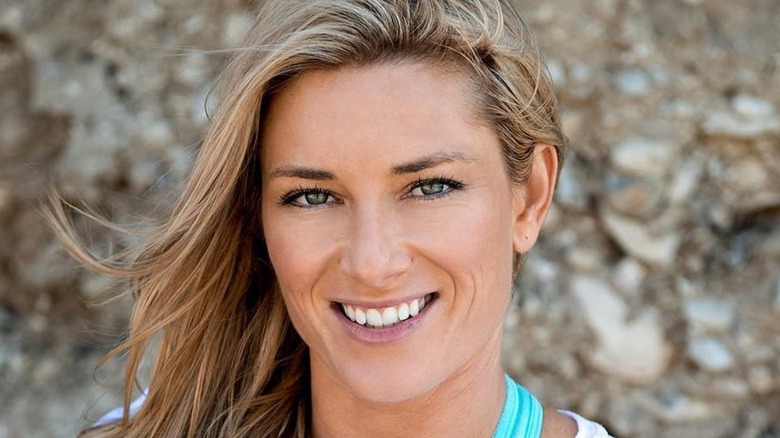 Heidi Moneymaker/Facebook
Even though she's doubled for Scarlett Johansson's venerable character Natasha Romanoff for seven Marvel Cinematic Universe films, revered stunt performer Heidi Moneymaker is hardly done working with her "Avengers" colleagues. Fresh off the long-awaited release of "Black Widow," Moneymaker has already been at work in a different capacity in the MCU for the upcoming Disney+ series "Hawkeye." In an exclusive interview with Looper, Moneymaker said she mostly concentrated on coordinating the stunt work. Performing the stunts, Moneymaker said, was assigned to another prolific stunt performer she knows well: Heidi's sister Renae Moneymaker, with whom she previously worked on "Captain Marvel."
"I was just the boss on this one. I did a couple of [pre-visualizations] before we had our full team, and when we didn't have all of our doubles and stuff," Moneymaker said. "So, I did a couple of pre-vises with my sis. And my sister was on the show as well, and some of the guys. But I didn't actually do any on-camera. Too busy. It was a busy, busy show."
Hawkeye signaled a reunion for Moneymaker and Jeremy Renner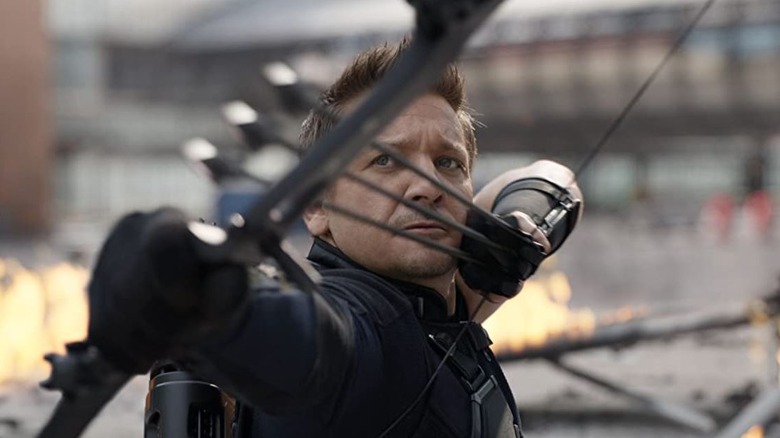 Marvel Studios/Disney
Since Heidi Moneymaker has been working in the MCU since 2010, she's gotten to know a fair number of the actors involved in the films, including Clint Barton-slash-Hawkeye himself, Jeremy Renner. And while Moneymaker couldn't share any details about the series, she was happy to note that she and Renner continued the working relationship they formed without a hitch.
"Jeremy and I have worked together since the first 'Avengers,' so pretty much about a decade. So, we have a lot of experience together, which is great because we know each other. I kind of know how he vibes. He knows that I've been around long enough to trust in what I'm doing. So, we had a great relationship," Moneymaker said. "And then Hailee's [Steinfeld] just wonderful creature ... She's an amazing woman — just really talented, very hardworking, very dedicated. I had a really good time with both of them."
Reuniting with Johansson on Black Widow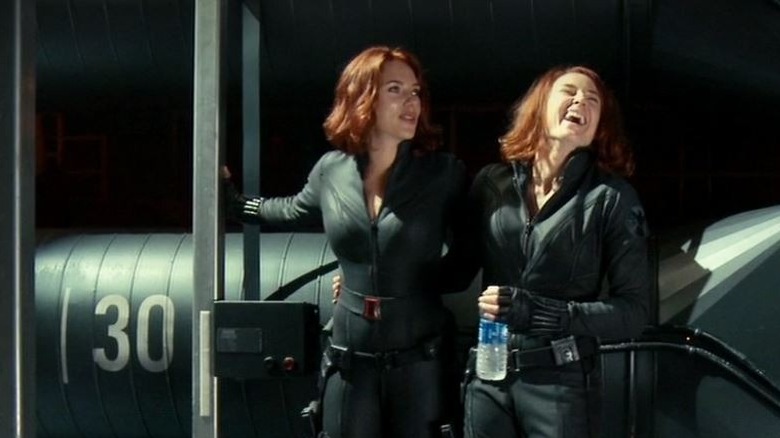 ESPN E60
Even though Natasha Romanoff's days were seemingly done as the character met a tragic end in "Avengers: Endgame," Marvel creatively found a way to bring Johansson back for at least one more go-round with "Black Widow." By setting the action on the MCU timeline between the events of "Captain America: Civil War" and "Avengers: Infinity War," Johansson once again was able to suit up as the beloved Marvel character — and reunite with Moneymaker in the process.
Even though it's Moneymaker's job to step in for Johansson when the scenes become dangerously real, the stunt pro said she's continually impressed by how Johansson is willing to go when it comes to pushing her limits. "We've worked together for so long that I know what she's good at. I know what she likes doing," Moneymaker said. "So, when there's a fight and I know she's coming in for it, I usually plug in everything I know she can do, so she can walk in and doesn't have to worry about it ... If she'll see something and if it seems like something that she wants to do, or she can do, she'll look at me and say, 'Can I do that?'"
No matter what the task is, Moneymaker said she's always protective of Johansson. "If anything, I'm going to err on the side of safety with her," Moneymaker said. "But I know how capable she is, so usually it's a yes."
"Black Widow" is playing in theaters and streaming on Disney+ with Premier Access. Moneymaker can also be seen in "E60 Presents Moneymaker: Behind Black Widow," which is streaming exclusively on ESPN+.