How Kelly Marie Tran Really Feels About Becoming A Disney Icon - Exclusive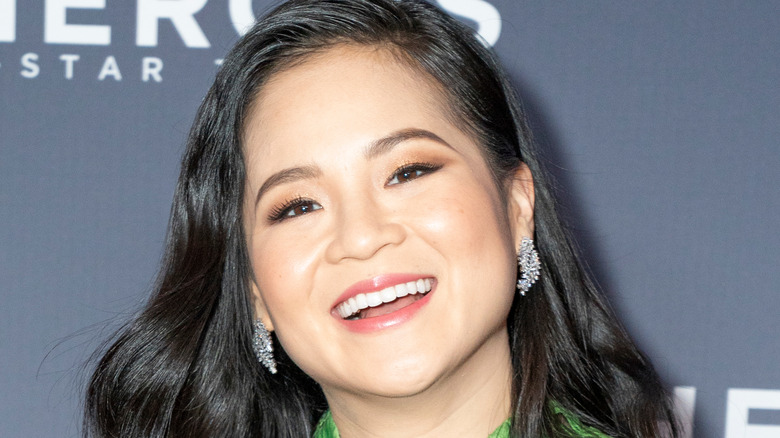 Shutterstock
There's a long list of iconic animated Disney characters — from ubiquitous mascot Mickey Mouse all the way down to silly sidekicks like Olaf the talking snowman. And peppered throughout the nearly 100-year history of the studio are the signature princesses that have become the essence of what make Disney fairy tales instant classics. From Snow White and Cinderella to Ariel and Belle, Disney's whimsical women overcoming daunting challenges sparked the imaginations of children around the world for decades. But as the years go by and the times change, so has the way princesses are portrayed. The field has not only become more diverse but also more empowered with the likes of warrior-princesses Mulan, Merida, and Moana.
Taking that more modern archetype one step further is Disney's latest warrior-princess, Raya, from the 2021 film "Raya and the Last Dragon." In it, the title character — voiced by Kelly Marie Tran — who plays Rose Tico in the "Star Wars" sequel trilogy and is the executive producer of the recently released spoken-word poetry musical "Summertime" — embarks on an epic journey to save humanity after an evil entity turned everyone she knew and loved into stone. Portrayed as more of a lone warrior than an entitled princess, Raya wields an impressive sword and is a trained fighter whose storyline doesn't include a romantic love interest of any kind. She's also Disney's first animated Southeast Asian heroine.
In a recent interview with Looper, Tran reflected on voicing such an instantly iconic — and groundbreaking — character and revealed how she really feels about becoming a Disney warrior-princess.
Growing up, Kelly Marie Tran never dreamed of becoming a Disney princess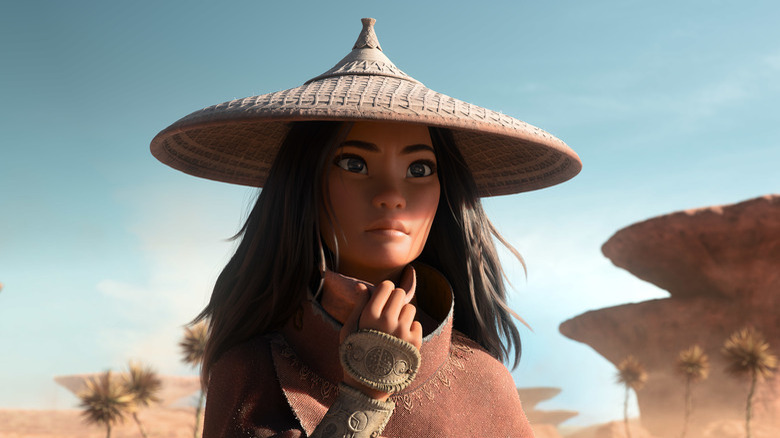 Walt Disney Animation Studios
As Raya, Kelly Marie Tran will now forever be part of the Disney lexicon, mentioned alongside such quintessential princesses as Snow White and Cinderella and having her likeness roaming around Disney theme parks. But, growing up as a little girl in Southern California, was this something Tran always dreamed about? "It's a dream come true, but also never expected. I think I would have to be seriously deranged to think like, 'Oh, one day you'll be in 'Star Wars' and then you'll be a Disney princess.' That is like some deranged thinking," Tran said with a laugh.
For Tran, nabbing the role of Raya was no small feat, and it's something she won't ever take for granted. "I grew up in a world where I didn't even know that dreams were possible," she said. "My parents emigrated from Vietnam and they both didn't have the luxury of thinking about what their dreams would be. I always talk about Maslow's Hierarchy of Needs. They were definitely in that place where they were like, 'Okay, food, shelter, safety.' You have to reach a level of privilege to get to the point where you can think about what you would want to do with your life, what would fulfill you. And my parents lived their whole lives helping me get to that place on the pyramid."
Now that she has achieved what she once saw as the impossible, she hopes to continue riding the wave of success. "The entire experience has just made me believe that magic and miracles are real, accessible things," she said. "And I just want to continue chasing magic. It's a really beautiful thing."
Tran's most recent film, the spoken-word poetry musical "Summertime," is currently in theaters in New York and Los Angeles and will expand nationwide on Friday, July 16.