Karen Gillan's Latest Remarks About Gunpowder Milkshake Will Get You Hyped
"Gunpowder Milkshake" already has action fans excited. Starring heavy hitters like Lena Headey, Angela Bassett, Carla Gugino, Michelle Yeoh, and Karen Gillan, the action flick features hired assassin Sam (Gillan), who is forced to team up with the assassin mother, Scarlet (Headey) who long ago abandoned her, to save the life of young Emily (Chloe Coleman), whom Sam has been hired to protect. The first-look trailer got action fans buzzing, and the hype is only ramping up in advance of the movie's July 14 release. The film has already been greenlit for a sequel by Netflix, even before the original was released to the streamer.
Karen Gillian is making the rounds on the press junket in advance of "Gunpowder Milkshake's" release, and what she's said about the movie has fans hyped for more rock 'em, sock 'em action. What's afoot and what will have action fans on the edges of their seats during the upcoming cinematic roller coaster ride? 
Gillan promises "nonstop action"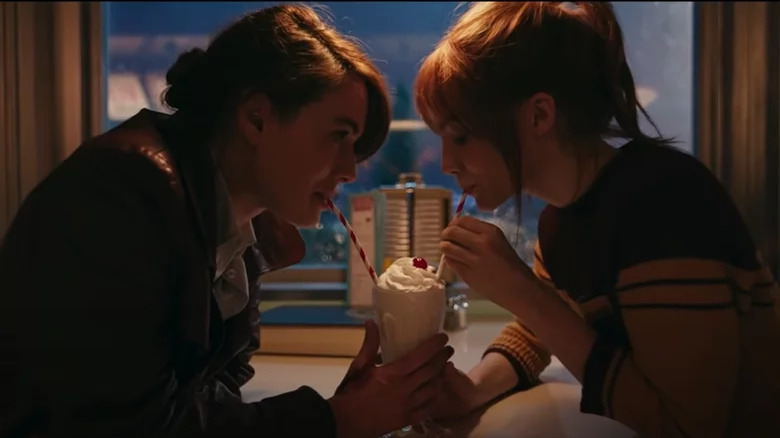 Netflix
According to an interview with Screen Rant, Gillan promises "nonstop action" for viewers. She also says the film is like nothing she's ever done before, and when one takes into consideration her high-impact role as Nebula in the Marvel Cinematic Universe franchise, that certainly says something. "It's a full action movie; there's so much action, and it's nonstop, basically," she told the outfit. 
Gillan did the movie after completing filming for the role of Ruby Roundhouse in "Jumanji: The Next Level." For "Gunpowder Milkshake," Gillan says she worked with the "Mission Impossible" franchise's stunt team to prepare herself for the physicality of the film. "Even though when I got to 'Gunpowder,' I was like, 'This is gonna be way harder than anyone could have anticipated,'" she admitted. "But it was a really fun challenge."
Gillan also promises that the movie will be violent — and that, in fact, she used her character's feelings about her abandonment to fuel her violence. "And for me, that all came out whenever she was fighting – and that's why everything is so vicious," she explained.