Ted Lasso Season 2 - What We Know So Far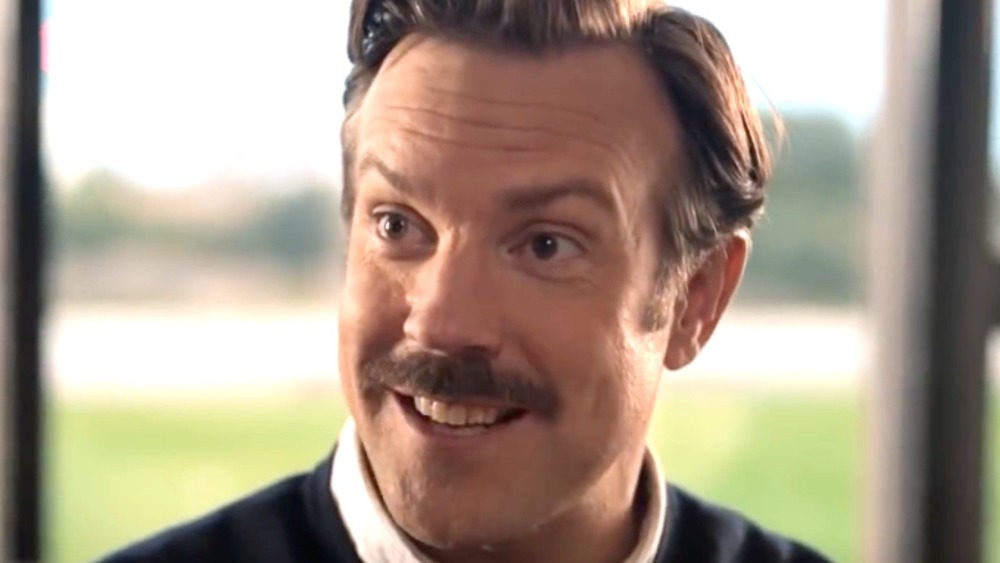 Apple TV+
After the show's star Jason Sudeikis won a Golden Globe for Best Actor in a TV Series – Comedy at the 2021 ceremony, Ted Lasso fans are even more excited about the London-based series' upcoming second season. The show is, of course, about Ted Lasso (Sudeikis), an American football coach who's hired to coach the English Premier League AFC Richmond football (soccer) team, despite knowing nothing about the sport. With a strong country accent and very American characteristics, Ted comes across as a joke to a lot of people, but he's actually very smart and has the spirit to push his team to a win.
The first three episodes of Ted Lasso premiered on Apple TV+ on August 14, 2020. Clearly, the show did very well, as Apple renewed Ted Lasso for a second season just five days after its premiere (via Deadline). Not only is the series' fanbase strong and only growing bigger in strength and size, but critics also love Ted Lasso, giving the first season a 90 percent approval rating on Rotten Tomatoes. On top of all of that, Apple handed Ted Lasso a third season in October 2020, before season 2 even went into production, as reported by Variety. Unfortunately, the third season of Ted Lasso is also likely to be the series' last, as co-creator Bill Lawrence noted on the Fake Doctors, Real Friends podcast that Sudeikis is planning the main character's arc to be a three-season story (via ComicBook.com). 
As fans eagerly wait for Ted Lasso season 2, let's look at what we know about it so far.
What's the release date for Ted Lasso season 2?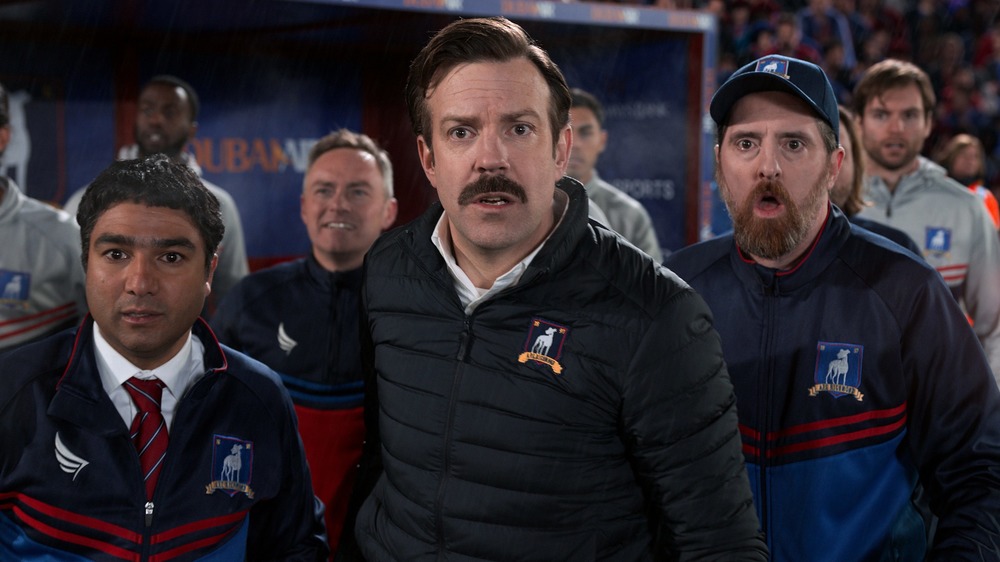 Apple TV+
This still seems a little up in the air, but fans can probably expect to see Ted Lasso season 2 sometime between June and August of this year. In late February 2021, Apple Insider reported on a since-deleted tweet from Apple TV+ stating that Ted Lasso will be returning for its second season in summer 2021. Since the tweet is no longer there, it's unclear whether this release date is still true, so fans should be prepared for the possibility that season 2 might come a little later in the year. 
One thing we know for certain is that Ted Lasso season 2 is well into production, as the Apple TV Twitter account posted in mid-January that the series started filming the new season. (Don't worry — this tweet has not been deleted.) Knowing that, a release date sometime this summer seems feasible, but maybe Apple's simply being hesitant in making an official announcement, as things could change at any given moment with COVID-19 and the state of TV productions. As season 1 premiered in August 2020, a summer 2021 release date would be very fitting for Ted Lasso season 2.
Who's in the cast of Ted Lasso season 2?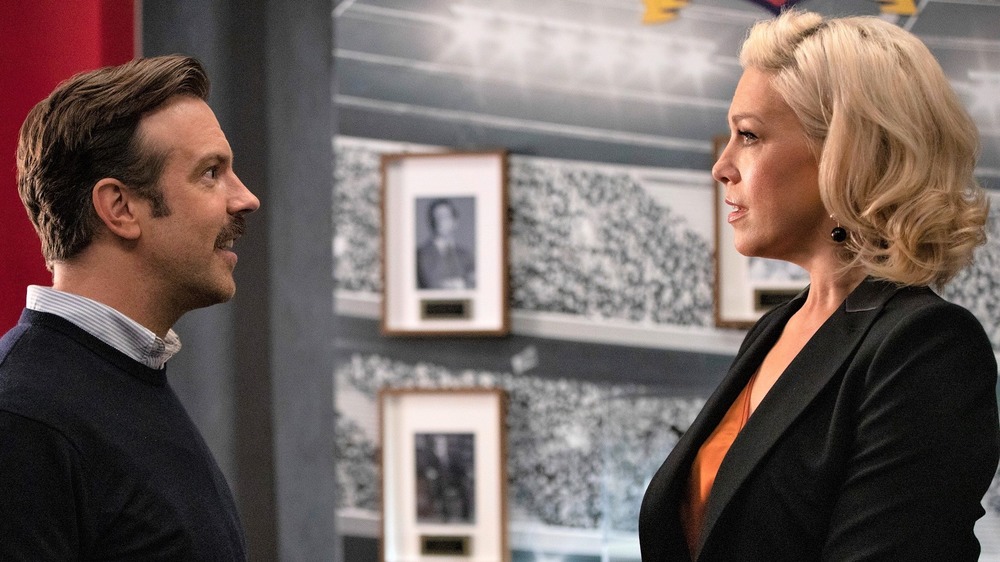 Apple TV+
First things first: Sudeikis will be returning as the title character for Ted Lasso season 2. Ted Lasso also stars Hannah Waddingham as Rebecca Walton, the new owner of the AFC Richmond team who initially wants to destroy them to get revenge on her husband, and she'll be back for season 2 as well. Coach Beard (Brendan Hunt) and Keeley Jones (Juno Temple) will be part of the sophomore-season fun too. 
As for some of the other characters, read on at your own risk, as there are spoilers for ahead for Ted Lasso season 1. 
Two of Lasso's players ended season 1 on either another team or retired, so it's unclear how big of a role they will have in season 2. One is Roy Kent (Brett Goldstein), who gets a possibly-career-finishing injury in the tenth episode of season 1 and decides to retire. It appears that Goldstein is officially returning as Roy, as he talked about season 2 in an interview with TV Insider, but what's next for his character is unknown. The other player whose future with AFC Richmond is ambiguous is Jamie Tartt (Phil Dunster). At the end of Ted Lasso season 1, Jamie is called back to play for Manchester City, since he was on loan to AFC Richmond. It is almost certain that the character will appear in season 2, and fans hope he'll make his way back to Lasso and the team. 
In terms of the rest of the cast of Ted Lasso, actors Mohammed, Toheeb Jimoh, Cristo Fernández, and Jeremy Swift all appear to be returning for season 2 as well, and there will likely be a few new faces in the new season.
What's the plot of Ted Lasso season 2?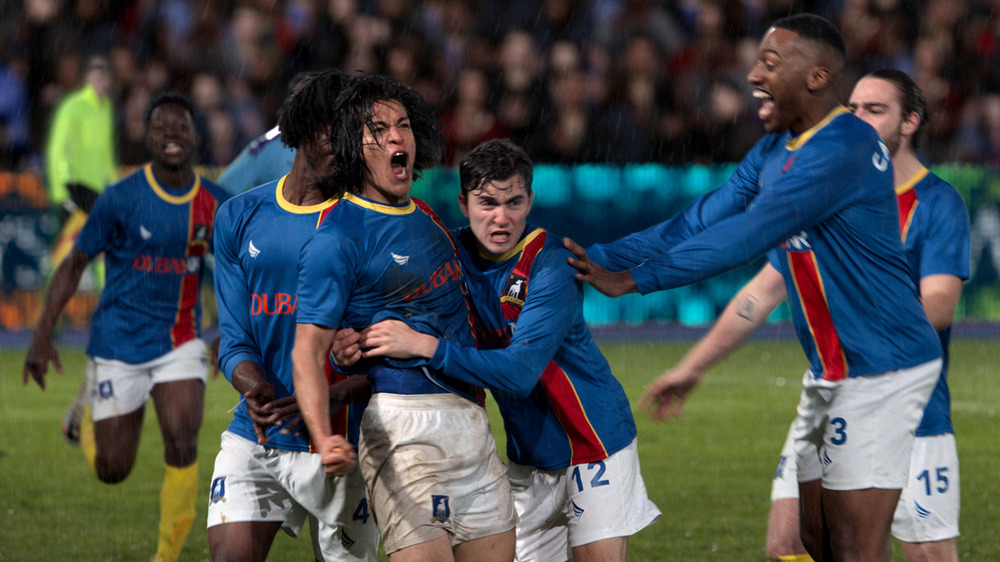 Apple TV+
It's safe to say that Ted Lasso season 1 ended on a bit of a low note, with AFC Richmond being demoted from the Premier League. But this sets up a new journey for the budding team in season 2: overcome their obstacles and triumph adversity. While AFC Richmond can return to the Premier League, it's going to require a lot of teamwork, patience, and, of course, winning matches. In order to do this, Lasso's team must finish the season in one of the top three spots in their new, lower league.
At the end of season 1, there's also a new addition to the coaching team in the form of Mohammed's Nate, who starts off the series as a soft-spoken equipment manager — or, as the position is called in England, a kit man. Along with that, Rebecca is officially in full support of Lasso as AFC Richmond's coach. She decides that she wants the team to succeed, denying Lasso's resignation request and hyping up AFC Richmond's hopefully victorious return to the Premier League. Fans can expect loads more laughs and heartfelt moments as Lasso continues to bring the AFC Richmond team together to succeed as one.
As for any relationship drama, Ted has signed his divorce papers, allowing him to explore any past or future flirtations. Along with that, Rebecca is still battling it out with her cheating ex-husband, Rupert Mannion (Anthony Head), while Keeley moves on from her relationship with Jamie, pursuing a new romance with Roy.