Why The Host Of HBO Max's FBoy Island Looks So Familiar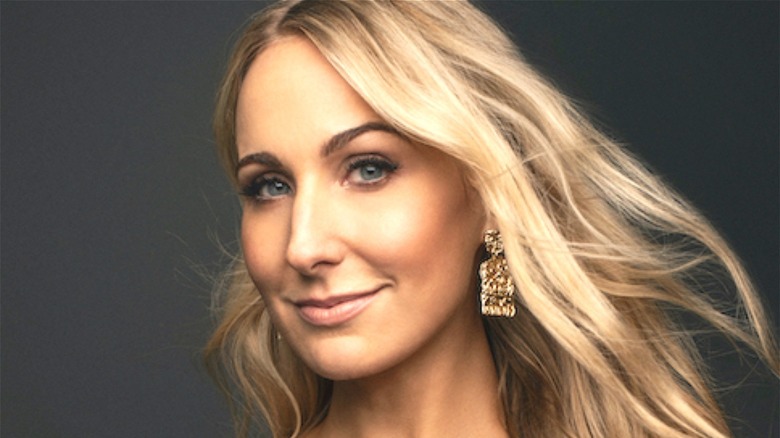 HBO Max
HBO Max is getting into the reality dating game with "FBoy Island," a sexy "Love Island"-esque competition show created by former "The Bachelor" showrunner Elan Gale. On the show, three single women will try to find a love connection with one of 24 guys at an exotic beachfront locale. The twist is that 12 of the guys are self-proclaimed "Nice Guys" who are genuinely looking for love, while the other 12 are "FBoys" who are only looking to win the show's cash prize and get famous. Will the girls be able to link up with guys who are there for the right reasons? Or will they once again get their hearts broken by guys who look good and talk slick?
The show is hosted by someone who should be familiar to most people who would watch "FBoy Island." She's a stand-up comedian who's appeared on numerous talk shows, panel and talking head shows, game shows, roasts, and podcasts and radio, and had small acting roles in projects led by her friend Amy Schumer, including "Inside Amy Schumer" and "Trainwreck." She hosted the 2021 MTV Movie & TV Awards. She's even hosted a dating show before, a revival of "Blind Date" on Bravo.
She's Nikki Glaser, a hilarious comedian and engaging host. She's perfect for "FBoy Island." Here's where you've seen her before.
Nikki Glaser talked about sex on Not Safe with Nikki Glaser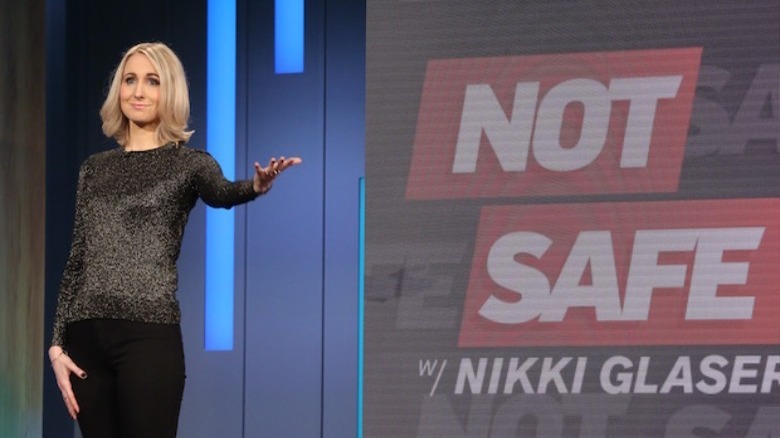 Danny Feld
After many years of touring as a stand-up comic and appearing on many shows –- most prominently on numerous episodes of Comedy Central game show "@midnight" and her short-lived MTV talk show "Nikki & Sara Live" with co-host Sara Schaefer — Nikki Glaser got a show that was totally her own in 2016. "Not Safe with Nikki Glaser" ran for one season on Comedy Central, blending unscripted comedy and panel discussion about Glaser's favorite topic: sex.
The show featured segments like "Tinder Tapout," where Glaser said increasingly outrageous things to men she matched with on Tinder in an effort to get them to un-match with her, and "Sext Symbols," where a guest types out a story entirely in emojis and Nikki guesses what it means. She also did experiential field pieces like spending 24 hours in a Las Vegas strip club and feeding lines to adult performers while they filmed a scene. The show didn't run for very long, but it helped establish Glaser as one of America's foremost sex-ed comedians.
Nikki Glaser is a Comedy Central Roast staple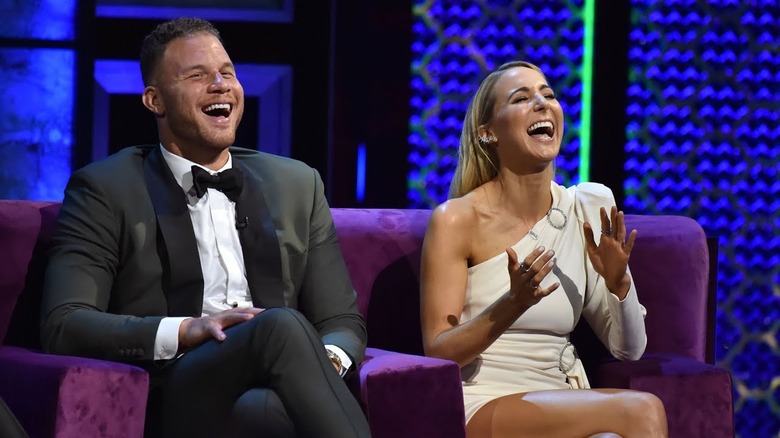 Comedy Central
Some viewers may best know Nikki Glaser for her shockingly funny appearances on Comedy Central roasts. Vulture's comedy critic Jesse David Fox called her "one of the absolute best ever roasters."
Her first roast was 2016's roast of Rob Lowe, where she said to controversial conservative commentator Ann Coulter "I'd ask you how you sleep at night, but I'd assume just upside-down in a robe of 101 dalmatians" –- and that wasn't even close to the meanest thing she said. At the roast of Bruce Willis, she told screen legend that he had an "amazing action film career until Jason Statham started balding." She also told Robert De Niro he looked like ALF, and asked Caitlyn Jenner what the Republican party has to do to lose her support -– "be your son?" She also appeared on the roast shows "Roast Battle" and "Historical Roasts."
Hopefully Comedy Central Roasts start back up again soon, because the world needs more mean, exceptionally well-written Nikki Glaser jokes.
Nikki Glaser is a top Netflix comic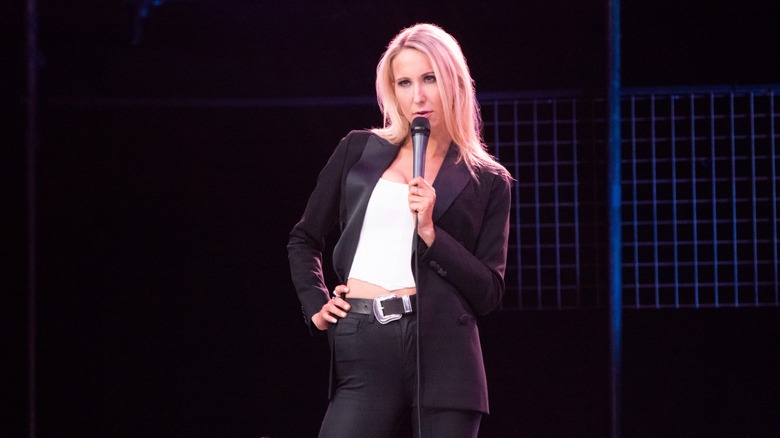 Lara Solanki
Nikki Glaser has two hour-length comedy specials. Her first is "Perfect," which premiered on Comedy Central in 2016. She's also done shorter Netflix specials for a pair of the streaming service's comedy compilation shows. In 2017, she did a half-hour for the up-and-coming comedian showcase "The Standups," and in 2019 she did 20 minutes for "The Degenerates," Netflix's showcase for its filthiest comics.
However, her biggest and best stand-up special to date is her second hour, "Bangin'," which began streaming on Netflix in 2019. As you may infer from the title, it's almost entirely about sex, and Glaser takes an almost anthropological approach to her own sex life. She has the skill to make risque material on topics you've heard comedians talk about a million times feel fresh and unique. Her straight-faced sarcastic bit about women's responsibility to spare men the pain of blue balls is a pretty definitive take on the subject.
Nikki Glaser had a memorably brief run on Dancing with the Stars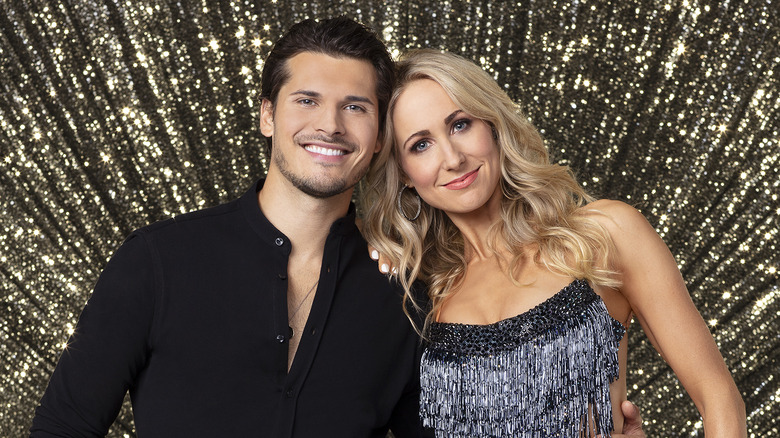 Craig Sjodin/ABC
Glaser is a reality TV obsessive, and she hit the jackpot when she managed to land a spot on one of TV's biggest reality shows, "Dancing with the Stars," in the long-running ABC celebrity dance competition's 27th season. Unfortunately, she was the first dancer eliminated.
The day after her elimination, she went on "Good Morning America" and showed why she's a comedian, not a dancer, telling roast jokes about the judges that she didn't get to tell on the show. Len Goodman is the "cruelest" judge, and she had some choice words for the septuagenarian dance instructor: "He really came after me that first night and really said some mean stuff, and I was like, 'Do I remind you of a granddaughter who hasn't called you in a while?' Because what is this?" she said. "It's really insulting, he said I was 'too careful,' which is really insulting coming from a guy who I'm sure wears a Life Alert bracelet."
To be fair, she also poked some fun at herself for her lackluster showing, saying she danced like "an injured horse."