The Devastating Death Of WWE Star Paul Orndorff, 'Mr. Wonderful'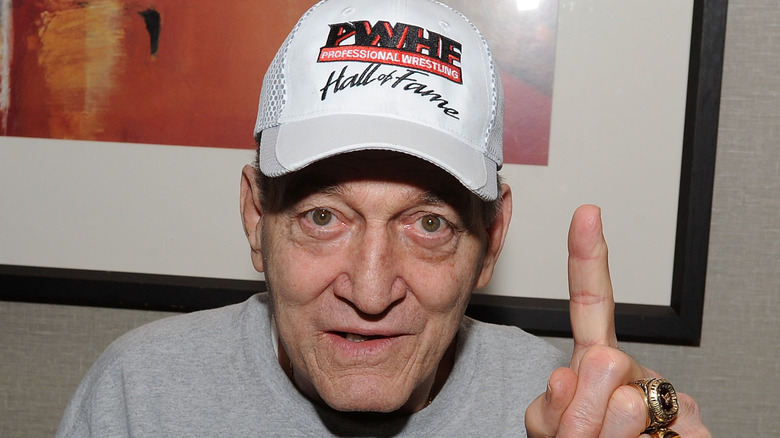 Bobby Bank/Getty Images
Paul Orndorff, known to the wrestling world as Mr. Wonderful, died on Monday, July 12. The news was announced by his son, Travis Orndorff, in a post to his Instagram account. He did not detail the cause of death, though in June, Travis Orndorff shared a video revealing his father's declining health in order to raise awareness of CTE, or chronic traumatic encephalopathy (via WrestlingNews.co).
Prior to his career in wrestling, Paul Orndorff was both a high school track star and a skilled football player. Following his time in college, playing for the University of Tampa, Orndorff was drafted into the NFL. However, he ultimately stepped away from his professional football prior to the start of the NFL season. Though he didn't give up football entirely after leaving the NFL, he gradually shifted his focus to first amateur then professional wrestling, which would come to define the balance of his career (per Pro Wrestling Stories).
One of Orndorff's most well-known matches during his time wrestling for the WWE was part of the inaugural Wrestlemania, during which he and "Rowdy" Roddy Piper faced off against reigning heavyweight champion Hulk Hogan and Mr. T in the night's main event. 
His wrestling career lasted for decades prior to his retirement. In 2005, Orndorff was inducted into the WWE Hall of Fame, cementing his already considerable legacy (via WWE).
Here's what fellow wrestlers have to say about Orndorff
Following news of his death, many well-known wrestlers new and old have been sharing their thoughts about Orndorff and the influence his career had on the sport of professional wrestling.
Pro wrestler and WWE business executive Triple H, in his tribute to Orndorff, highlighted his accomplishments in the squared circle and characterized him as "one of the industry's best bad guys." The Iron Sheik, whose career coincided with Orndorff's, described him as his "brother" and "the toughest" (via Twitter).
Ric Flair, otherwise known as the Nature Boy, called Orndorff a "great guy, legit tough" and an "amazing athlete." Mick Foley, who has wrestled under a number of names including Cactus Jack and Mankind, wrote, "as a fan, I loved watching him. As a wrestler, I loved working with him. He brought intensity and believability to every match and promo. Truly one of the all-time greats."
Some entertainers outside of the wrestling world have likewise sung Orndorff's praises. Comedian and "Mandalorian" actor Bill Burr, for example, called him "one of the greatest of all time."
Travis Orndorff's wife, Amayou Smith, is currently raising money for Paul Orndorff's funeral expenses on GoFundMe.