Dwayne Johnson Shares More Amazing Behind-The-Scenes Details From Black Adam
It's been over seven years since DC announced that Dwayne "The Rock" Johnson would be entering the DC Extended Universe as Black Adam, and after multiple delays due to the pandemic, filming is finally in its final week of production. This should come as a relief to the actor and former wrestler, as he's previously stated that the training he had to go through to maintain his eye-popping muscles cultivated for the antihero role was the most difficult of his career. This is saying quite a bit, since Dwayne Johnson hasn't exactly been a waif in his previous roles.
Johnson has been regularly updating fans eager for news on the film through his Instagram, giving behind-the-scenes details on its special effects as well as information about his character and the physical and emotional work he's put into embodying him. In what may be one of his final messages about the filming process considering the timeline, a recent post provides even more insight into what The Rock and DC have been cooking.
Black Adam is filming at 960 frames per second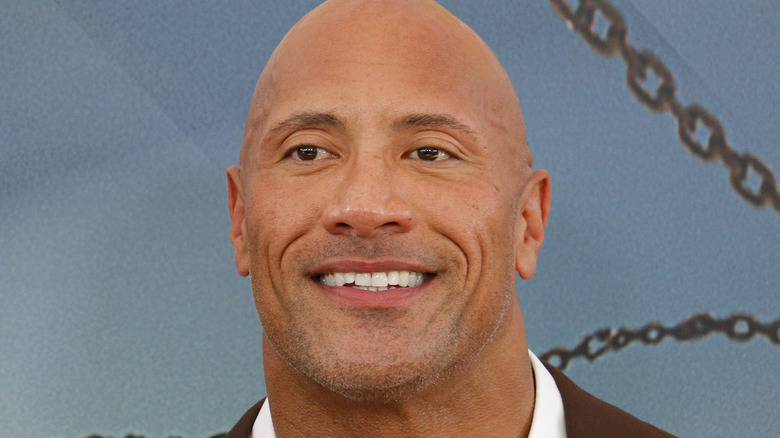 Shutterstock
Dwayne Johnson's arms apparently aren't the only powerful ones on set, as his recent Instagram photo shows him flexing and screaming for an intense scene on set, with a giant robot arm moving the camera capturing his performance.
In the caption, Johnson writes that the arm is called a BOLT, one of the fastest of its kind in the world, and that attached to it is a phantom camera, capturing him at an unreal 960 frames per second, 40 times the 24 frames per second that movies are typically filmed at. Although undeniably impressive, movies shown at high frame rates can sometimes be unsettling for viewers, so we'll have to wait and see how the movie appears in its final form.
"If you know the comic mythology of BLACK ADAM, then you know his rage comes from pain," Johnson writes. "His pain comes from the loss of his wife and children. He is now the most unstoppable force in the DC Universe or ANY endgame universe." That's a bold claim, given the universe-shaping heroes and villains of DC and Marvel.
"Black Adam" releases exclusively in theaters on July 29, 2022.