The Dwayne Johnson Black Adam Tease We Wanted Is Finally Here
In January 2017, Dwayne Johnson took a meeting with people from DC Films, including writer and producer Geoff Johns. At the time, Johnson posted to Instagram saying that the meeting signaled a shift away from the DCEU's darker tone and that they would focus more on "hope, optimism, and fun."
In the intervening years, that promise has born out. Wonder Woman, released later that same year, already felt like a tonal shift. Shortly thereafter, we saw an even further move towards the upbeat with the adventurous Aquaman and the right-for-all-ages film, Shazam!
Shazam! is especially relevant to Johnson since the real reason he took that DC meeting was to talk about playing long-time Shazam arch-nemesis, Black Adam. It's been years since we first heard that Black Adam would be getting his own dedicated film, but only recently did we start getting big teases from The Rock himself about what's on the horizon for Johnson and Black Adam.
Black Adam coming soon to DC FanDome and the multiverse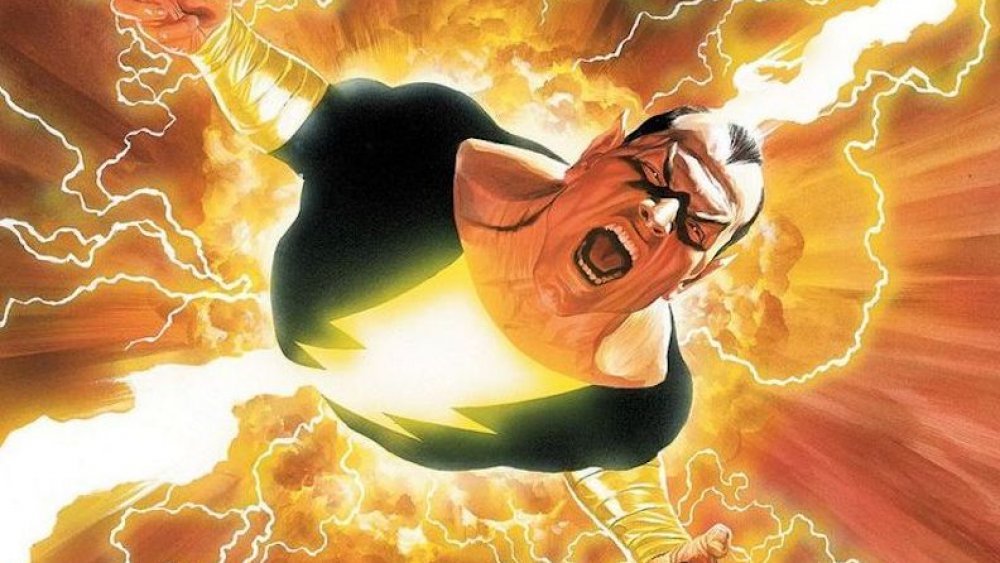 Alex Ross/DC Comics
We've gotten information about Johnson's take on Black Adam in fits and starts over the years. On November 14, 2019, Johnson even revealed what was the then-planned release date for Black Adam: December 22, 2021. To give fans a sense of how this sometimes-villainous character would be portrayed, Johnson explain his iteration of the character as he sees him, writing, "Black Adam is blessed by magic with the powers equal to SUPERMAN, but the difference is he doesn't toe the mark or walk the line. He's a rebellious, one of a kind superhero, who'll always do what's right for the people — but he does it his way."
We don't yet know for sure when we'll see that Black Adam movie. Filming had been set for summer 2020, but the production has been delayed as a result of the industry-wide shutdown caused by the ongoing pandemic. Answers, however, are coming soon, since Dwayne Johnson is set to appear at the upcoming convention DC FanDome, set to take place in virtual space on August 22, 2020.
Johnson wasn't satisfied leaving people hanging for a few more weeks, so he tweeted out a video to give fans a taste and get them even more excited. Johnson wrote in the tweet, "THEY NEEDED A HERO. INSTEAD THEY GOT ME. Excited for the first-ever global celebration of the DC Multiverse." 
"Multiverse" is a pretty important term here. It suggests that — likely as a result of the events of the upcoming Flash movie — DCEU movies will no longer all take place on the same Earth. We may be careening toward a massive expansion of the DCEU into the manifold set of parallel realities that have been an important feature of DC comics for many years. So while The CW's Arrowverse may have essentially combined into one world, it's looking like the DCEU is set to fracture — and Black Adam may be at the heart of it all.