Why Melinda Monroe From Virgin River Looks So Familiar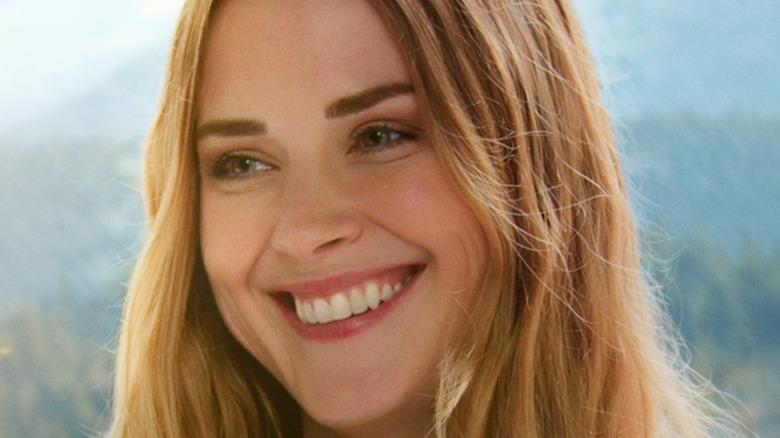 Netflix
The heartwarming romantic drama series "Virgin River" already has three seasons under its belt on Netflix, and it doesn't show any signs of slowing down any time soon. The beloved show, which is based on a long-running series of romance novels by author Robyn Carr, follows heroine Melinda "Mel" Monroe, a nurse practitioner and midwife who leaves the hustle and bustle of Los Angeles for the quiet and serene existence of small town Virgin River after losing both her husband (Daniel Gillies) and her child in traumatic fashion. 
Once in Virgin River, Mel takes a job working for the town doctor Vernon Mullins (Tim Matheson), strikes up a friendship with the mayor Hope McCrea (Annette O'Toole), and eventually falls in love with Jack Sheridan (Martin Henderson), the owner of the only bar and restaurant in town.
Alexandra Breckenridge portrays Mel in "Virgin River," and if the actress seems familiar, it could be from any number of places, because she's popped up on a number of television shows over the years. Here is where you've seen Alexandra Breckenridge before.
Alexandra Breckenridge made the teen TV rounds in the early 2000s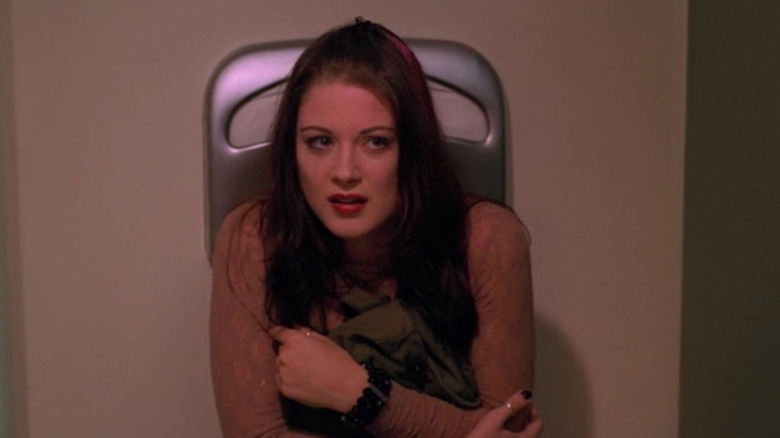 The WB
After starring in a couple of television movies in the late 1990s, Alexandra Breckenridge did what many aspiring actors just starting out in Hollywood do: make the guest star rounds on popular (and not-so-popular) TV shows. Early in her career, beginning circa 2000, Breckenridge had guest appearances on shows like the acclaimed one season-wonder "Freaks and Geeks." She played Shelly Weaver in the episode "Looks and Books." 
Breckenridge also had a small role on Fox's short-lived comedy "Opposite Sex," which starred future Marvel star Chris Evans and "Gilmore Girls" and "This Is Us" actor Milo Ventimiglia. Between 2001 and 2002, Breckenridge also appeared in two episodes of MTV's "Undeclared." 
But if you recognize her from this particular era, it might be because she guest-starred on some of the biggest WB shows of the day, including "Dawson's Creek," "Charmed," and even "Buffy the Vampire Slayer."
She was a stylish villain in She's the Man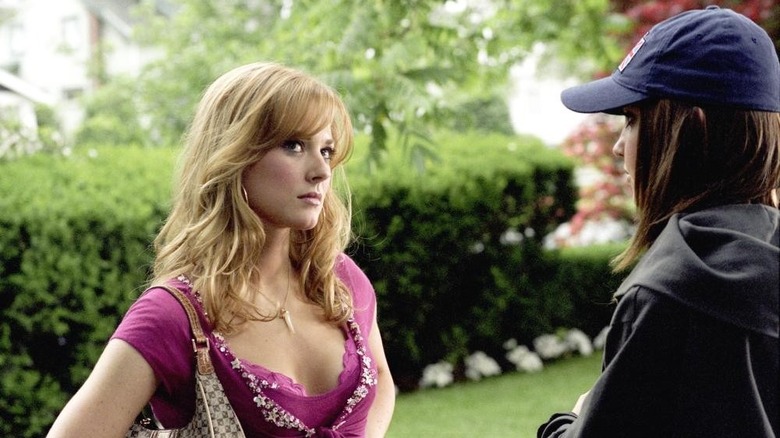 Paramount Pictures
Although it's hard to believe 2006 was so long ago, you probably remember the teen comedy film "She's the Man" that was released that year. Starring Amanda Bynes and Channing Tatum, "She's the Man" is a loose adaptation of William Shakespeare's "Twelfth Night," and sees Bynes' Viola pretending to be her twin brother Sebastian (James Kirk) while he's in Europe with his band. She dons a short wig, courtesy of her hairstylist best friend Paul (Jonathan Sadowski), and moves into Sebastian's dorm room at his elite boarding school, all so she can play soccer after the girls' soccer team is cut from her own school. 
What you might not remember about the film, however, is that Breckenridge also starred in it in a supporting capacity. She played Monique Valentine, the stylish and superficial girlfriend of the real Sebastian who's presence threatens to reveal Viola's true identity at every turn.
A memorable dalliance with horror in the 2010s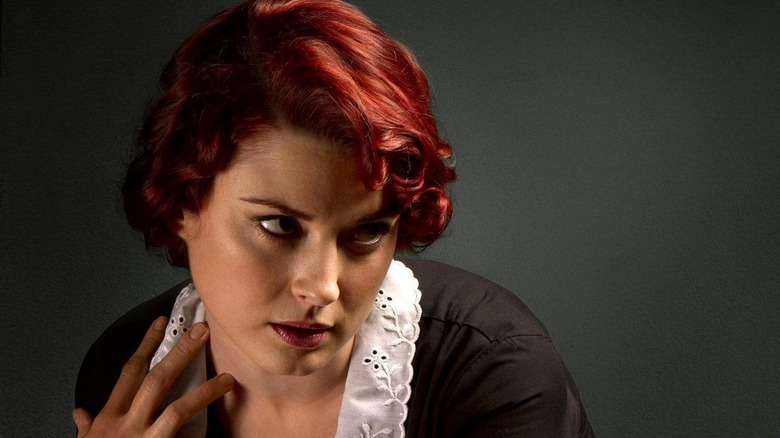 FX
During the 2010s, Alexandra Breckenridge made memorable appearances in a few horror series. In 2011, she guest-starred in the fourth season of HBO's popular fantasy horror series "True Blood," based on the book series by Charlaine Harris. She played Katerina Pelham, a wiccan secretly working for the security team of Bill Compton (Stephen Moyer). She infiltrates Marnie's (Fiona Shaw) coven at Bill's request to determine whether or not Marnie and the coven are a threat to vampires. Breckenridge made her first appearance in the Season 4 premiere, titled "She's Not There," and went on to appear in four episodes total. The character meets her demise in the seventh episode of the season, titled "Cold Grey Light of Dawn."
Breckenridge next appeared in FX's popular anthology series "American Horror Story." The first season, "Murder House," follows the Harmon family, who move into a beautifully restored older home that's filled with ghosts. Breckenridge had a recurring role as a young Moira O'Hara, who appears to the patriarch of the Harmon family (Dylan McDermott) as a seductive young maid. Moira is probably the role that most people associate Breckenridge with when it comes to "American Horror Story," but she also returned for a brief two-episode stint during the show's third season, "Coven." She portrayed Kaylee, a witch with the power of pyrokinesis who rejects an offer from Cordelia (Sarah Paulson) to remain at Miss Robichaux's Academy. Cordelia's husband, who's secretly a witch hunter, ultimately kills Kaylee.
A few years later, Breckenridge landed a recurring role on AMC's long-running horror series "The Walking Dead," based on Robert Kirkman's popular comic book series that details life after a zombie apocalypse. She appeared in Seasons 5 and 6 as Jessie Anderson, a resident of Alexandria who embarks on a romantic relationship with Rick Grimes (Andrew Lincoln). Sadly, Jessie is eventually killed and eaten by walkers.
Alexandra Breckenridge has a recurring role on This Is Us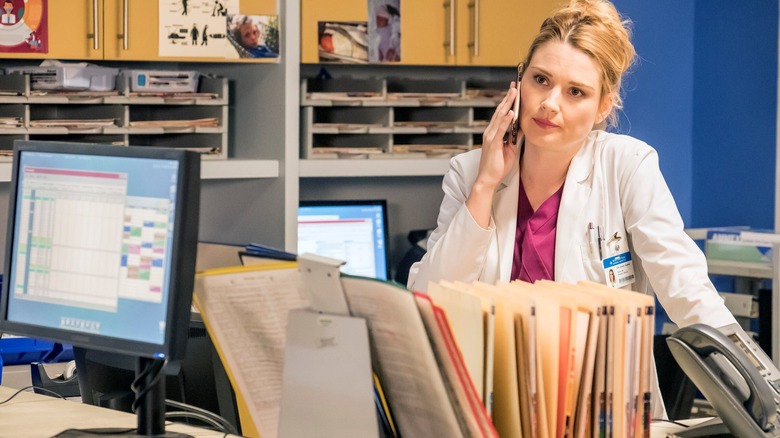 Ron Batzdorff/NBC
Since the first season of NBC's "This Is Us," Alexandra Breckenridge has had a role on the popular and emotional family drama, which stars her former "Opposite Sex" co-star Milo Ventimiglia. 
In the series, she portrays Sophie, the childhood best friend of Kate (Chrissy Metz) and the ex-wife of Kate's brother Kevin (Justin Hartley), having dated him throughout her teen years. They were married and divorced before the events of the pilot, but when Kevin moves to New York early in the show's run, he attempts to reconcile with Sophie, who has become a nurse. However, their relationship doesn't last. Kevin later attempts to make amends with Sophie after finally getting sober. 
Breckenridge appeared on "This is Us" on a recurring basis in Season 1, was a series regular for Season 2, and has continued to appear in a guest capacity throughout Seasons 3, 4, and 5.