What You Need To Remember Before Watching Virgin River Season 3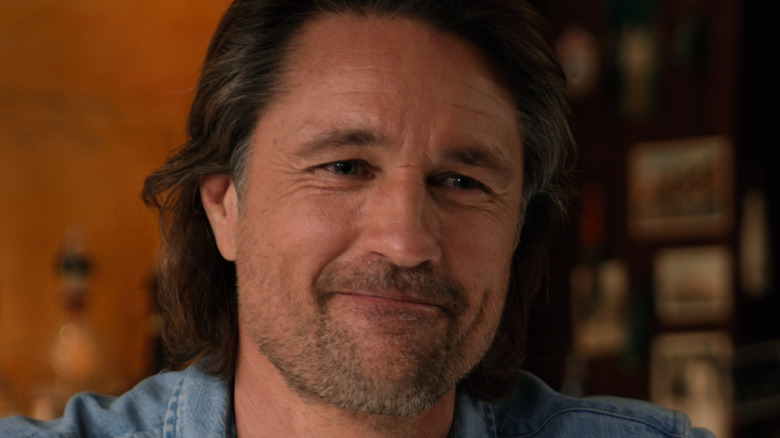 Netflix
Contains spoilers for "Virgin River" Season 2
Although there appears to be a never-ending supply of new content hitting Netflix on a monthly basis, the streaming service always seems to be subtly reinventing itself every few years. After joining the original programming space with big, flashy shows like "House of Cards" and "Orange Is the New Black," Netflix cornered the market on teen dramas in the second half of the 2010s. Then, at the end of the decade, the streamer pivoted once more and started making more content aimed directly at women. The heartfelt drama "Virgin River," which debuted in late 2019, was one of the first shows to really take off.
The show, which is about to embark on its third season, is based on a series of romance novels by Robyn Carr. The story follows Melinda "Mel" Monroe (Alexandra Breckenridge), a nurse practitioner and midwife who packs up the contents of her life in sunny Los Angeles to move to the remote but picturesque small town of Virgin River in Northern California. She's hoping to start over after a devastating stillbirth and the subsequent death of her husband (Daniel Gillies) in a tragic accident.
Once in Virgin River, Mel makes herself indispensable to the people in town as the dedicated and compassionate nurse in Doc Mullins' (Tim Matheson) small practice. Meanwhile, she finds a second chance at love with Jack Sheridan (Martin Henderson), a former Marine and the owner of the town's only restaurant and bar — but their love story is put to the test in the "Virgin River" Season 2 finale. 
Here's what you need to remember before "Virgin River" Season 3 hits on Netflix on Friday, July 9.
Jack is bleeding on the floor of the bar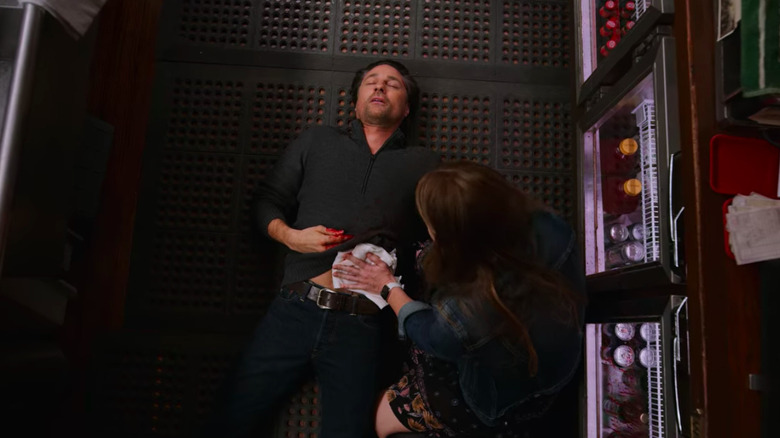 Netflix
After dancing around each other during the first season as Mel grieves the loss of her husband, Jack and Mel finally consummate their relationship in Season 2. Things are complicated by the fact that Jack's ex Charmaine (Lauren Hammersley) has become pregnant with twins. But Jack is in love with and commits himself to Mel, and after the two spend a romantic night together in the Season 2 finale, Jack goes to the bar to make them dinner. A little while later, Mel arrives at the bar and finds him bleeding out on the floor as the result of an apparent gunshot wound.
It's unclear who shot Jack — we'll presumably find that out in Season 3 — but we do know that in Season 2, Jack puts more effort into taking down Calvin (David Cubitt), a local criminal and drug dealer who's been causing problems in the area for a while. Calvin knew Jack was involved with a young man who had agreed to talk to the police, and after having dealt with him, seemingly by Brady's (Ben Hollingsworth) hand, Calvin and his men may have come for Jack to close the loop.
Doc and Hope decide to renew their vows, but time could be running out for them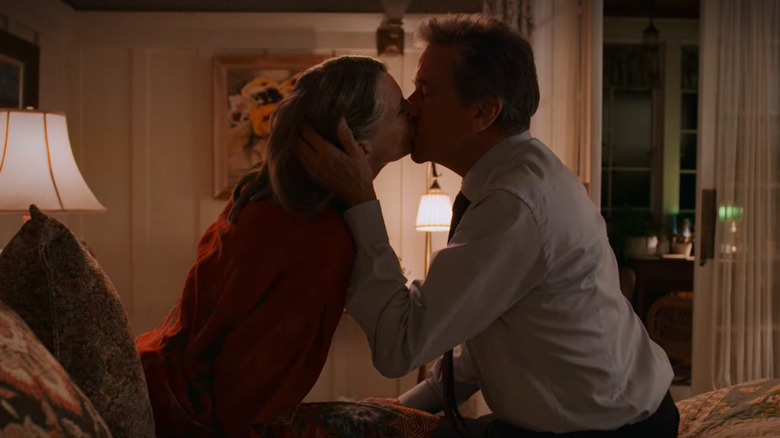 Netflix
Jack and Mel aren't the only lovebirds who found their way in Season 2. Doc and Hope (Annette O'Toole) privately recommit to their relationship at the end of Season 1, but Hope is fearful of letting everyone in town know and actually pushes Doc to date Muriel (Teryl Rothery) in order to hide their renewed love affair. At the end of the season, though, after Hope starts to get jealous of Muriel, it's revealed that the other woman and Doc aren't together but she had introduced him to a friend who specializes in antique jewelry. He gets Hope's engagement ring reset and the two agree to renew their wedding vows with a ceremony and small reception.
However, there's still something standing in the way of their happiness. All season long, there are hints that something isn't quite right with Doc, and he disappears halfway through the final episode of Season 2, claiming he was visiting a patient in Eureka. At the end of the episode, though, we find out he's actually the patient. Unfortunately, just as Doc is about to tell Hope what's wrong, they're interrupted by their friends, who are throwing them a surprise re-engagement party. We'll have to wait to find out what's ailing Doc.
Preacher agrees to take care of Christopher after Wes' twin arrives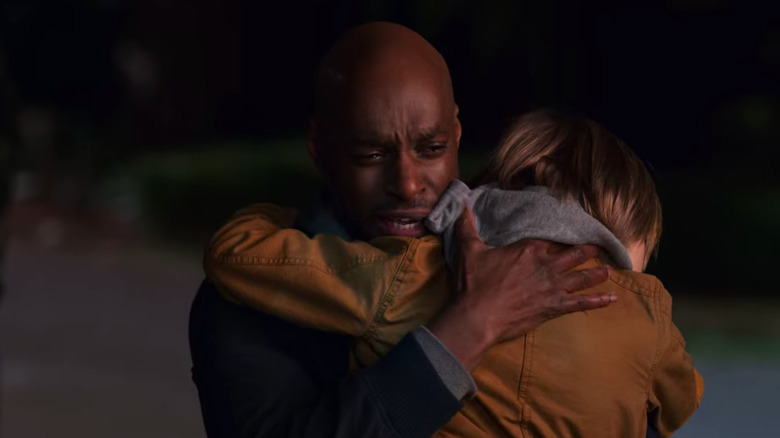 Netflix
Preacher's (Colin Lawrence) storyline is expanded during the second season of "Virgin River," after he helps Paige (Lexa Doig) escape following the return of her abusive ex-husband Wes (Steve Bacic) at the end of Season 1 and his accidental death that kicks off Season 2. But the ensuing drama the situation causes has Preacher reconsidering his entire life in Virgin River — and after Jack declines his proposal to make him a full partner in the bar in the Season 2 finale, Preacher decides to take a job at a fancy restaurant in San Francisco, having been recruited earlier in the season.
However, Preacher's plans changed on a dime after a woman named Sally arrives in town with Paige's son Christopher (Chase Petriw) in tow. The young boy asks if he can stay with Preacher, and the older man obviously says yes, so it looks like Preacher will be sticking around town after all. But things are about to get a lot more complicated since Wes' identical twin brother Vince arrives in Virgin River in the finale and starts asking questions about his missing brother. A detective from Miami, Wes seems to already know quite a lot about Preacher and the details of his relationship with Paige, which doesn't bode well for Preacher or for Christopher when the show returns for Season 3.
Season 3 of "Virgin River" launches on Netflix on Friday, July 9.