David Harbour Improvised This Hilarious Black Widow Moment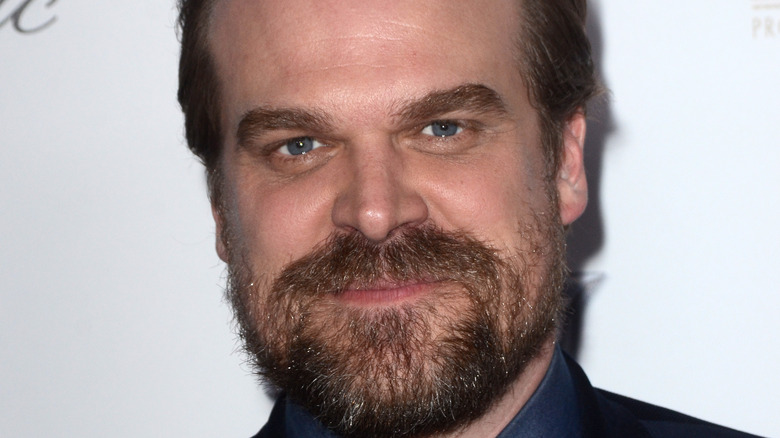 Shutterstock
The long-awaited arrival of the standalone "Black Widow" movie has delighted audiences worldwide. Grossing $215 million in its opening weekend, per Deadline, the hit film is a reminder of just how good Marvel Studios is at making movies. Known for their incredible casting, led by talented casting director Sarah Halley Finn, the studio seems to always find the perfect actors to bring the beloved comic book characters to life.
David Harbour, otherwise best known for his role as Hopper on "Stranger Things," has been a welcome addition to the MCU, joining the universe as Alexei Shostakov, aka Red Guardian, the Soviet Union's version of Captain America. As Natasha Romanoff (Johansson) and Yelena Belova's (Florence Pugh) adoptive-slash-cover father, he has a complicated relationship with the two, and watching the family dynamic play out is one of the most entertaining aspects of "Black Widow." Harbour's enormous talent certainly helps bring the complex family dynamic to life. Though the screenwriters certainly get much of the credit for Shostakov's dialogue, Harbor's improvisation skills add to the character's delivery, especially in one particular scene.
The actors' chemistry allowed for some hilarious improvisation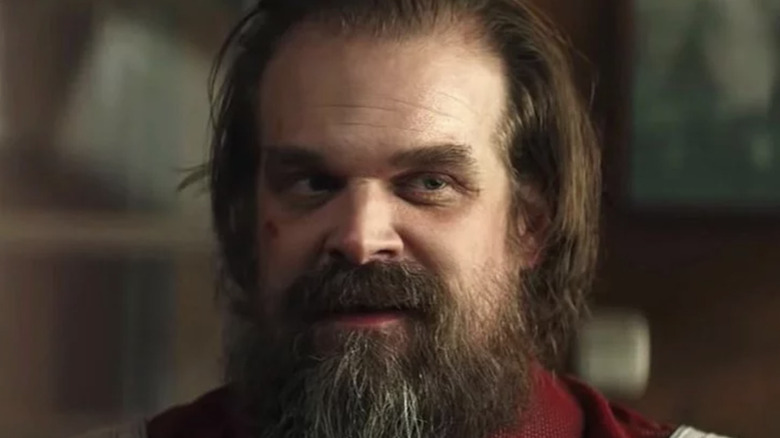 Marvel Studios/Disney
In a conversation with The Wrap, David Harbour shared how much of a bond developed between him Rachel Weisz, Scarlett Johannson, and Florence Pugh, helping make the family dynamic of their characters feel even more real. In particular, the actor praises director Cate Shortland's willingness to let the actors improvise. "She saw the chemistry between us," he remarked, saying the director recognized their "appetite for these characters and for this world, and she just kind of let us run with it."
Over at Cinema Blend, Harbour revealed the hilarious scene in which Alexei recounts young Natasha and Yelena's reaction to Santa Claus was totally improvised, saying "I go into talking about Santa Claus ... I just have all these stories of our history together as a family ... I just had all this stuff that I would just improv." Harbour remarked that the chemistry between the actors was natural and that he loved working with Weisz, Johansson, and Pugh, saying, "I think they're phenomenal, and I just fell in love with them."
It's no secret Harbour was thrilled to be part of the MCU and really enjoyed playing Red Guardian. With Yelena Belova (Florence Pugh) poised to have a significant role in Phase Four of the MCU, it's possible her estranged adoptive father will appear again. Will we be getting a Red Guardian solo film? Only time will tell, but we sure hope this isn't the end of David Harbour's work in the MCU.