Will We Get A Red Guardian Movie?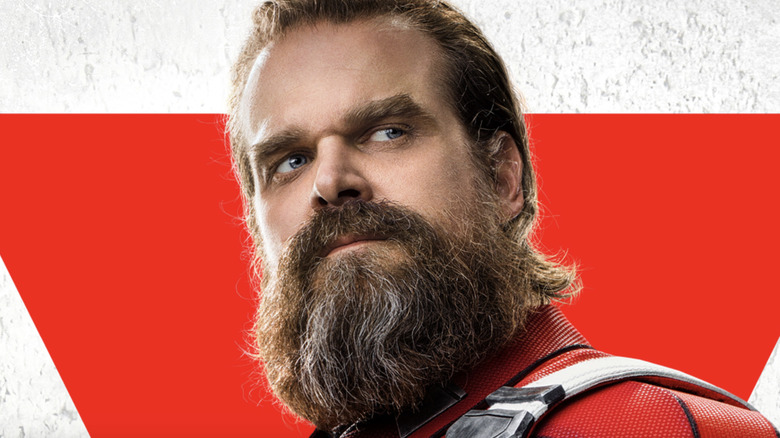 Marvel Studios/Disney
Contains spoilers for "Black Widow"
"Black Widow" is finally here. This past weekend saw the long-awaited release of the newest standalone film from Marvel Studios, which fans had been calling for ever since Natasha Romanoff (Scarlett Johansson) first made her Marvel Cinematic Universe debut back in 2010's "Iron Man 2." Delayed multiple times last year by the COVID-19 pandemic, "Black Widow" was released simultaneously in theaters and on Disney+ (with premiere access), and reactions to the film have been, for the most part, overwhelmingly positive up to this point.
Not only has "Black Widow" been praised for its exploration of its titular heroine, but also for the handful of MCU characters it introduces for the first time. Yelena Belova (Florence Pugh) and Alexei Shostakov/Red Guardian (David Harbour) have been received particularly warmly by Marvel fans over the past few days, thanks in no small part to their eccentric personalities and the layered performances given by Pugh and Harbour, respectively. Both characters are, notably, still alive at the end of "Black Widow," and as a result, fans are already busy speculating about their futures in the MCU. However, while the "Black Widow" post-credits scene sets up Yelena's next MCU appearance, Alexei's future remains uncertain for the time being.
Therefore, the question on everyone's minds seems to be: Will Alexei ever get his own solo MCU adventure?
Black Widow's director and star both want a Red Guardian movie to happen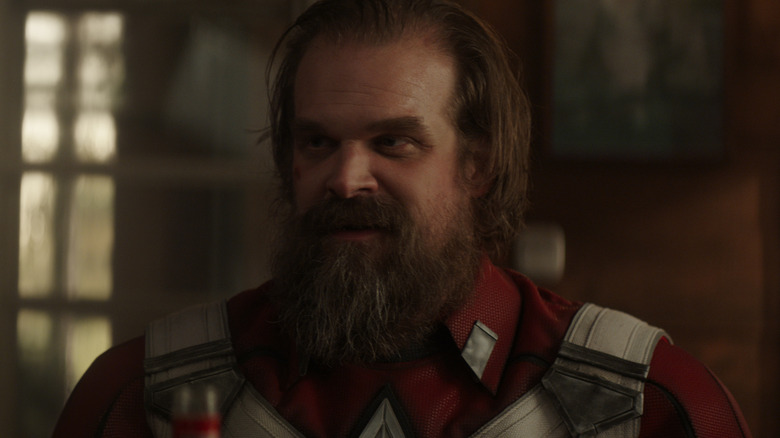 Marvel Studios/Disney
There seem to be no current plans to make a Red Guardian solo MCU film, but that doesn't mean the idea is off the table. In fact, a Red Guardian-led spin-off appears to be something that both actor David Harbour and "Black Widow" director Cate Shortland have given a lot of thought to. During a recent interview with TheWrap, Shortland spoke about working with Harbour on the Marvel film, saying, "Sometimes — not sometimes — often I would be crying with laughter," before adding, "And there was so much good stuff that didn't end up in the film. But I think that's why Red Guardian needs his own movie. Because it will be so funny."
Shortland isn't the only one interested in seeing Red Guardian return on-screen. In the same interview, Harbour spoke about the character's future in the MCU, noting, ""People want to see more of this character, I would love to give people more. And I'm glad he's alive at the end of the movie too."
Building on Shortland and Harbour's comments, it should be noted that there are a number of different directions that Marvel could take with a Red Guardian-led standalone film or Disney+ series. The project could focus on Alexei's life after his prison breakout and family reunion in "Black Widow," or could go back in time to explore his work as Red Guardian in the 1980s and '90s before he was sent undercover to live in Ohio. There is also, of course, the chance that Red Guardian could reunite with Yelena in a future "Black Widow" sequel or spin-off at some point down the line.
Whether or not Marvel moves forward with a Red Guardian-led project remains to be seen. As of right now, though, Marvel fans can at least rest assured knowing that both Harbour and Shortland are interested in further exploring the now-infamous Red Guardian.