Animated Godzilla Movie, 12 New Anime Series Coming To Netflix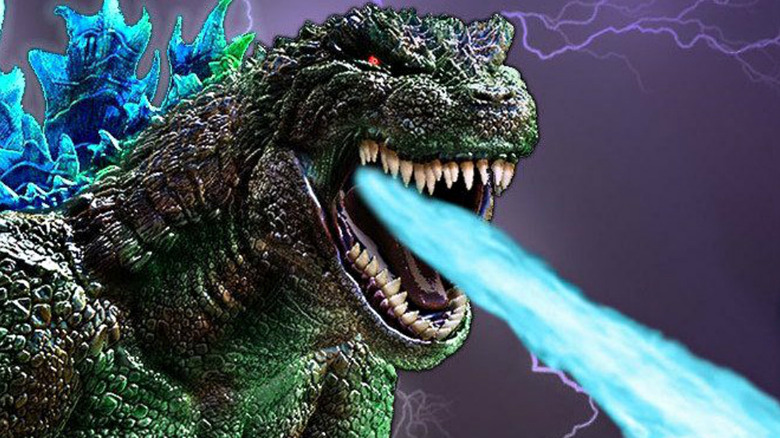 This is big news for Godzilla fans and anyone who loves anime.
According to Deadline, Netflix will release an animated feature-length Godzilla movie and a dozen new anime series later this year and in 2018.
Directed by Kobun Shizuno and Hiroyuki Seshita, Polygon's Godzilla is set in a harsh future in which the monstrous lizard has dominated the Earth for 20,000 years. But a final and fateful confrontation with mankind is on the horizon. The voice cast includes Mamoru Miyano, Takashiro Sakurai, Kana Hanazawa, Tomokazu Sugita, Yuki Kaji, and Junichi Suwabe.
But that's just the tip of the anime iceberg. Check out all of the new animated series Netflix has slated below. 
Cannon Busters
Created by LeSean Thomas (Children of Ether), the series centers on the adventures of a high-end, royal-class friendship droid named S.A.M., who teams up with a quirky and discarded maintenance robot and a deadly fugitive. The trio embarks on a journey through a fantastic world in search of S.A.M.'s best friend, the heir to a powerful kingdom that's under siege.
Devilman Crybaby
When Akira Fudo (Koki Uchiyama) learns that an ancient race of demons has returned to reclaim the world from humans, he uses supernatural powers to unite with a demon himself. He becomes Devilman, who possesses both the powers of a demon and the soul of a human. The 10-episode series will launch in spring 2018.
B: The Beginning
Formerly known as Perfect Bones, the series is set in a world with advanced technology. A legendary investigator in the royal police force and a wide variety of characters race through a fortified city that is tormented by a serial killer named Killer B. The series will consist of 12 episodes and premiere in spring 2018.
Sword Gai: The Animation
In this action fantasy, a weapon that has drawn the blood of countless victims can eventually take on a life of its own. When the weapon's human host is filled with hate and questionable intentions, he can become a demonic combination of weapon and man that only wants to kill. It happens often enough that an organization exists to face these dangerous creatures. The series will arrive in spring 2018.
A.I.C.O. Incarnation
In Japan in the year 2035, an accident known as the "Burst" occurs during a research project and creates an artificial life form called "Matter." Two years later, a 15-year-old who lost her family in the Burst learns that a secret is hidden within her body that connects to the "Primary Point" at the center of the Burst. 
Lost Song
An energetic girl who loves to eat and a songstress who likes solitude both share a special power that no other person has. They can heal wounds, create water, and control the wind with the power of song. As war looms over their kingdom, the two young women face a dangerous journey to save innocent people.
Rilakkuma Series (working title)
Based on Rilakkuma, the toy bear that became a popular merchandising character in 2003, it'll be the first stop-motion animated series about the character. In the series, Rilakkuma shows up one day and lives with an office worker named Kaoru. He spends most days sitting around the apartment and eating pancakes, rice omelets, and "dango" rice dumplings, and he's got a few friends in a pet bird named Kiiroitori and a small white bear cub named Korilakkuma.
Knights of the Zodiac: Saint Seiya
The series follows the modern day adventures of young warriors called "Knights," the sworn protectors of the reincarnated Greek goddess Athena. Each of them wears powerful armor based on a zodiac constellation, and they help Athena battle against other Olympian gods who want to destroy mankind.
Baki
Baki Hanma trains to become strong enough to surpass his father, the strongest fighter in the world. Meanwhile, five of the most violent death row inmates in the world are assembling to take him on. Other underground martial arts warriors join Baki in the fight for an epic showdown. The show, based on the hugely popular manga series, will consist of 26 episodes.
Kakegurui
Based on the manga, it's about a school where privileged students learn to become professional gamblers. While the hierarchy is determined by a series of games in which students bet their fortunes against each other, a new student begins to disrupt everything. The series will premiere in 2018.
Fate/Apocrypha
In a city called Fuyuki, seven magi and their Heroic Spirits once battled in a Holy Grail War. But after one magus takes the Grail during World War II, a mysterious organization sends assassins on the trail decades later. It sets the stage for an unprecedented war which begins in Romania.
Children of the Whales
Based on the hit manga, it's set in a world covered by sand, and about 500 people live in isolation on the "Mud Whale," an island-like ship. When the island's archivist meets a mysterious girl, he investigates an abandoned ship that drifted onto the Mud Whale. It's the first contact with anyone from the outside world.
While we wait for more details about these shows, take a look at everything coming to Netflix in August.