Who Is The Star In Citi Custom Cash Card 'It Pays To Be Dan' Commercial?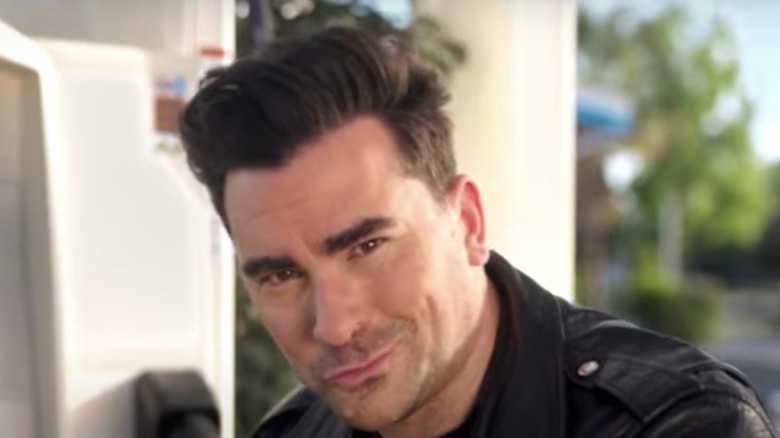 Citi/YouTube
Citigroup, the financial services giant, has a new credit card that allows users to get 5% cash back on a top spending category of the user's choice, which is an unusually customizable offer. To promote this very personalized credit card, Citi hired a familiar face for an ad campaign. In the spot, called "It Pays to Be Dan," we follow this man as he does a number of different kinds of things, from riding a motorcycle to watching TV, all of which are earning him cash back.
If this man looks familiar to you, it may be from one of the other commercials he's in, like wireless carrier Visible, Tostitos, or M&Ms. Or maybe he reminds you of someone else. Maybe you saw him in the hit holiday romantic comedy "Happiest Season," giving best friend advice to Kristen Stewart. But you probably recognize him from his beloved comedy series "Schitt's Creek," which he created and stars in. He's Dan Levy, son of comedy legend and "Schitt's Creek" co-creator and co-star Eugene Levy, and the actor who plays Rose Apothecary owner David Rose on everyone's favorite heartwarming Canadian sitcom.
Dan Levy is no longer up Schitt's Creek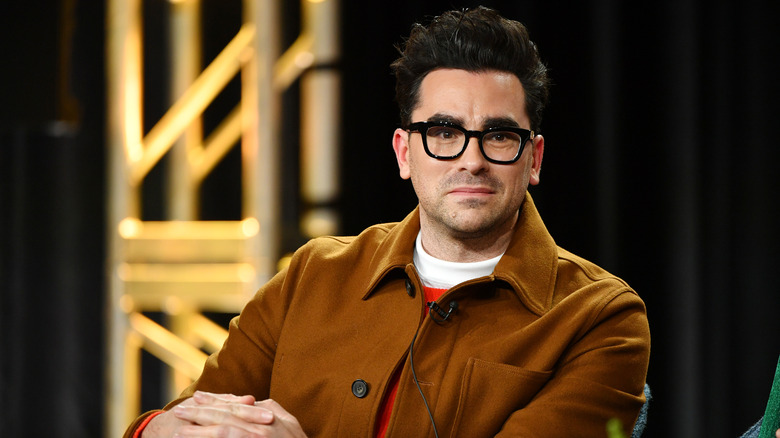 Amy Sussman/Getty Images
Dan Levy was born on August 9, 1983, in Toronto, to Eugene Levy and Deborah Divine. He began his career as an MTV Canada television personality, most prominently as a host of reality TV after-shows. He also acted on the Canadian young adult TV staple "Degrassi: The Next Generation." But it was his project after he left MTV Canada that launched him to international stardom.
"Schitt's Creek" premiered on Canadian broadcast network CBC in 2015, and aired in America on the small cable channel Pop TV. It didn't get much attention during its first few seasons but received a huge spike in popularity after it began streaming on Netflix, where it grew from a cult hit into a massive sensation. For the show's sixth and final season, which aired in 2020, Levy personally won four Emmys, and the show won a total of seven Primetime Emmys, including Outstanding Comedy Series, sweeping the comedy category. It won all four major Emmy acting awards –- Lead Actor for Eugene Levy, Lead Actress for Catherine O'Hara, Supporting Actor for Dan Levy, and Supporting Actress for Annie Murphy – which had never happened before. 
As it seems, actor-writer-director-producer Dan Levy is well on his way toward becoming every bit as much of a legend as his father. And he's making good money while doing it by appearing in all these commercials –- and Citi probably contributed in a big way. They have over $2 trillion in assets, according to ADV Ratings. They can afford to pay Levy more than he made for all six seasons of "Schitt's Creek" if they want.