The Reason Schitt's Creek Is Ending After Season 6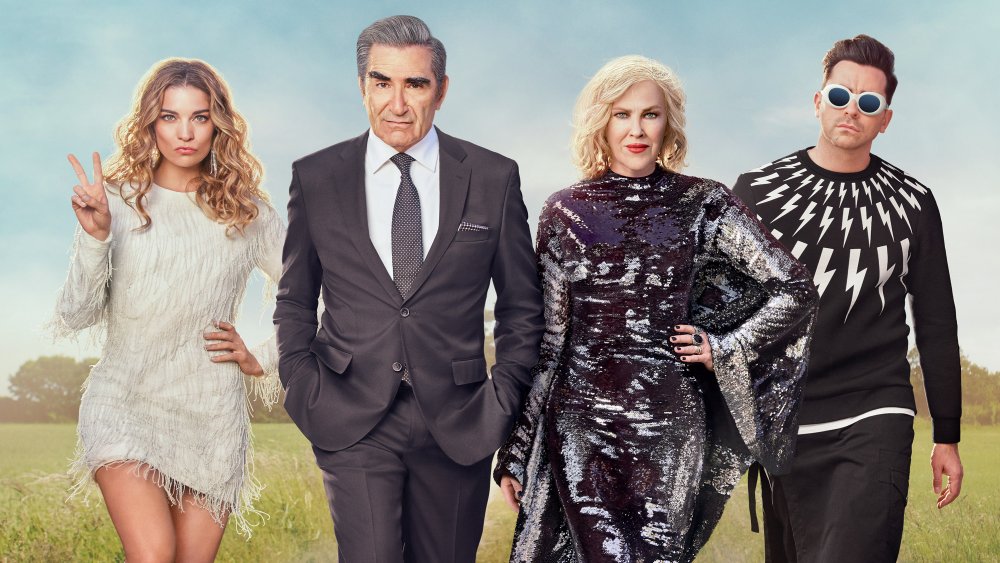 Pop TV
The Rose family's journey is just about over.
Schitt's Creek, the popular Canadian sitcom that airs on PopTV in the United States, is coming to a close with its sixth and final season in early 2020, which probably feels far too soon for most of its fans. The story of the down-and-out Rose family — who must move to a small town called Schitt's Creek that they once purchased as a joke after their video rental empire crumbles – Schitt's Creek was created by Dan Levy, who stars on the show alongside Catherine O'Hara, Annie Murphy, and his real-life father, American Pie's Eugene Levy. As the Roses get used to their new life, they end up making unlikely friends in the town — including the proprietor of the Rose Motel, Stevie (Emily Hampshire); the town's eccentric mayor, Roland (Chris Elliott); his enthusiastic wife, Jocelyn (Jenn Robertson); local veterinarian Ted (Dustin Milligan); and businessman turned partner Patrick (Noah Reid).
Schitt's Creek went largely unnoticed outside of Canada during its first few seasons, but after Netflix picked up distribution rights, it has become an underrated cult classic series, inspiring everything from Halloween costumes to amazing GIFs.
However, all good things must come to an end, and in the spring of 2019, Dan Levy announced that the series would conclude after season 6. In a heartfelt and genuine post on Instagram, the younger Levy wrote, "We are so grateful to have been given the time and creative freedom to tell this story in its totality, concluding with a final chapter that we had envisioned from the very beginning. It's not lost on us what a rare privilege it is in this industry to get to decide when your show should take its final bow. We could never have dreamed that our fans would grow to love and care about these characters in the ways that you have."
This move may have felt unexpected for the show's diehard fans, but luckily, Schitt's Creek is definitely ending on Levy's terms. In case you're wondering exactly why Schitt's Creek is calling it quits, read on for the real reason that this beloved little show will end after its sixth season.
A swan song for Schitt's Creek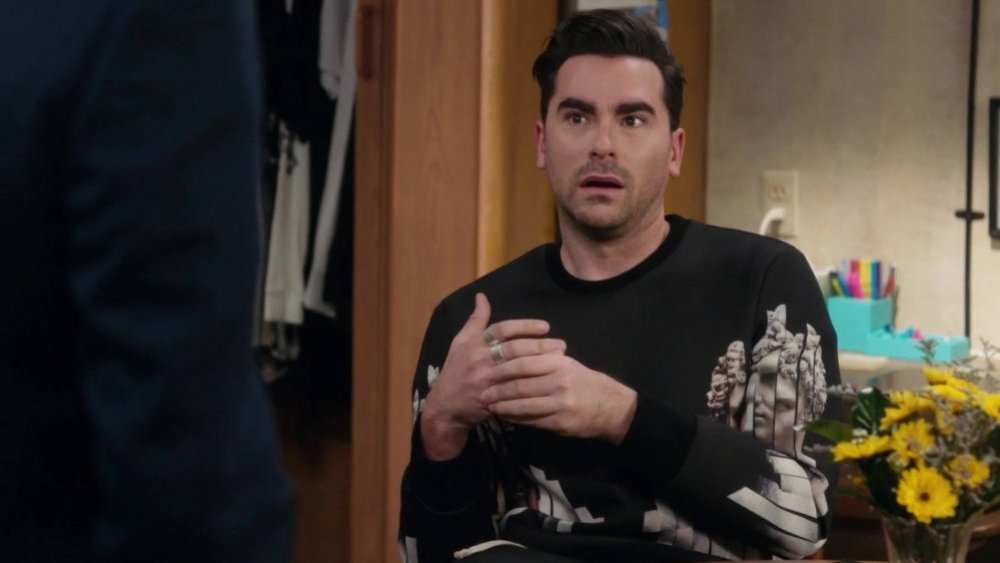 While it's certainly sad that this heartwarming and hilarious series is finishing up so soon, it's actually a blessing in disguise. So many shows get canceled before their time, but thanks to a shrewd, difficult choice by Levy himself, Schitt's Creek will be able to bow out on its own terms without running the risk of becoming stale.
In a recent interview with GQ, Levy opened up about his decision, and why Schitt's Creek season 6 needed to be the last. Of course, leaving Schitt's Creek behind wasn't an easy decision; as Levy told the magazine, "We had to say so many goodbyes. We said goodbye to our sets. We said goodbye to certain characters that didn't come with us on location. It was just a lot of goodbyes. It did get to a point where I had to tell the team, 'We can't be acknowledging all the lasts, because it's going to ruin me.' We can't say, 'Well, this is the last time Dan picks up a pen,' because I'll cry, and I don't want to cry over having picked up a pen. It's not worth the tears."
When Schitt's Creek wrapped filming on season 6, the cast posted plenty of emotional goodbyes on social media. However, according to Levy, he experienced his own private farewells as well. Bidding adieu to the outlandish, big-hearted David Rose was a journey for Levy, who said, "It was really, really hard. The last day of shooting was the most emotional day I think I've ever had in my life. I cried for, I want to say, five straight hours, to the point where I had a splitting headache and didn't know what to do with my life. I wept when I took David's shoes off. I will never wear those shoes again—nor do I want to—but I was very sad to take them off."
In the end, Levy is at peace with his choice. When asked if he has any regrets about not pushing Schitt's Creek to a seventh season, he said, "No. I wasn't ready to go, but the story was set up to be finished. I wish there was more story to tell, because I would love to do this forever—but respecting the characters and respecting the quality of the storytelling, it just felt like, 'This is it.' I had intended to end it in season five, and then we got picked up for two seasons. And I thought, Okay, well...now I can spend 28 episodes instead of 14 building the last couple chapters of this series. The minute I knew that was the minute I started writing to the end."
At the very least, Levy and his talented cast are going out on top, with 2019 marking a banner year for the actors behind the Rose family and their friends. Levy himself won an MTV Movie Award in June, and the show received several Emmy nominations at the 2019 ceremony, including nods for O'Hara and Outstanding Comedy Series. As if that wasn't enough, Schitt's Creek made history with these wins and nods, becoming the first Canadian show to earn Emmy nominations, an MTV Movie Award, and a Critics Choice nomination.
Schitt's Creek might come to an end after this next season, but luckily for fans, the entirety of the show thus far is streaming on Netflix. Whether it's your first afternoon with the Rose family or the thousandth, you can rest assured that Schitt's Creek will always be available to watch over and over again, especially as fans gear up for what's sure to be an emotionally fulfilling final season.
Schitt's Creek season 6 premieres on January 7, 2020.