The Controversial The Boys Scene Fans Would've Refused To Film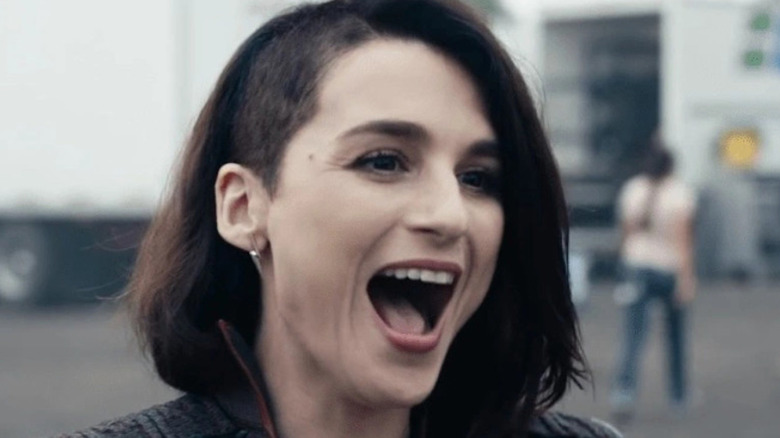 Amazon Prime Video
When Amazon Prime Video's "The Boys" first debuted back in 2019, many audiences were shocked (and delighted) to see that the superhero streaming series from showrunner Eric Kripke pulls no punches when adapting the thrilling comics of the same name by Garth Ennis and Darick Robertson. If anything, the show's approach to violence and gore has become synonymous with the story itself. The sheer scale of the violence that "The Boys" gets away with is genuinely quite astounding — just look at how Hughie (Jack Quaid) blew up Translucent (Alex Hassell) in Season 1, or the infamously invasive whale scene from Season 2. Yikes. To be fair, if the show didn't have the same brutal vision of superheroes like the comics do, it just wouldn't be "The Boys," would it?
And that's not to say that over-the-top blood and guts should be used to patch up any holes in the story, because making it too heavy-handed would just feel gratuitous rather than entertaining. But there are plenty of moments that don't hold back at all, especially where characters like Homelander (Antony Starr) or Stormfront (Aya Cash) are involved. However, in a recent poll conducted by Looper, fans weighed in on which of the most controversial scenes in "The Boys" they would've refused to film.
Cloudy with a chance of Stormfront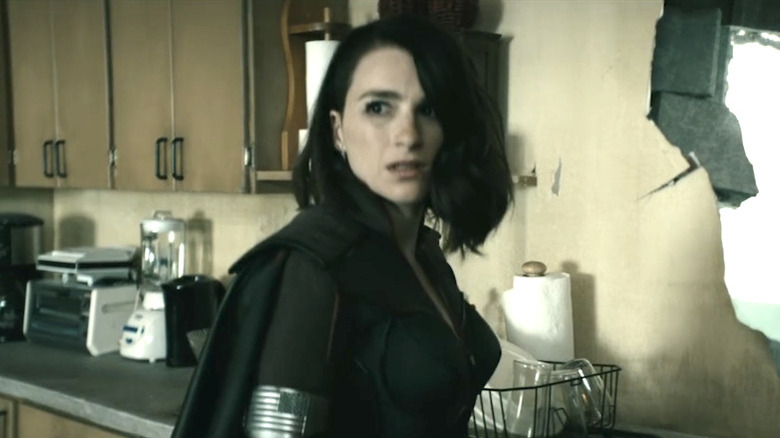 Amazon Prime Video
Much like the comics upon which it's based, "The Boys" has never shied away from controversy. One of the most horrifying scenes to watch happens in Season 1, Episode 4, when Homelander and Queen Maeve (Dominque McElligott) abandon a plane of civilians after a terrorist hijacking. Of the 621 people Looper surveyed for the poll, only 4.67% voted for the chilling scene on the plane. 
Another set piece in Season 1, Episode 4 sees the Deep (Chace Crawford) attempt to rescue a sexually adventurous dolphin — only for it to be hurled through a truck window in a car crash. Ouch — 6.60% of fans picked that one as the "Boys" scene they would refuse to film.
Unsurprisingly, a larger portion of the votes, 18.04%, went to an appalling moment in the series' premiere, when the Deep assaults Starlight (Erin Moriarty). Interestingly, Homelander drinking the leftover breast milk he finds in Madelyn Stillwell's (Elizabeth Shue) office after her death nabbed 21.42% of the vote. It was pretty creepy, to be fair. 
The next result from the poll isn't so surprising: 21.90% of respondents picked the gory scene in which the speedboat impales the whale in Season 2, Episode 3. Fun fact: Amazon built a "50-foot long, 11-foot high ... anatomically accurate" whale carcass for that set piece (via TheWrap).
In first place comes another scene from Season 2, Episode 3. Fans who responded to Looper's poll were most concerned by Stormfront racially targeting and killing people in an apartment complex when hunting Kimiko's (Karen Fukuhara) brother Kenji (Abraham Lin). It's disturbing to see, and it perfectly demonstrates how bigoted and bloodthirsty Stormfront truly is. 
Everything considered, these rankings might change when "The Boys" Season 3 eventually arrives on our screens.