You Might Not Get To See Stormfront In The Boys Season 3. Here's Why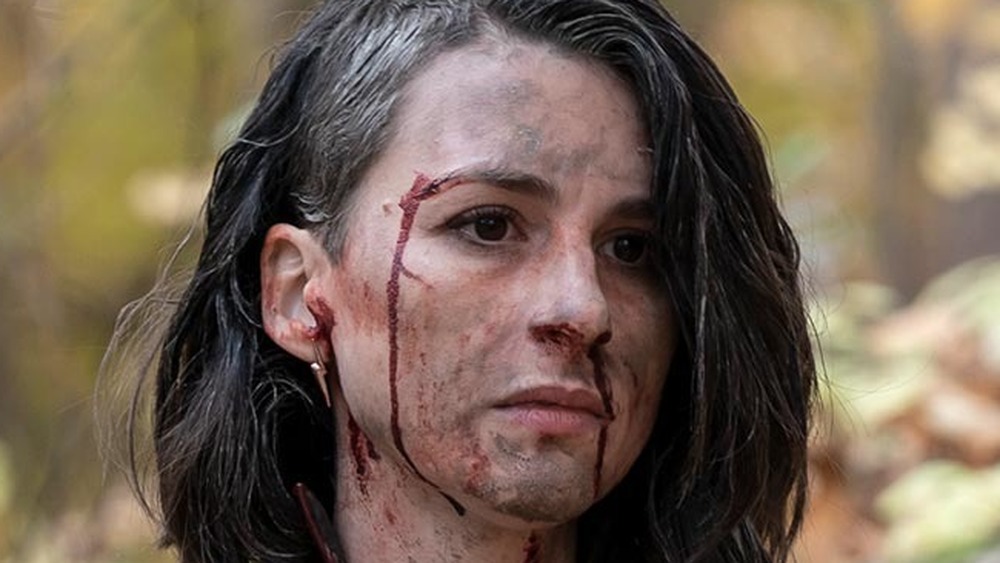 Amazon Studios
The second season of the Amazon Prime series The Boys expanded the show's world and its character roster in exciting and, at times, horrifying ways. Billy Butcher (Karl Urban) finds out that his wife Becca (Shantel VanSanten) is still alive, but she also has a son with Billy's archnemesis Homelander (Antony Starr).
The season involves romantic subplots, introduces a Scientology-like religion that loves Fanta, and features a mystery involving exploding heads. But if there's one character whose appearance had the biggest impact on The Boys season 2, it is almost certainly Stormfront (Aya Cash). The superhero team (who is anything but superheroic) The Seven lands a new member in the form of Stormfront, whose knack for social media makes her extremely popular with fans but hated among the team. Eventually, however, Homelander and Stormfront fall in love and have violent, weird, midair sex.
Of course, the other thing to know about Stormfront is that she's a Nazi — as in, she is one of the original Nazis and is still a Nazi. Stormfront's big reveal acts as an interesting counterpoint to Homelander. Stormfront is a vile, homicidal racist, and Homelander is just a vile, homicidal psychopath.
At the end of season 2, Becca and Homelander's son Ryan (Cameron Covetti) manifests superpowers and uses heat vision to blow Stormfront's arms and legs clear from her body. Notably, though, she technically survives the experience, making fans assume she'd be back next season. However, it's looking like that may not be the case after all.
No Stormfront for season 2, but the future is still open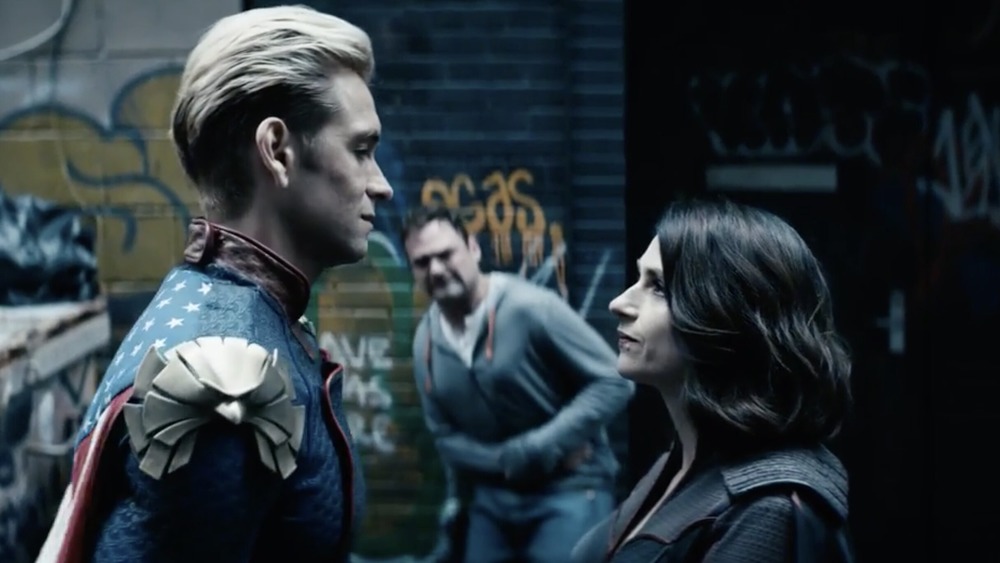 Amazon Studios
While doing press for her latest film We Broke Up, Aya Cash was asked in an Entertainment Weekly interview about Stormfront's future on The Boys. 
"I want to know if she'll be back too," said Cash. However, the third season of The Boys is already filming as of this writing, so if she's not filming, then chances are, we won't see her return. "I'm not there now," Cash says. "I'm on a new Fox show now called This Country. My contract for The Boys was only for a year so, who knows? Maybe they can CGI my face in."
If Henry Cavill's mustache can be whisked away (sort of) by CGI in Justice League, then who's to say that Aya Cash's face couldn't somehow be Zoomed into a scene or two? It's much more likely, however, that we simply won't see Stormfront in The Boys season 3. After all, there's plenty of head-exploding storytelling left to tell, and Jensen Ackles is set to star as Soldier Boy this coming season as well. In the Garth Ennis comic book that the Amazon series is based on, a zombified Lamplighter (Shawn Ashmore) is kept in the basement of Vought. With Lamplighter burned to a crisp on the show, it's entirely possible that Stormfront may take up that role instead.
Cash and Stormfront can always reappear in season 4 — assuming The Boys' success continues!