Why Nathan From Gunpowder Milkshake Looks So Familiar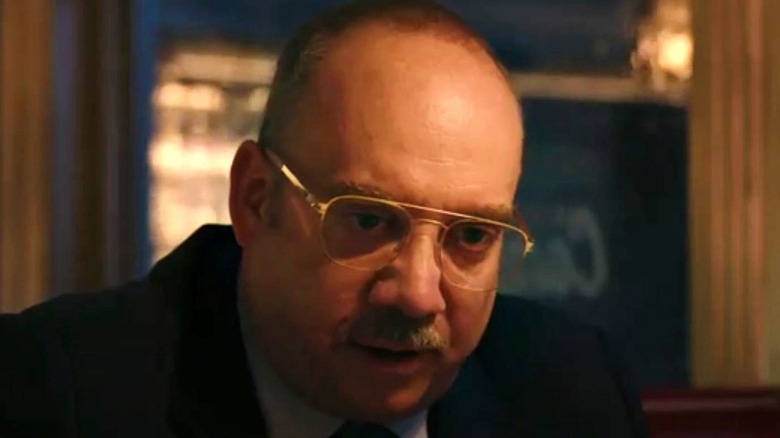 Netflix
The son of famed scholar, author, and former Major League Baseball Commissioner A. Bartlett Giamatti, film and television star Paul Giamatti has no doubt carved out a career every bit as impressive as his late father — just in a different corner of the cultural landscape. That's because the younger Giamatti is one of the most prolific actors working in showbiz today, having compiled more than 110 screen credits since he kicked off his career in 1990.
Giamatti is the consummate character actor who seamlessly melds into the persona of every character he's played. For his latest project, Giamatti is mixing it up with fellow acting stalwarts Karen Gillan, Carla Gugino, Lena Headey, Michelle Yeoh, and Angela Bassett in the stylish, high-intensity action thriller "Gunpowder Milkshake," which debuts on Netflix July 14. The film stars "Guardians of the Galaxy" star Gillian as Sam, a woman raised to be a hitwoman by the ruthless crime syndicate The Firm. But when Sam botches an assignment and must choose whether to carry out The Firm's orders or save the life of a kidnapped 8-year-old girl (Chloe Coleman), she finds her own life at risk.
With nowhere else to turn, Sam's only hope for survival is to reunite with her estranged mother, Scarlet (Headey), a professional assassin who was forced to abandoned her as a child, as well as a trio of Scarlet's fellow hitwomen (Yeoh, Bassett, and Gugino) known as The Library. Giamatti stars in the pivotal role of Nathan, the vicious head of The Firm who has no patience with people not following orders.
If you want to know more about Giamatti before you indulge in "Gunpowder Milkshake," see why he looks so familiar.
Howard Stern taunted Paul Giamatti's 'Pig Vomit' character in Private Parts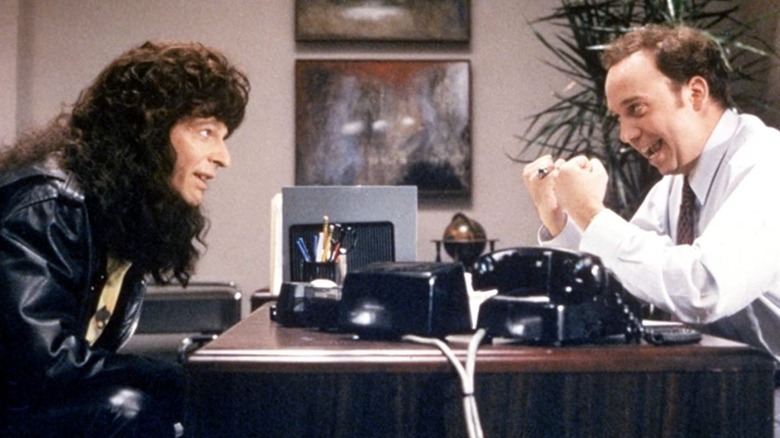 Paramount Pictures
On his way to becoming a legendary radio show host, Howard Stern worked with a program director he didn't quite see eye-to-eye with named Kevin Metheny. The working relationship was so acrimonious that Stern bestowed Metheny with an unflattering nickname, and he's somewhat represented in the shock jock's 1997 biopic "Private Parts."
While it's not unusual for actors to meet the person they're portraying (Stern didn't have to since he played himself), Giamatti admitted to Stern in a 2010 interview that he didn't even know his character was based on a real person. After all, Giamatti's "Private Parts" character was named Kenny "Pig Vomit" Rushton, who reportedly was a composite character of several program directors Stern had worked with, including Metheny, whom the controversial radio personality dubbed "Pig Virus."
"I've never heard him or seen him. Nothing," Giamatti told Stern. "All I knew was that I was supposed to have this stupid Southern accent ... I didn't know he was a real guy."
Paul Giamatti became the toast of Hollywood (almost) with Sideways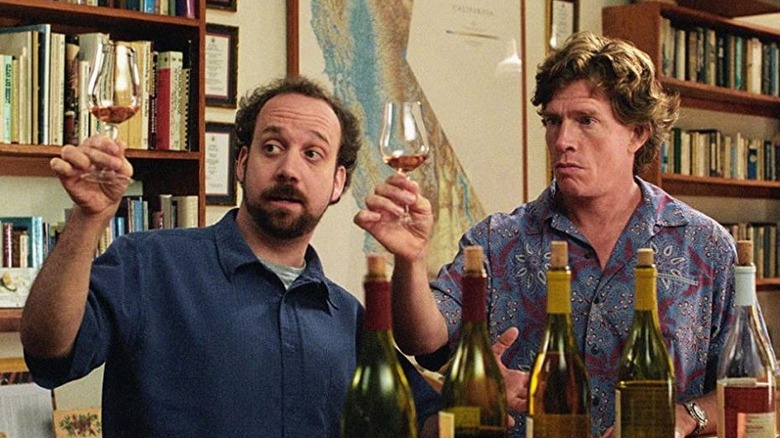 Searchlight
Released in 2004, "Sideways" was a breakthrough film for Giamatti as the acclaimed comedy-drama found Giamatti in the movie awards season conversation for the very first time. Giamatti and Thomas Haden Church star in the film as Miles and Jack, respectively, who take a road trip through California's wine country before Jack's wedding. On the weeklong trek, Miles and Jack meet Maya (Virginia Madsen) and Stephanie (Sandra Oh), and Miles begins to find meaning in his life after failing at marriage and a career as a writer.
"Sideways" was an awards season darling after it came out, earning five Oscar nominations including Best Picture, and an eventual win for Best Adapted Screenplay for director Alexander Payne and his co-scribe Jim Taylor. Perhaps the surprise of the film's awards season run was Giamatti's snub for a Best Actor Oscar nomination, especially after he was nominated in the category by the Screen Actors Guild. The Academy of Motion Picture Arts and Sciences made things up to Giamatti the next year, though, with a Best Supporting Actor nomination for his role opposite Russell Crowe in the biographical sports drama "Cinderella Man."
Paul Giamatti gave a presidential performance in John Adams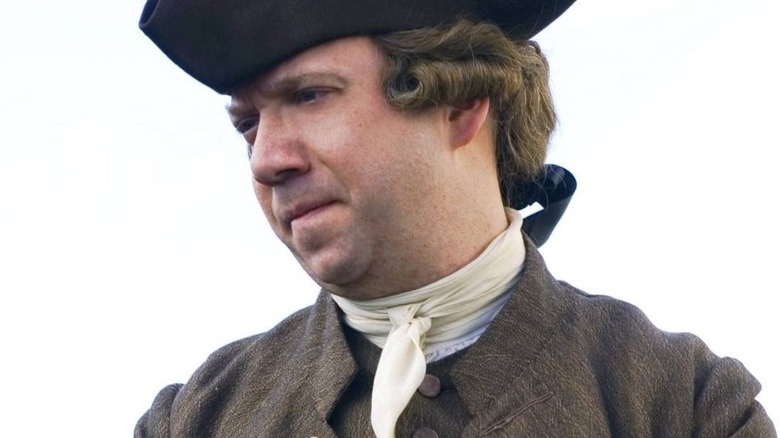 HBO Films
While Giamatti came up short in his bid for an Oscar in "Cinderella Man," the actor was not going to be denied top accolades when it came to playing the title role in the 2008 historical miniseries "John Adams." Giamatti won an Emmy for Best Lead Actor in a Miniseries or Movie for the seven-part HBO production, which chronicled the life of President John Adams and his role as one of the Founding Fathers of the U.S. The show won 13 statuettes overall, setting an Emmys record for a miniseries.
In an interview with the Los Angeles Times upon the debut of the miniseries, Giamatti pondered the fashion of Adams' time, when wearing wigs was still a presidential thing to do. "The wig thing is still such a strange fashion to me. I think it was a hygiene thing ... people wanted to wear their hair long, but I think your hair got filthy and lice ridden," Giamatti told the publication, adding, "I don't know why they powdered them ... whether they thought it looked more distinguished or whether it killed mites or something."
Paul Giamatti was The Rhino in The Amazing Spider-Man 2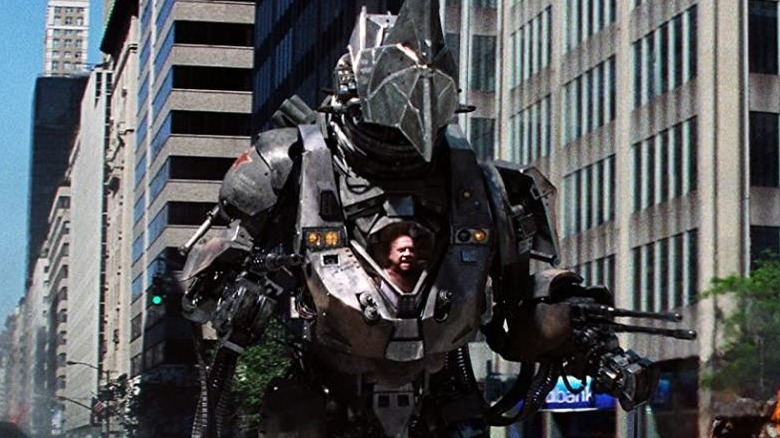 Sony Pictures Entertainment
Before the character leaped over to the Marvel Cinematic Universe with Tom Holland in the lead, Peter Parker and his web-slinging alter-ego were the focus of two movie series for Sony Pictures. The first, of course, was Sam Raimi's "Spider-Man" trilogy starring Tobey Maguire. This was followed by a pair of "Amazing Spider-Man" films from director Marc Webb featuring Andrew Garfield.
Released in 2014, "The Amazing Spider-Man 2" found Spidey taking on two supervillains — Electro (Jamie Foxx) and Green Goblin (Dane DeHaan) — before a third was fully revealed in the film's final scene. Commandeering a massive, metal exo-suit designed by Oscorp, the supervillain's name is Aleksei Sytsevich (Giamatti), before he dubs himself "The Rhino." Sadly for fans, a street battle between Spider-Man and The Rhino was only beginning before the end credits cut away from the action, presumably setting up the beginning of "The Amazing Spider-Man 3." That film didn't happen before Spider-Man was sprung for the MCU, though, making Giamatti's reign as The Rhino short-lived.
Billions found Paul Giamatti asking, 'Show me the money'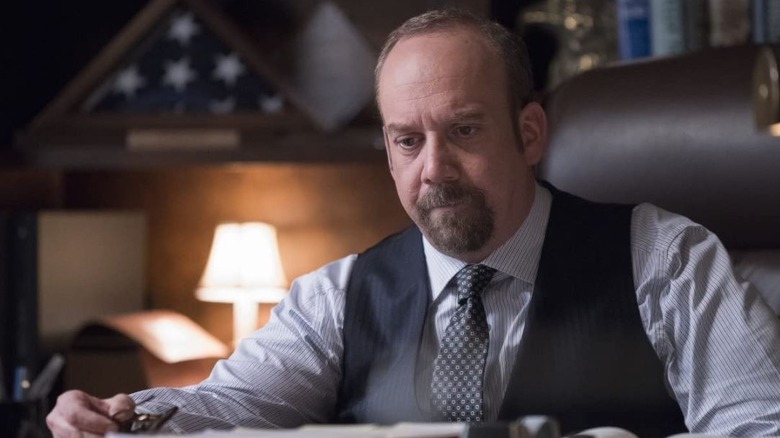 Showtime
Since 2016, Giamatti has been cashing in on the popularity of "Billions," a Showtime series about money, politics, and power in New York City. Giamatti stars as U.S. Attorney Chuck Rhoades, a brash crusader against financial corruption who finds himself at odds against brilliant billionaire hedge fund manager Bobby "Axe" Axelrod (Damian Lewis). In a 2020 interview with GQ, Giamatti said that "Billions" affirms what he already felt about the financial industry and politics.
"I probably have less fondness for the billionaires. I think I'm more forgiving of the politicians, in some ways I probably shouldn't be," Giamatti told the outlet. "The federal attorneys ... a lot of those guys really work hard, and they don't make any money, and they're trying to do the right thing, a lot of those guys. The money guys, I don't know. I just don't have a whole lot of fondness for those guys."