Amy Acker To Play Female Lead In Fox Marvel Pilot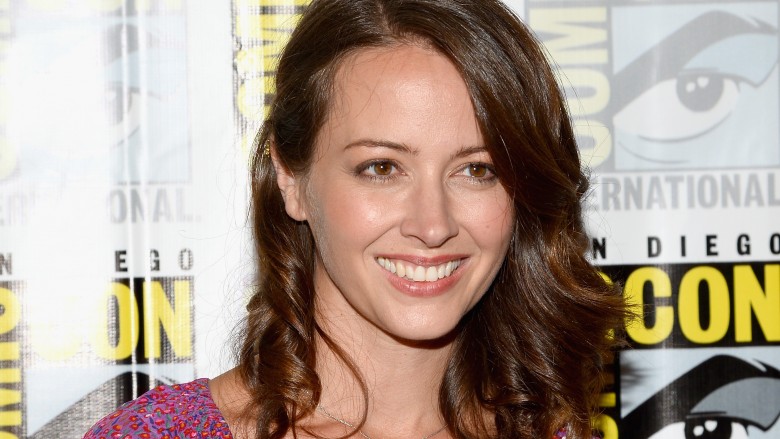 Getty Images
Fox's Marvel pilot just gained an Angel. Amy Acker, who played Fred/Illyria on the beloved Joss Whedon series, will join as the female lead in the upcoming drama from Burn Notice's Matt Nix, according to The Hollywood Reporter.
Acker, who is also known for Person of Interest, Dollhouse, and Alias, will play Kate Stewart, who is struggling with a separation from her attorney husband Reed (True Blood's Stephen Moyer). The two see their lives turned upside down after realizing that their children have mutant powers, forcing them to run from a hostile government and join an underground network of mutants in order to survive. The ordeal teaches Kate that she is stronger than she initially thought. Natalie Alyn Lynd (Gotham) signed on Wednesday to play Lauren, the couple's smart, pretty, organized daughter.
THR announced Thursday that, along with Acker, Bunheads star Emma Dumont is joining the cast as Lorna Dane, also known as Polaris, a strong-willed, brave, and loyal mutant who can manipulate magnetism. Between's Percy Hynes White also  joins as Andy, a sensitive loner who keeps to himself to avoid turmoil at school and at home. Jamie Chung (Once Upon A Time) was previously announced as Clarice Fong (aka Blink), the teleporting mutant briefly played by Fan Bingbing in X-Men: Days of Future Past, while Satisfaction's Blair Redford will play Sam, "the strong-headed Native American leader" of the mutant network. According to Deadline, Sean Teale (Reign) has signed on as the new mutant character Marcos Diaz, who goes by Eclipse.
The series received a put-pilot order in July. Nix wrote the pilot and will executive produce the project alongside Bryan Singer, who directed X-Men, X2, X-Men: Days of Future Past, and X-Men: Apocalypse. Singer will also direct the pilot, which doesn't have a premiere date yet.
Acker's Angel co-star James Marsters was also recently cast in a Marvel pilot, joining Hulu's Runaways as one of the villainous parents who the show's teen heroes rebel against. While we wait for the two stars to appear on our TV screens again, see the dumb reason why Angel was canceled.