Every Universal Studios Florida Ride Ranked Worst To Best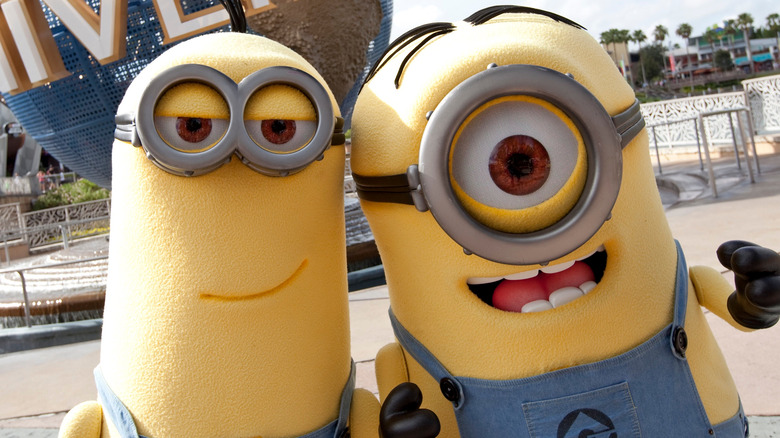 Shutterstock
While Hollywood is known for movies and TV production, there may be no place better to immerse yourself in rides inspired by screen stories of all kinds than Universal Resort Orlando. The Florida city is often associated with Walt Disney World, but when it comes to satisfying teens and adults with rides that include thrilling speed and tense drops themed around more adult movies, Universal is the place to be. And it does it all while still having more than enough for kids and families to enjoy.
Today, the resort includes multiple theme parks, including Islands of Adventure and Volcano Bay, but there's nothing quite like the park that started it all: Universal Studios Florida, which boasts some of the newest, shiniest rides in the park, such as Harry Potter and the Escape From Gringotts and Fast and Furious Supercharged, as well as the oldest in the form of E.T. Adventure. Of course, not every ride in the park is equally worth your time, but with so many options to choose from, it can be hard to decide which rides to go for first. So you can maximize your visit to the park, we've ranked every Universal Studios Orlando ride from ho-hum to must-experience.
14. Kang & Kodos' Twirl 'n' Hurl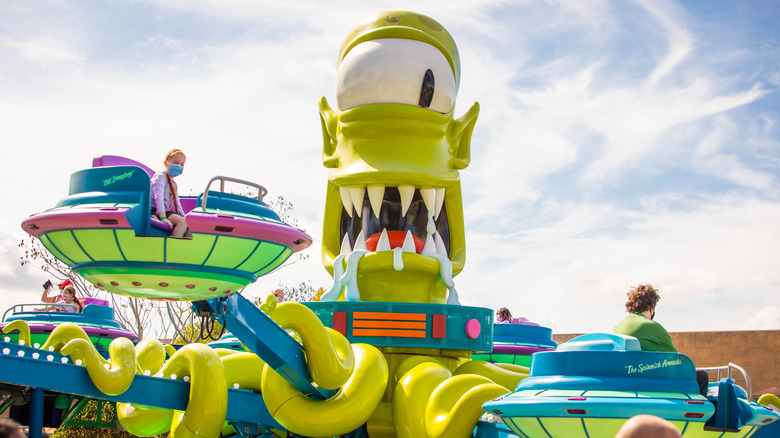 Shutterstock
For fans of "The Simpsons," the idea of a ride themed around dastardly aliens Kang and Kodos may sound like a great idea. Yet, while Kang & Kodos' Twirl 'n' Hurl gets a in few good jokes from the "Treehouse of Horror" stalwarts, the ride itself is a bit underwhelming. After boarding a flying saucer that the pair have ostensibly lured you into, you're rotated in a circle around one of the aliens, as your ride vehicle hovers high off the ground. As you spin around, Kang and Kodos instruct you to attack the citizens of Springfield, and you pass faces of select characters from The Simpsons who react to your spaceship.
This is a moderately paced ride that's most rewarding for families with younger children, since it never reaches speeds high enough to truly make anyone hurl. And while the theming makes this ride stand out and adds a little extra fun for those familiar with Kang and Kodos, it's not nearly as engaging and exciting as many of the other options in the park, including The Simpsons Ride, which you'll find further down our list. That said, it's worth experiencing at least once for die-hard fans of "The Simpsons."
13. Woody Woodpecker's Nuthouse Coaster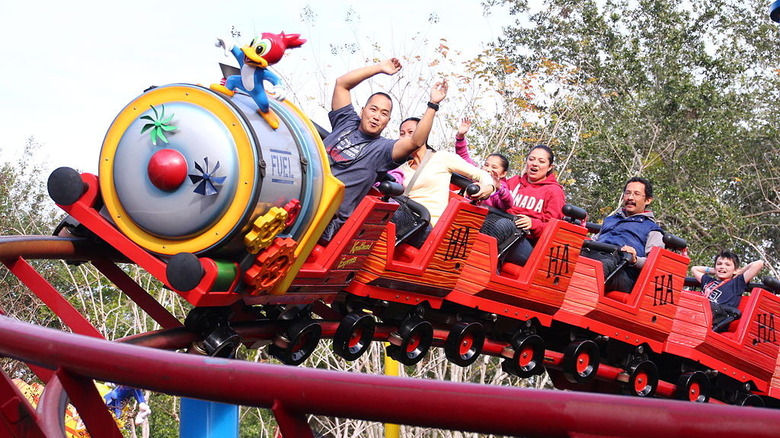 Loadmaster (David R. Tribble)/Wikipedia
This is another one for the kiddos. Woody Woodpecker's Nuthouse Coaster is indeed a roller coaster but it's short and gentle with no steep drops, scary twists, or abrupt turns. It's sort of like training wheels for kids who hope to one day graduate to more adult roller coasters. When they're small though, they'll find this plenty thrilling with its moderate acceleration and mild ups and downs, and parents will enjoy introducing their kids to the fun of holding their hands in the air and screaming their heads off as the ride whooshes them around.
Themed as a train ride through Woody Woodpecker's nut factory, that hardly matters since the chance for kids to try their mettle on a coaster is the true attraction here. Of course, there's also the question of whether or not most kids today even know who Woody Woodpecker is. Still, neither kids nor their parents may care all that much when they're happily swooshing around on the ride learning about the enduring fun of roller coasters — and thinking about tackling bigger and better ones as soon as possible.
12. Race Through New York Starring Jimmy Fallon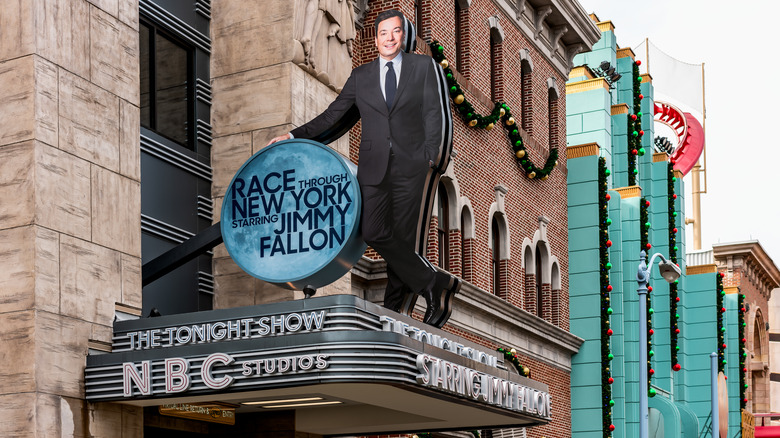 Shutterstock
Basing a theme park ride on a talk show is unusual to say the least, but since NBC's "Tonight Show" is owned by the same company as Universal Studios, a it must have seemed like a good opportunity for synergy. The result, Race Through New York Starring Jimmy Fallon, is a simulator ride where you race the host in and around major New York City landmarks, like Time's Square and the Empire State Building — and then blasts off far beyond the city ... and the planet.
While the ride is fun, the attraction queue is just as entertaining. It includes exhibits dedicated to all the folks who've hosted "The Tonight Show," a live performance by barbershop quartet The Ragtime Gals and even a close-up with Hashtag the Panda. Despite all that, this is often one of the least popular rides in the park, and it's easy to understand why. "The Tonight Show" may have history and a large following, but even that can't compete with massive audience of the major blockbusters many of the other rides at Universal Studios Florida are based on. And if you're not familiar with Fallon's recurring bits on his talk show or a fan of his style as a host, you're likely to skip this one and find something that's more up your alley.
11. Fast and Furious Supercharged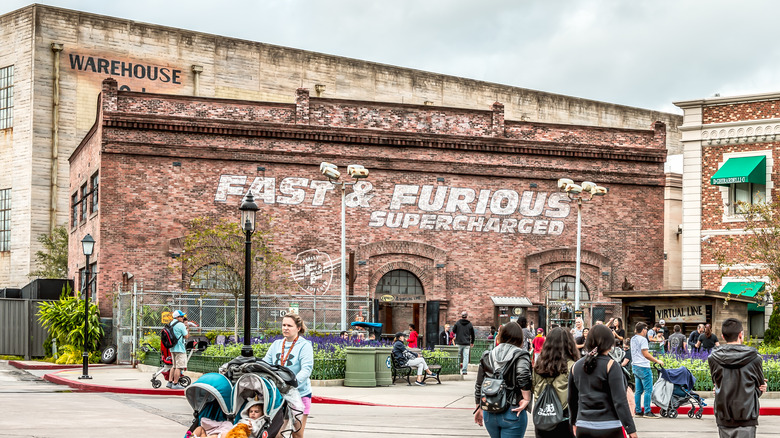 Shutterstock
"The Fast and Furious" franchise is one of the most popular movie series on the planet. If only Universal Studios' attraction captured the same propulsive excitement as the films. After a pre-show featuring series characters Tej and Mia setting the scene, park-goers board a "party bus" to join franchise star Dominic Toretto only to find themselves in the middle of a high-speed chase between him and other characters from the movies and one-time series baddie Owen Shaw. While the vehicles race and whip around on screens on all sides of the bus, the bus itself doesn't do more than drive forward— not exactly the vrooming, zooming adventure you'd expect.
The fact that most of the major cast members from "The Fast and Furious," including Vin Diesel, Michelle Rodriguez, Dwayne Johnson, and Tyrese Gibson, appear in the ride is impressive. Unfortunately, the result feels lackluster despite the nods to franchise elements like parties, muscle cars, and family. This is why Fast and Furious Supercharged is one of the least popular rides in the park.
10. Shrek 4D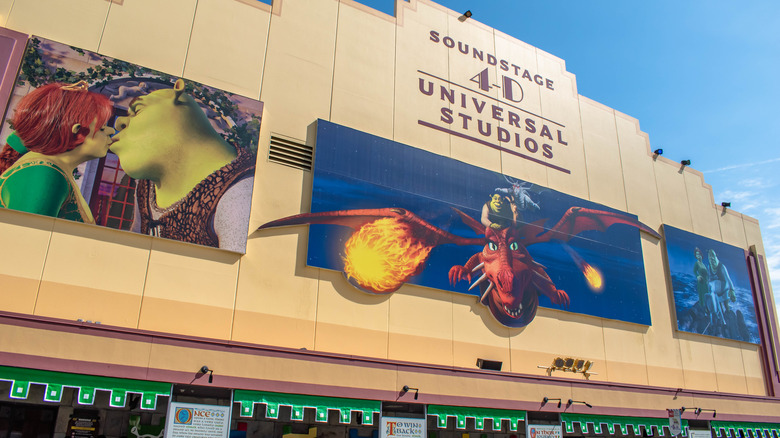 Shutterstock
Shrek 4D is less of a ride and more of a short movie, but that's where the 4D part of the title comes in. Your seat in the theater may look innocent enough, but when you don your 3D glasses as the movie starts, you'll find yourself moving around as if you're riding along with Shrek and Donkey, even as the three-dimensional picture is sometimes too close for comfort.
If you're a fan of the "Shrek" franchise, the story told in the attraction is a genuine treat. From the animatronic preshow before you enter the auditorium to the movie itself, this is the clever and funny tale of the ghost of Lord Farquaad's attempt to kidnap Princess Fiona between the first and second films in the series. It's charming and entertaining — however, since the last movie in the "Shrek" franchise was released over a decade ago years ago, it also feels a bit dated. Still, although some of the seat movements can be a little jarring, this is one of the more relaxing options in the park. When you need a break from the park's more thrilling offerings, Shrek 4D will keep both kids and adults occupied while allowing you to enjoy some much-deserved air conditioning.
9. Despicable Me Minion Mayhem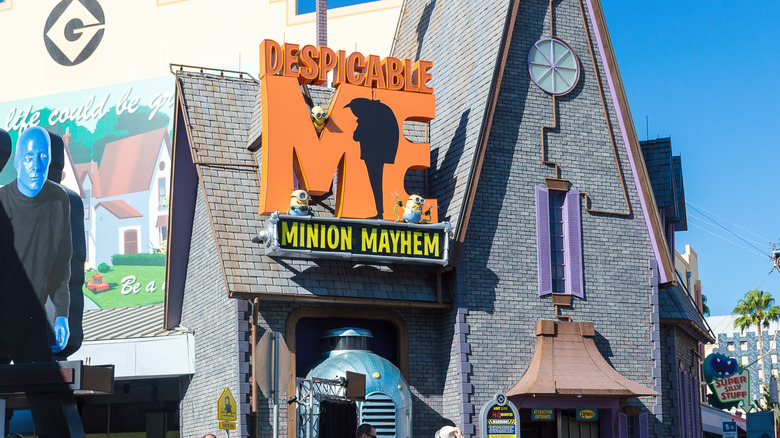 Shutterstock
Despicable Me Minion Mayhem is one of the first rides you encounter upon entering the park, so the lines can be lengthy — but if you love the "Despicable Me" franchise, and especially those rascally Minions, this is well worth the wait. The premise is simple: the audience has been recruited to be turned into Minions and arrived at Gru's lab for training, which Gru — after they undergo their "transformation" – hands over to his adopted daughters Margo, Edith, and Agnes. While the training starts off at a madcap pace, since those yellow agents of chaos are involved, things soon spin completely out of control.
This is a simulator ride but it's more stationary than many of the other simulators in the park. Nonetheless, it still swoops, dives, and dashes in line with what's happening onscreen, making for a kinetic but family-friendly experience. Plus, there's no real special knowledge of the films required to appreciate the story — just a love of zany mayhem and heartwarming moments, something the "Despicable Me" franchise is known for and Despicable Me: Minion Mayhem captures perfectly.
8. E.T. Adventure
This isn't necessarily the most popular or exciting ride at Universal Orlando, but it is the oldest, and that combined with a story inspired by the classic film makes this nostalgic fun. After an introduction by director Steven Spielberg, riders take off on a bicycle to help E.T. get back to his dying home planet, which only he can save. But unlike Elliot in the movie "E.T.", in the ride you get to travel with the alien through space to the Green Planet where you encounter all kinds of fascinating friendly alien who celebrate after E.T. arrives to save the day.
While the ride's escape from Earth is a little intense, overall this is a pretty mellow experience. However, the well-designed settings and cute animatronics make it completely immersive and involving. While it doesn't offer huge thrills, it does offer heart-strings tugging wonder. So whether you're old enough to remember the movie — or the ride — from your childhood or not, this is an iconic experience that is sure to leave a smile on your face.
7. The Simpsons Ride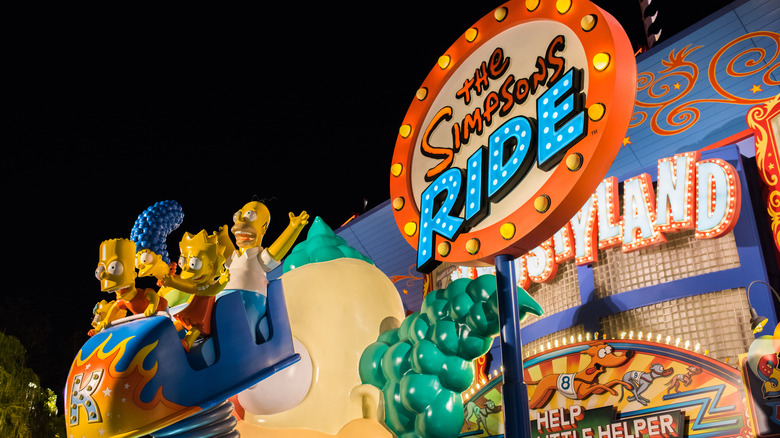 Shutterstock
The Simpsons Ride is the centerpiece of the Springfield area in Universal Studios Florida. Between the Kwik-E-Mart, Moe's Tavern, and Krusty Burger, you'll already feel like you've stepped into the Fox cartoon, but this motion simulator ride takes things to the next level. After a funny pre-show experience that simulates a carnival midway with different residents working and attending Krustyland, Krusty himself appears on a screen.
Guests learn they're attending the opening of the most exciting ride in Krustyland along with the Simpson family. Unfortunately, the Simpsons' nemesis Sideshow Bob shows up and takes over just as you and the Simpsons enter your ride vehicle, causing the experience to go from heart-pounding to deadly. As the ride zips through the different areas of Krustyland, and eventually the town of Springfield, even more characters from "The Simpsons" show up. It also makes time to parody Sea World, Pirates of the Caribbean, and theme park stunt shows. Along with plenty of thrills, the ride does a fantastic job touching on everything fans love about "The Simpsons."
6. Transformers: The Ride 3D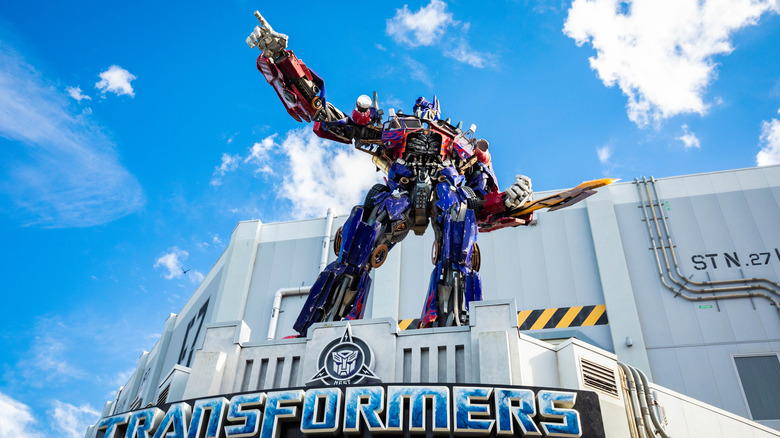 Shutterstock
"The Transformers" saga is still going strong on the big screen, but you might have more fun catching Transformers: The Ride 3D than watching the latest film in the franchise. The attraction is a motion simulator where a ride vehicle on a track moves through a series of rooms with large screens featuring scenes of the Autobots and Decepticons fighting over the AllSpark. You've been recruited by Optimus Prime himself to assist the Autobots, and as wrestling robots and explosions rock your vehicle, you become key to keeping the AllSpark safe.
For those who've experienced Islands of Adventure's The Amazing Adventures of Spider-Man, this ride may feel a little familiar, since it has the same basic format and story beats as that iconic attraction. Still the Transformers version is a step up in sophistication, with more advanced technology that does an even better job integrating the ride's many moving parts. Besides, it's a lot of fun to see Optimus Prime, Bumblebee, Megatron, and several other Transformers up close and personal. Between that and the dynamic, entertaining experience, this one is well worth your time.
5. Hogwarts Express: King's Cross Station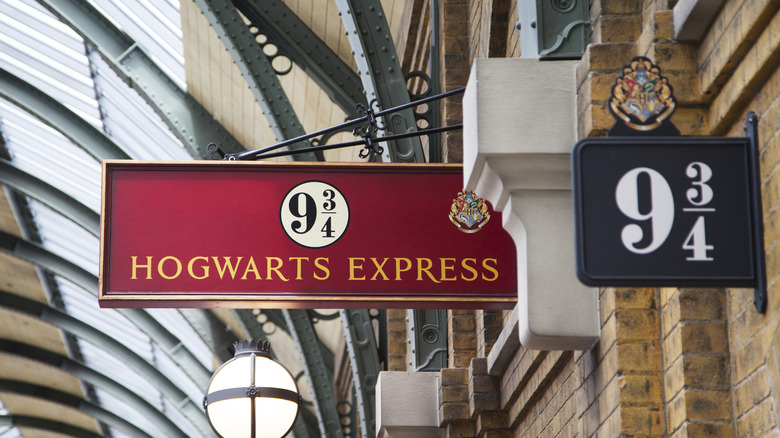 Shutterstock
Of all the ways you could travel between Universal Studios Florida and Islands of Adventure, Hogwarts Express is definitely the coolest. Those with park-to-park tickets can board the Hogwarts Express at either Hogsmeade in Universal Studios' sister park or at King's Cross Station adjacent to Diagon Alley. King's Cross Station replicates a train station in London, and just like Harry Potter and his friends, riders must access Platform 9 ¾ to board the train to Hogwarts.
The Hogwarts Express is transportation between parks as well as a ride, which makes it an extremely fun experience. Instead of a window, each car on the train includes a screen where riders can watch as they travel from London into the English countryside until they finally arrive at Hogsmeade. And this is the world of "Harry Potter," of course, so there's plenty of magic along the way — including appearances by Harry, Ron, and Hermione. Best of all, when you arrive at Hogsmeade, not only is Hagrid there to greet you, you disembark right into that part of Islands of Adventure ready to experience more of what the Wizarding World of Harry Potter has to offer.
4. Men in Black Alien Attack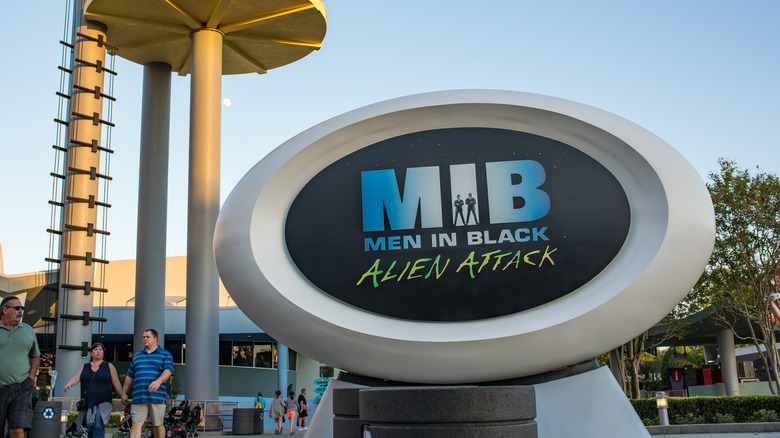 Shutterstock
"Men in Black: International," 2019's attempt to reboot the "Men in Black" franchise in movie theaters, may have been a flop, but this interactive ride has stood the test of time. The fun of Men in Black Alien Attack is that it's a cross between a dark ride and a video game. You board a ride vehicle and travel through alien-filled environments, but as a new Men in Black recruit, you also get a laser gun that lets you shoot at those aliens, and win points for it too. The more aliens you hit, the better your score, but watch out — the aliens fight back, and if they hit your vehicle, it goes spinning around in a dizzying whirl.
The ride can have multiple outcomes based on the number of points you score, which makes the attraction endlessly re-rideable. So even though this is one of the older rides in the park, it's still one of the best, and the interactive element makes it not only one of the most unique but one of the most enthralling.
3. Hollywood Rip Ride Rockit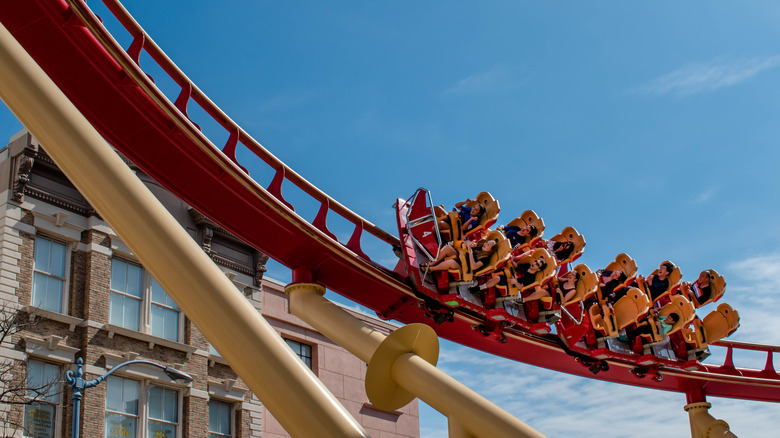 Shutterstock
For roller coaster fans, this is the ride to experience in Universal Studios Orlando. Unlike a lot of the other rides in the park, it doesn't have any real theming. But what it lacks in theming, it makes up for in serious thrills, with scream-inducing drops, stomach-churning twists, and mind-blowing loops. This coaster means business. Not only does it start with a heart-pounding vertical climb up 17 stories, it reaches speeds of up to an adrenaline-pumping 65 miles per hour, making it the most exciting ride in the park.
That alone is more than enough to put in on the list of essential Universal experiences, but Hollywood Rip Ride Rockit includes one more fun touch: each rider gets to choose their own song to listen to as they speed, swoop, and soar along. There are 30 songs to choose from plus a secret menu with even more selections. Speakers in the headrest of each seat ensure only you can hear your selected song, so no matter what your music preference, you're in charge of the soundtrack for this rip-roaring experience.
2. Revenge of the Mummy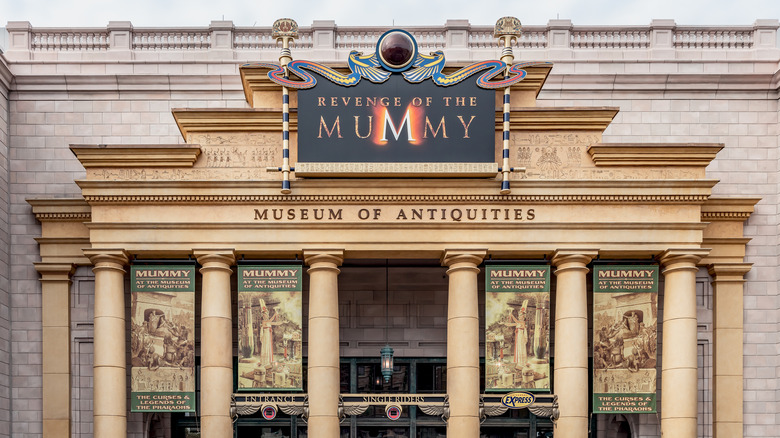 Shutterstock
Revenge of the Mummy is an indoor roller coaster, and unlike Rip Ride Rockit, this one is heavily themed, which makes it incredibly engaging. The ride perfectly blends a monster story with an exhilarating coaster experience, so not only will you be thrilled by the detailed design of the mummy tomb, you'll scream away as the ride takes you on a high-speed trip complete with surprising moments where you drop down suddenly, sometimes backwards.
What really makes the ride work though is that much of it happens in low light or even complete darkness, something that's completely in line with the story and makes the experience much more intense. You can't see what's coming, so even though the ride isn't nearly as fast or tall as some other coasters at the resort, the ride feels incredibly wild and chaotic. Even if you're only vaguely aware of "The Mummy," the 1999 movie this ride is based on, this is a fantastic attraction that's unlike anything else in the park.
1. Harry Potter and the Escape From Gringotts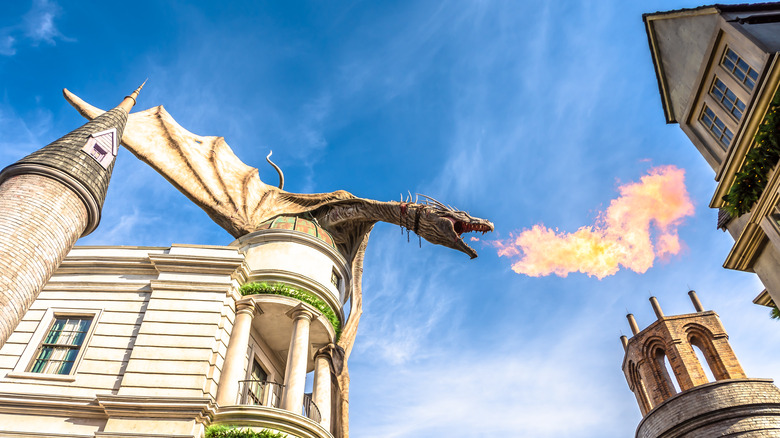 Shutterstock
The Wizarding World of Harry Potter was greeted with great fanfare when Hogsmeade Village opened at Islands of Adventure, but for our money, Diagon Alley, the more recent addition in Universal Studios Florida, is even more exciting. There's something new to discover around every corner of this hidden area, but no visit to Diagon Alley — or Universal Orlando — would be complete with at least one ride on Harry Potter and the Escape from Gringotts. If you loved Harry Potter and the Forbidden Journey, this ride offers a similar experience, but with a whole new story and environments, it's every bit as thrilling as its counterpart.
Based on Harry, Ron, and Hermione's escape from Gringotts Bank, this ride takes you through the vaults where you'll encounter everything from the villainous Bellatrix Lestrange and trolls to the evil Lord Voldemort and a fire-breathing dragon. The entire experience is impressively immersive from the moment you enter the queue, which perfectly recreates Gringotts down to the goblin bank tellers, but you don't need to be a "Harry Potter" aficionado to enjoy the experience. Between the thrilling ride mechanics and fun story, this is truly a can't-miss attraction.