Why Tim Drake Will Be The Most Intriguing Character On Titans Season 3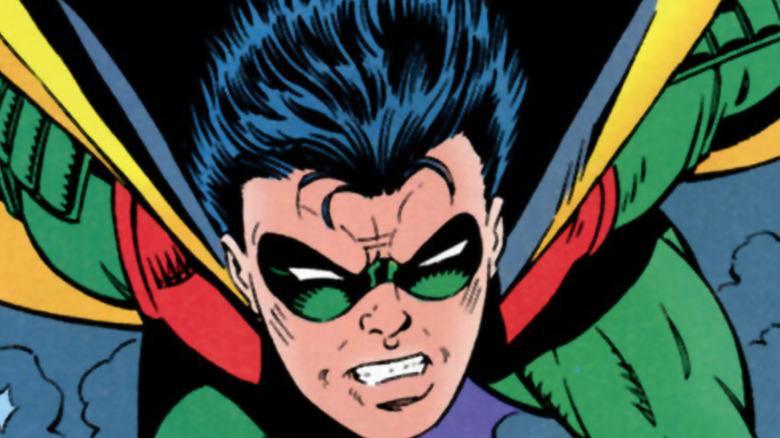 DC Comics/Tom Grummett
With the awkwardness of the DC Universe platform fading like a terrible dream, a small but mighty selection of comic book television adaptations have found a new home on HBO Max. The animated adventures of Harley Quinn continue to draw a crowd thanks to subversive humor and a gangbusters voice cast. "Doom Patrol," with its Grant Morrison source material and its steadfast dedication to weirdness, is due to wrap up its truncated second season and dovetail into a third any day now. And "Titans," the frequently grim reimagining of the adventures of Beast Boy, Raven, Starfire, Robin, and friends, is set to drop its third season on August 12.
The show has already introduced an impressive assortment of Robins over the course of its first two seasons. Dick Grayson, played by Brenton Thwaites, has been a central character since day one, with Curran Walters appearing as Jason Todd, Grayson's successor to the Boy Wonder mantle. In year three, "Titans" sets out to bring a third Robin into the fold, this time in the form of Tim Drake, played by Jay Lycurgo of "I May Destroy You."
Even longtime fans will admit that three Robins is a lot of Robins to juggle. According to a recent TVLine interview with "Titans" showrunner Greg Walker, though, this latest addition to the team might just be the best one yet.
Tim Drake might dethrone the Titans as the new most interesting character
"Upon the Titans' arrival in Gotham, an obsessive young man — Tim Drake – suspects he's cracked the identities of both Batman and Robin," Walker revealed to TVLine, "and in doing so, gets pulled into Gotham's dark mysteries." The interview also painted Drake as an eternal optimist despite having gone through difficult circumstances, and a cunning genius.
All of that tracks pretty nicely with Tim Drake's story from the source material. The third canonical Robin debuted in 1989, not long after the democratically elected murder of Jason Todd. As a child, he'd witnessed the deaths of the Graysons while attending a circus performance, and his insight into the incident allowed him to deduce the identities of the Dynamic Duo years later. He would eventually don the cape and domino mask when his heroes were abducted by Two-Face, earning himself a place at Batman's side as the latest in a series of unusually kidnappable sidekicks.
How much of this story will make it into "Titans?" We'll just have to wait until the third season premieres on HBO Max on August 12.