Gossip Girl's Savannah Lee Smith And Zión Moreno Dish On The Franchise's Minion Hierarchy And Representation - Exclusive Interview
Let's be honest: Blair Waldorf's minions in the original "Gossip Girl" set the tone for status at Constance Billard School for Girls and the Upper East Side at large. But while we never got fully developed minions in the original series, the reboot is offering a spicy take on the status quo — and it looks like Monet and Luna are taking a page from Blair's diabolical book. So, who's really in charge? 
Fresh off "Control Z," Zión Moreno takes on the calculated and pragmatic role of Luna. Meanwhile, you'd never know that Monet is Savannah Lee Smith's breakout acting role. With a fierce attitude and style to boot, Monet just might give Julien a run for her money for Queen B of The Met steps. These two may appear to be minions of sorts, but maybe we'll see a status change later in the series because these ladies mean business. 
Looper spoke to Zión Moreno and Savannah Lee Smith during an exclusive interview. They dished on the "Gossip Girl" reboot's hierarchy, which OG characters and actors they'd love to work with on the series, and the importance of representation and tackling critical societal issues (with a smidge of activism).
Zión Moreno and Savannah Lee Smith explain the minion monarchy at Constance Billard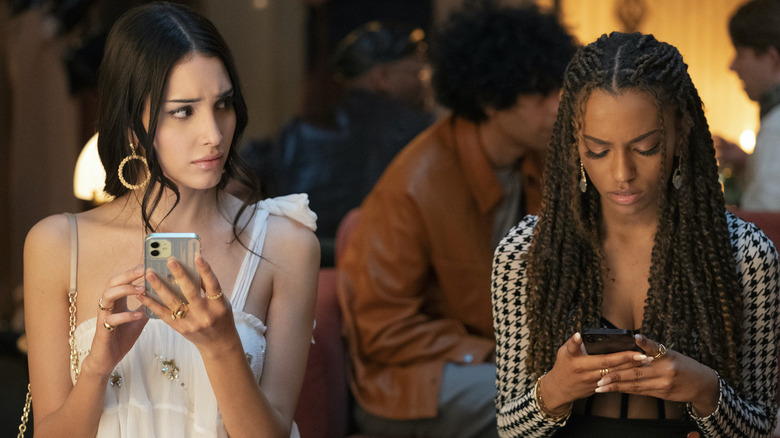 Karolina Wojtasik/HBO Max
There's always a patented status hierarchy and the "Gossip Girl" universe. Blair had her minions, and Luna and Monet seemed to almost have an assistant-like role to Julien — with an edge, of course. Where can we expect their arcs to head, and how might they develop more as individuals as the series goes on?
Savannah Lee Smith: Well, they're definitely going to develop more as the series goes on, like you said. Yeah, you can definitely expect Monet and Luna to get into familial relationships and romantic relationships, and just all those things that kind of build a character as the season goes on. But in terms of them [having] assistant-like roles, I would say that's how they present, but they're really, behind the scenes, kind of pulling all of the strings. I think there's power in that, and that's kind of the difference between the minions from the old show.
Which characters or actors from the original show would you both love to do a scene with?
Zión Moreno: Who would you do a scene with? Well, I would love it if Blair came back. I'd love to do a scene with her. And maybe Chuck Bass, too. Maybe have a little romantic relationship with Chuck.
Savannah Lee Smith: That'd be fun.
What about you, Savannah?
Savannah Lee Smith: I don't know, probably Blake or Serena because I look up to Blake Lively as an actress. And I've always just appreciated her work, so I think I could learn a lot — and it'd be really fun.
Representation matters in the Gossip Girl reboot — even on the Upper East Side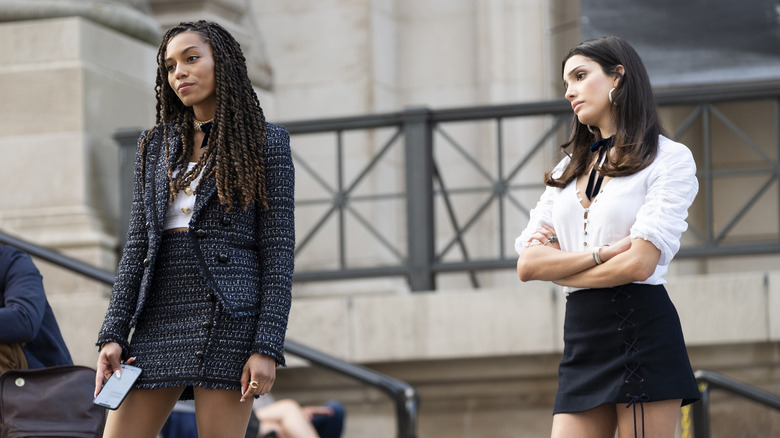 Emily V. Aragones/HBO Max
And what has been the most rewarding aspect of being on the show, and alternatively, what has been the most challenging?
Savannah Lee Smith: Well, for me, I think the most rewarding thing has been... This is my first project ever, so it's really rewarding to be able to be part of a project that is more diverse than its parent, I guess. It's just fulfilling to me that a little brown girl, a little Black girl, a little bi girl is going to watch the show and get to see me inspire them and show them we can be in positions of power, and we really can do these things because I would have loved to see that growing up, and I think we need more of it, so it's just really humbling, and it's a blessing to me.
What about you, Zión?
Zión Moreno: Yeah, I think that I'm just really humbled, too, because this is the biggest project that I've ever embarked on. And it's such a large scale, so I think that that has been really exciting for me. And like Savannah said, I think that it's going to be really rewarding to be able to make an impact on little queer kids lives, on little Latino kids' lives, and I just hope that we can [use] that representation and inspire them to live authentically and live to the fullest.
It may be more woke, but it's still Gossip Girl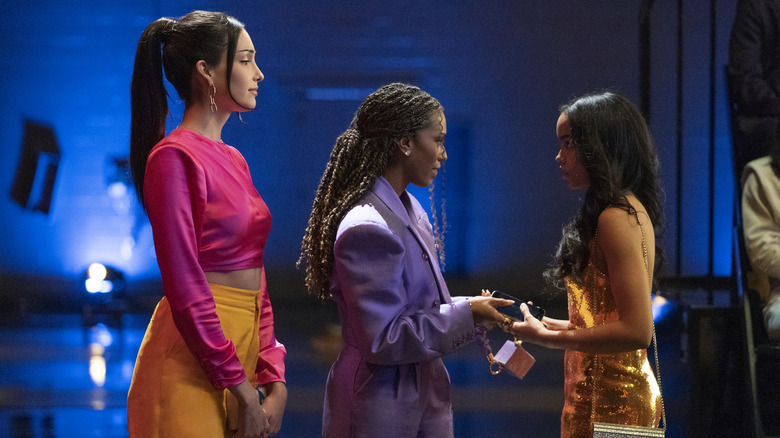 Karolina Wojtasik/HBO Max
How do you feel about the show tackling more woke issues in society, that kind of thing, that maybe the original didn't do as well?
Savannah Lee Smith: I think there's just an awareness now. We're all kind of aware of the things that need to change and the things that people want to change. And we're aware of the things that should not be said and things that are still okay in [the] sense of fiction. I just think the writers have done a great job of navigating stuff like that in terms of putting things in the script. 
I know that on Twitter, everyone was getting mad because Evan [Mock] called the show woke, and everyone was so nervous that we were going to be politically correct, but stop. It's still "Gossip Girl." There's still drama. We're still giving you juice, do you know what I mean? So you don't need to worry about that.
Fans can tune into the first episode of the "Gossip Girl" reboot, now streaming on HBO Max — with subsequent episodes airing weekly. If you're behind on the original series, the streaming service is serving up the entire series. You know you love it, XOXO.