Robert Downey Jr. Shares Sweet Words To Mourn His Father's Passing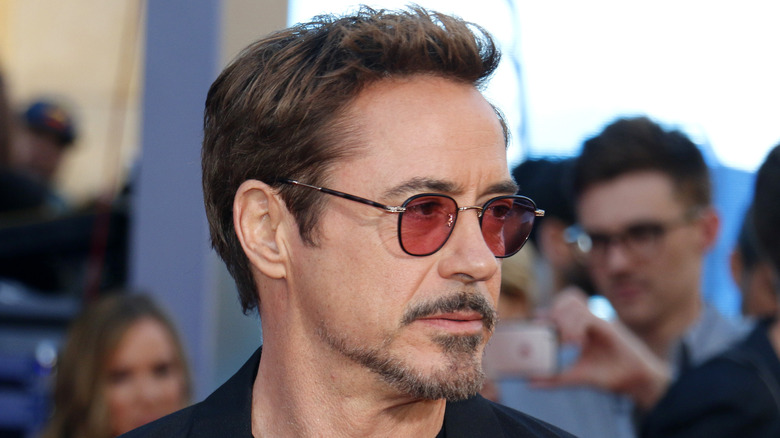 Shutterstock
On July 7, 2021, Robert Downey Sr., actor, director, wife to Rosemary Rogers-Downey and father to actor Robert Downey Jr. and Allyson Downey, passed away in his sleep at the age of 85. Born Robert Elias Jr. in New York City in 1936, Downey Sr. changed his name in order to enlist in the army at 16 years old (The Gothamist). The filmmaker is known for his more underground, anti-establishment work in the entertainment industry, with his 1969 comedy "Putney Slope" probably his most recognizable film. The movie satirizes the advertising business of Madison Avenue in NYC and found great success upon release thanks to Jane Fonda casually mentioning the movie during an appearance on "The Tonight Show" (Indiewire). While his son went on to do more commercial acting roles, Downey Sr. was strongly connected to the arthouse movement, with much of his work made with a very low budget and a 16mm film camera.
Although Downey Sr. and his son had some ups and downs in their relationship just as any father and son do, the two were very close. Bonding over film, Downey Jr. actually made his acting debut in Downey Sr.'s 1970 film "Pound," at the age of five. He also appeared in Downey Sr.'s 1972 film "Greaser's Palace" and 1980's "Up the Academy." In 2014, when asked about the highlight of his own career, Downey Sr. talked about his son instead, telling Page Six that "when my son turned his life around [from drug problems], that's my highlight moment," showcasing how their relationship had endured over the years. While many people mourn the loss of such an influential man, his family is obviously most affected by the news, and Downey Jr. took to social media to share a kind message about his father. 
Downey Jr. honors his "maverick filmmaker" father
On Downey Jr.'s Facebook, the actor shared a sweet message about Downey Sr., starting off by stating that his father "passed peacefully in his sleep after years of enduring the ravages of Parkinson's," a neurodegenerative brain disorder that affects mobility and many other aspects of a person's health. According to Downey Jr., Downey Sr. "remained remarkably optimistic throughout" his sickness. Touching on his father's monumental film career, Downey Jr. simply called his father a "maverick filmmaker," which sums it up quite well. 
In the second half of his message, Downey Jr. takes the time to address and thank his stepmother Rogers-Downey, who married Downey Sr. in 1998 and stayed by his side throughout every challenge Parkinson's Disease threw at them. Downey Jr. clearly cares deeply for Rogers-Downey, calling her a "saint," and adding a sweet detail that according to her, she and Downey Sr. "were happily married for just over 2000 years." Although the news of Downey Sr.'s passing is tough to hear, Downey Jr.'s statement shows how caring his father was in his personal life, while the rest of the world can honor him as well, as both a man and a filmmaker.