Why Bev From Barb And Star Go To Vista Del Mar Looks So Familiar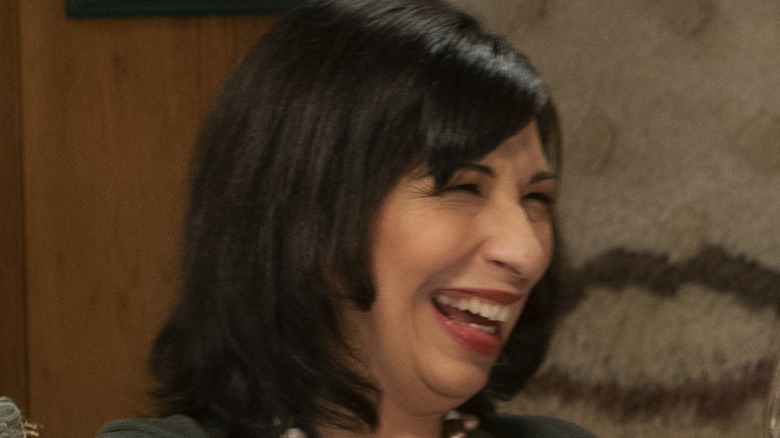 Richard Foreman/Lionsgate
From Reba McEntire as the sea-spirit Trish to Andy García as a fantasy version of Tommy Bahama, Kristen Wiig and Annie Mumolo's absurdist comedy "Barb and Star Go to Vista Del Mar" is completely chockablock with familiar faces. That doesn't mean you're going to immediately recognize everyone, though. The film's distinct aesthetic has a way of masking the actors and making them seem like they are part of Barb and Star's world, not our own.
Take, for instance, the women of the Talking Club, run by the tyrannical Debbie (Vanessa Bayer). Although each of those characters only has a few minutes of screentime in the film, they are all played by actors who, when not dressed in frumpy sweaters and patchwork vests, are easily recognizable to almost anybody who has watched television in the past ten years. There's "The Office" star Phyllis Smith as Delores, "Chelsea Lately" comedian Fortune Feimster as Pinky, and last but certainly not least, Rose Abdoo as Bev.
Even if you didn't immediately recognize Abdoo when you saw her as Bev, it's still very likely that it's not the first time you've laid eyes on her. From teen sitcoms to HBO comedies, she has appeared on a number of high-profile TV series throughout her nearly four-decade-long career in the entertainment industry.
Here's where else you've seen Bev from "Barb and Star Go to Vista Del Mar."
Rose Abdoo helped fill in the world of "That's So Raven"
An alumnus of famed Chicago improv theater The Second City, Abdoo's screen career began in the early '90s and saw her taking on small parts in movies like "My Best Friend's Wedding" and on TV shows like "Strangers With Candy" and "Curb Your Enthusiasm." One of her first major recurring parts came courtesy of the Disney Channel Raven-Symoné vehicle "That's So Raven."
The show, about a high schooler whose brief psychic visions help her solve problems for those around her (and create plenty of her own), reveled in its silliness. While Raven and her friends were usually the center of the action, other students and teachers at Bayside High School were integral to the larger comedic landscape of the series. That is very true for the school's Spanish teacher, Señorita Rodriguez, who was played by Abdoo.
Equal parts sweet and mean, Señorita Rodriguez was known for taking pleasure in teasing the students of Bayside High about the difficulty of the Spanish tests she administered. This distinct persona would go on to become one of Abdoo's signature types of characters, especially in her collaborations with one of the 21st century's biggest names in TV.
Amy Sherman-Palladino has cast Rose Abdoo on more than one occasion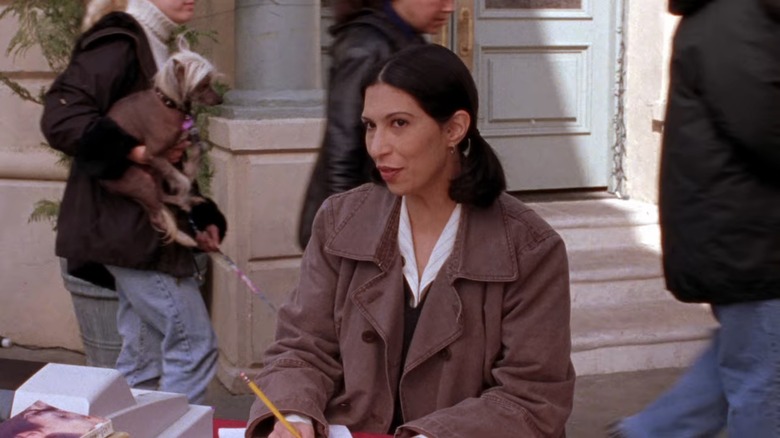 Warner Bros Television
Around the same time she was recurring on "That's So Raven," Abdoo was also appearing as a regular player on the hit mother-daughter dramedy "Gilmore Girls." As Star Hollow's resident car mechanic Gypsy, Abdoo once again got the chance to play a character who both took pleasure in ribbing others, while also getting plenty of opportunities to show her softer side. She returned to reprise the role for the Netflix revival miniseries "Gilmore Girls: A Year in the Life," on which she actually pulled double duty.
"A Year in the Life" saw the return of Gypsy, as well as the introduction of Berta, the latest off-kilter housekeeper employed by Emily Gilmore (Kelly Bishop), who was also played by Abdoo. According to an article in Buzzfeed about her double act, Abdoo relished secretly disappearing into a second role. "No one ever said to me, 'Rose, please don't tell anyone,' but I felt that I didn't want anyone to know," she said. "My husband explained to me what an Easter egg is and I thought, 'Wouldn't that be fun if there was something for the fans?'"
Abdoo's collaborations with "Gilmore Girls" creator Amy Sherman-Palladino didn't end there. She had a recurring part on one-season wonder "Bunheads" as Sam, a busybody resident of the fictional California town of Paradise. And while she hasn't appeared on "The Marvelous Mrs. Maisel" yet, there's always a chance she'll team up with Sherman-Palladino once again.
Rose Abdoo has been on some of the past decade's hottest TV shows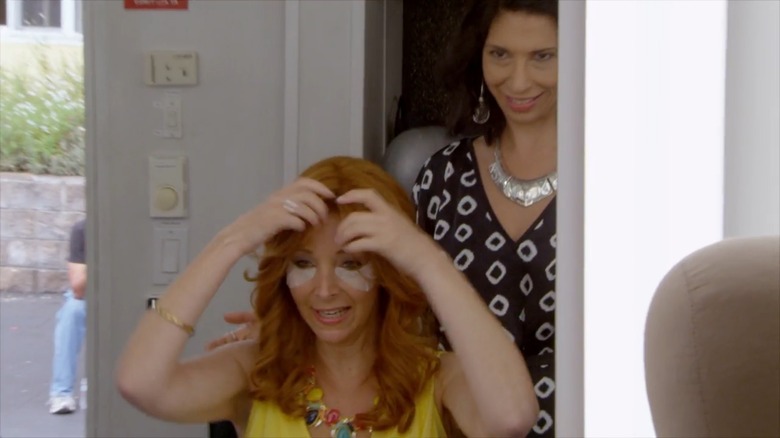 HBO
Beyond her collaborations with Sherman-Palladino, Abdoo has appeared on a number of popular TV series of the 2000s and 2010s. She's had single episode guest-star parts on shows as diverse as "Grey's Anatomy" and "Veep," as well as a few meatier recurring roles.
On the family drama "Parenthood," Abdoo had a multi-episode arc as Gwen, a cancer patient who befriends and supports Kristina (Monica Potter) after her own breast cancer diagnosis. "The Comeback" saw Abdoo recurring in the smaller, more comedy-focused role of Marianina, a secondary-hairdresser hired by former sitcom star Valerie Cherish (Lisa Kudrow) to supplement the work of her long-time stylist Mickey (Robert Michael Morris).
And as so many TV actors have done in the past, Abdoo got the chance to get political on "Scandal." On the show's fifth season she made several appearances as Senator Linda Moskowitz, who goes toe-to-toe with former first lady turned Senator Mellie Grant (Bellamy Young).
If you're caught up on 2021's latest hit TV shows then you've also very likely seen Abdoo in one of her most recent roles of this type.
You can currently catch Rose Abdoo on HBO Max's "Hacks"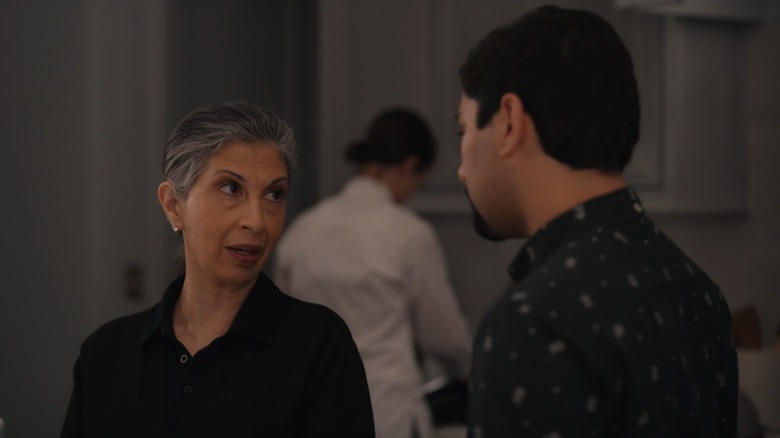 HBO Max
HBO Max's "Hacks" (which will be getting a second season) is a comedy about comedians that features a cast full of both fresh and established talent. Jean Smart plays Deborah Vance, an ultra-successful veteran stand-up who works around the clock to keep her palatial Las Vegas estate up and running. Among the many planets in Deborah's orbit is her house manager Josefina, who shares Deborah's love of taking her job extremely seriously.
Abdoo spoke about developing the character of Josefina (which included picking her name) while on Michelle Collins' podcast "Midnight Snack." According to Abdoo, she had a very specific reference point for the character's personality. The actor said that she asked the show's creators, "'Is Josefina Jean Smart's Carson from 'Downton Abbey'?' I wanted her to be more than just a housekeeper."
As for what attracted Abdoo to the project in the first place, it was simple: "I wanted to do it just to be in Jean Smart's presence."
Her part in "Barb and Star Go to Vista Del Mar" may be brief, but as Rose Abdoo has shown throughout her career, there's actually no such thing as a small role.