Why Star From Barb And Star Go To Vista Del Mar Looks So Familiar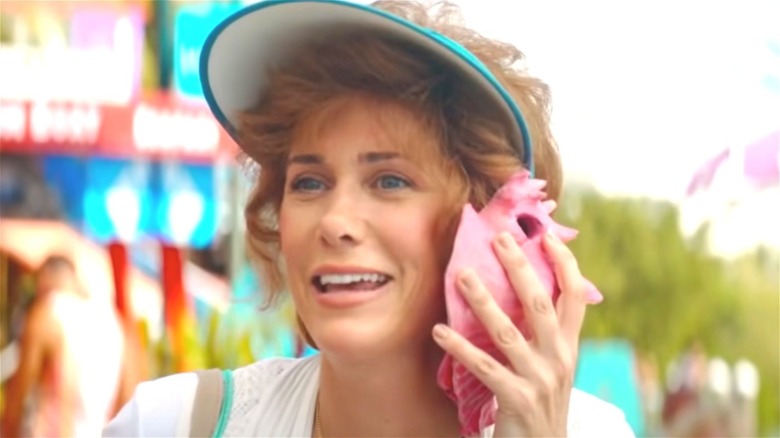 Lionsgate
Now that half of 2021 has already passed us by, plenty of critics are looking back at the movies that have been released over the past six months, and starting to reckon with the titles that will define the year in cinema. Although there are plenty of great dramatic or action-oriented films that have been released in this time, there are also a few comedies that are worthy of recognition. 
Chief among those is "Barb and Star Go to Vista Del Mar," a delightfully heightened absurdist comedy from the writing team that brought audiences "Bridesmaids" a decade ago. That writing team, which consists of Kristen Wiig and Annie Mumolo, are also the actresses who appear in film's title roles as Star and Barb, respectively. As people continue to discover "Barb and Star," which is widely available on VOD, some are also wondering why Wiig looks so familiar. In case you somehow weren't aware of Wiig's extensive body of work, she's led a pretty long career before she transformed into Star for "Barb and Star" — here's where you've seen Wiig before.
Kristen Wiig's big breakout was on Saturday Night Live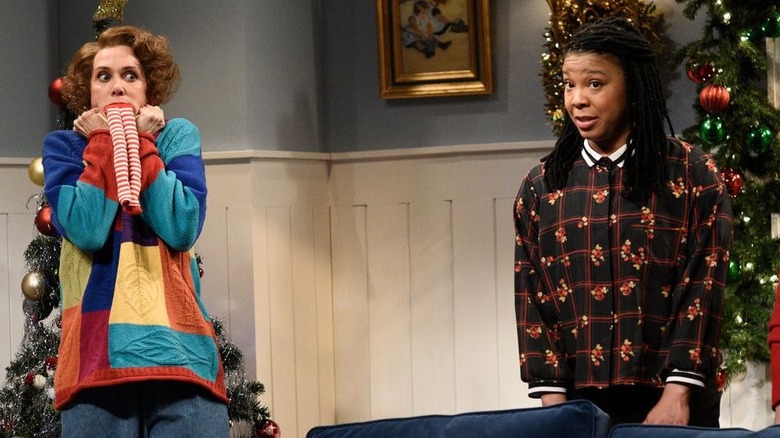 NBC
Although she would eventually go on to star in a number of films, Wiig's first major role was on "Saturday Night Live," where she was a castmember from 2005 through 2012. While she was on the show, Wiig slowly rose up the ranks, and eventually created a number of fairly iconic characters, including Gilly and the Target employee who is way too excited about everything. 
As many "SNL" cast members have done, Wiig used her time  and transitioned from it into a variety of roles on the big and small screens. She was one of the show's breakout stars during her run on the series, and it served as definitive proof that she could create comedy out of a variety of wildly different situations, thanks to her vocal stylings, her insanely funny physical comedy skills, and her ability to vanish into any kind of character. While she was on the show, Wiig began branching into film through a series of smaller roles, including parts in 2007's "Knocked Up," 2008's "Forgetting Sarah Marshall," and a supporting turn in 2010's "MacGruber."
Kristen Wiig wrote and starred in Bridesmaids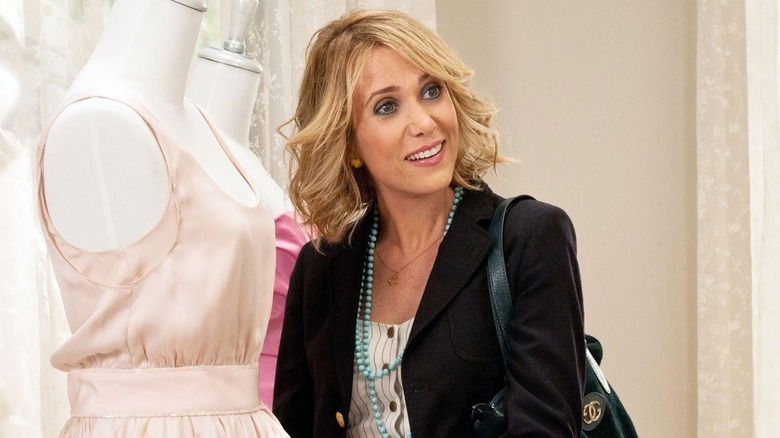 Universal Pictures
Before leaving "SNL" in 2012, Wiig launched herself firmly into the world of feature films — and Hollywood's A-list — with "Bridesmaids". Wiig co-wrote the script with Mumolo, and she also stars in the film as Annie, maid of honor to her best friend Lillian (played by fellow "SNL" alum Maya Rudolph) while trying to fix her own messy life.
Throughout her time on "SNL", Wiig was often the most forwardly comic element of the sketches she was prominently featured in. In "Bridesmaids", though, Wiig is the lead, and her character gets an actual arc that involves putting her life back together and reconciling with her oldest friend. 
"Bridesmaids" was an enormous success upon its release with both critics and fans, and it even garnered some attentions from the Oscars, which is a rare achievement for a comedy; Wiig's co-star Melissa McCarthy garnered a nod for Best Supporting Actress, and Mumolo and Wiig scored one for Best Original Screenplay. Between the film's overwhelming box office success and award recognition, "Bridesmaids" put Wiig firmly on the map — and it was just the beginning.
Kristen Wiig's next major role was in the Ghostbusters reboot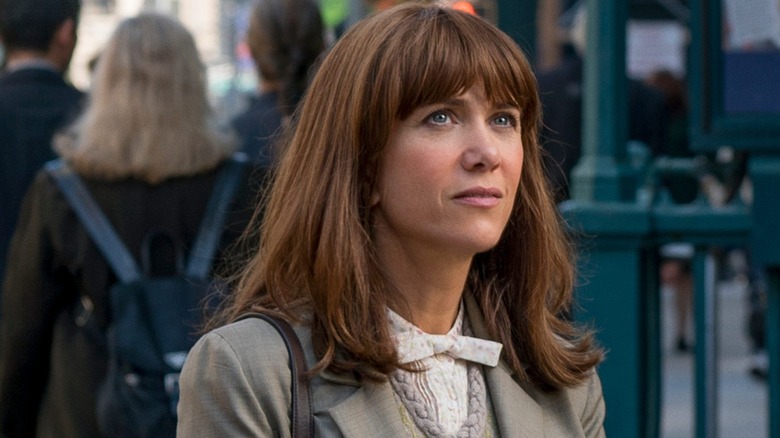 Sony Pictures
"Bridesmaids" gave Wiig the freedom to pursue whatever course she wanted in the years that followed, and she largely spent that time working in smaller, more independent films. She and fellow "SNL" player Bill Hader both received praise for their work as siblings in "The Skeleton Twins," a sensitive independent drama, and she also took on supporting roles in other indies like 2015's "The Diary of a Teenage Girl" and blockbusters like the 2013 comedy "Anchorman 2."
Her next major role came in 2016, when she was a part of the all-female reboot of "Ghostbusters." Thanks to an enormous backlash from a particularly toxic subset of "Ghostbusters" fans, the reboot was hugely controversial before it was even released. It ultimately received a mixed response from critics, but Wiig was one of the film's leads, playing less overtly comedic role than co-stars Leslie Jones, Kate McKinnon, and Melissa McCarthy. Her part in the film didn't provide any major headlines, but the film itself is so notorious that it definitely warrants acknowledgment. 
Kristen Wiig is one of the villains in Wonder Woman 1984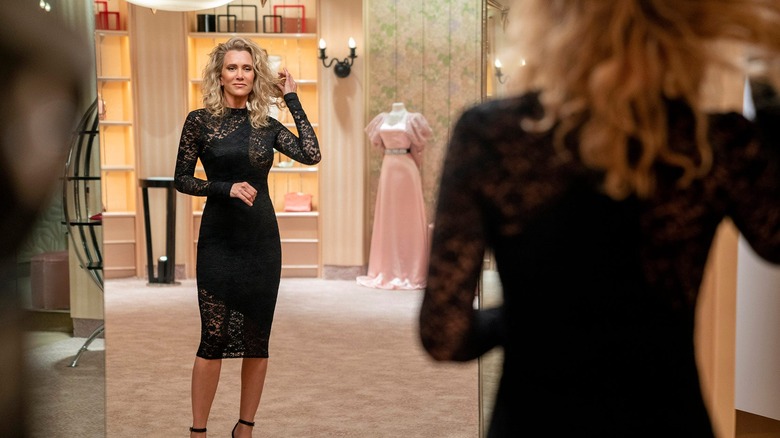 Warner Bros.
Shortly before Wiig led "Barb and Star," she appeared in one of the biggest movies of 2020: "Wonder Woman 1984." Wiig plays Barbara Minerva in the film, a character who becomes envious of Gal Gadot's Diana Prince over the course of the film to the point where she transforms herself into a supervillain known as Cheetah. Wiig has a substantial number of scenes in the movie, and gets to transition from the a geeky, shy character to someone who is bruising and hugely self-confident, serving as the movie's main antagonist alongside Max Lord (Pedro Pascal).
"Wonder Woman 1984" was not a huge critical success, but Wiig's role was one of the biggest she has taken over the course of her career. In a cinematic age filled with superheroes, Wiig hadn't gotten the chance to appear in a huge comic book film yet, and her turn as Barbara accomplished a huge goal for her; as she told The New York Times, "It was huge on my list of things I wanted to do. I love big action movies and I love superhero movies." Shortly after "Wonder Woman 1984" was released, "Barb and Star" hit VOD, reminding audiences that, outside of huge blockbusters, Wiig can still access her supremely silly, insanely funny side.