New Action Figure Gives Us A Peek At Spider-Man: No Way Home's J. Jonah Jameson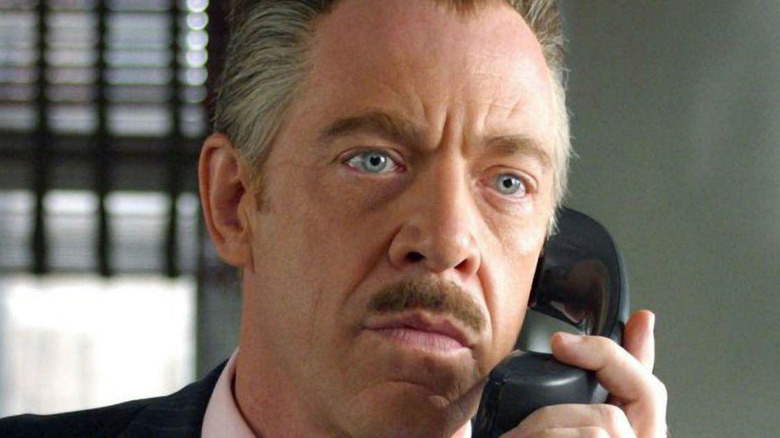 Sony Pictures
Marvel's hotly-anticipated trilogy-capper "Spider-Man: No Way Home" is still months away from hitting theaters, but the super-powered publicity machine behind the film is already starting to run at full speed. As rumors continue to swirl about the imminent arrival of the first trailer for "No Way Home," the fires of "Spider-Man" fandom were further stoked this week with Marvel offering a first look at the official line of toys that will coincide with the film's release. While much has understandably been made of the new-look Spidey suits and the possibility of an impressive weapons upgrades, the toys featured on their official first-look page gave fans a glimpse at what we'll be seeing from Benedict Cumberbatch's Sorcerer Supreme, Doctor Strange in the film as well.
While MCU fans will no doubt be lining up to snag both Spidey's and the good Doctor's "No Way Home" toys, "Spider-Man" diehards are undoubtedly just as excited to get their hands on that of another Marvel familiar getting the action figure treatment — J.K. Simmons' fan favorite character J. Jonah Jameson. Here's what the J. Jonah Jameson action figure could tell us about the character's role in "Spider-Man: No Way Home."
We still don't quite know what to expect from J. Jonah Jameson in Spider-Man: No Way Home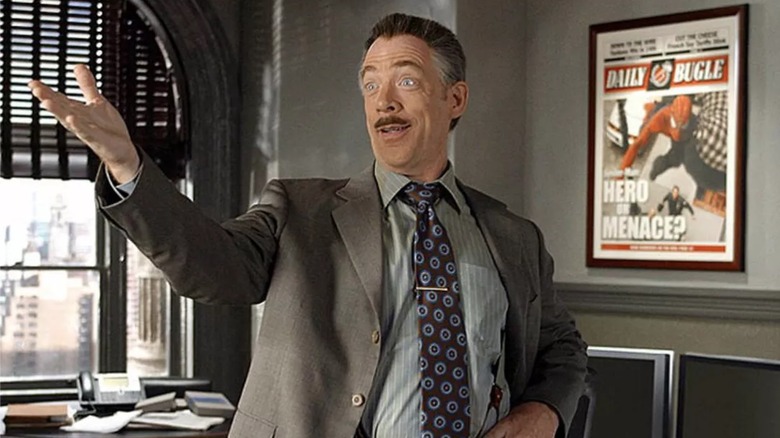 Sony Pictures
As for that J. Jonah Jameson action figure, it hardly tells us anything about what we might expect from the character in "Spider-Man: No Way Home," save that the character apparently plays a prominent enough role to merit his own action figure. In and of itself, that's not entirely surprising, as Simmons' Jameson has been the gold standard for the character since he first brought him to the big screen life opposite Tobey Maguire in 2002's "Spider-Man," as well as the rest of Sam Raimi's trilogy.
Popularity aside, Simmons' "Spider-Man: No Way Home" return was a legit no-brainer as it would've been a major head-scratcher for Kevin Feige and the MCU team to bring his Jameson into the mix with that flashy post-credits shocker in 2019's "Spider-Man: Far From Home" and not bring him back for more. As it is, even after that head-spinning "Far From Home" multiverse fake out, Simmons' re-appearance in the role (along with the confirmed return of Alfred Molina's Doc Ock) tells fans that not only is the long-teased multiverse finally coming to the MCU, but we'll probably get a very good look at it before Doctor Strange steps into "the Multiverse of Madness" next year.
Whatever the case, it's beyond exciting that we'll see more of Simmons' Jameson in "Spider-Man: No Way Home." And judging from the angry look on the face of Jameson's figurine, we'll definitely be getting more of the fiery, fake-newsy rhetoric seen in that post-credits scene.